The Story of Harekala Hajabba: Man Who Built The School Of His Dreams By Selling Oranges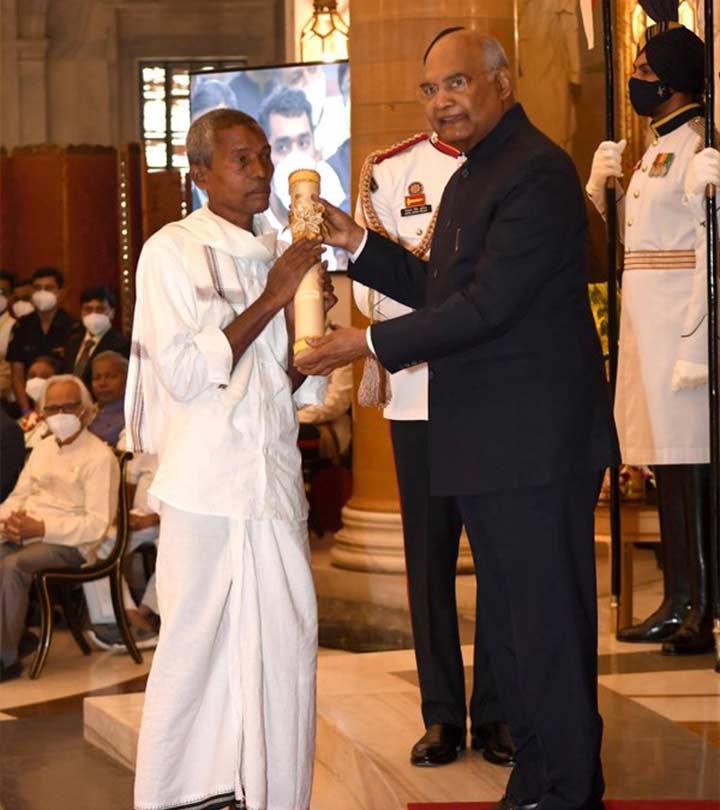 Have you ever wanted to accomplish something so much that it did not let you rest until it was done? Well, such are the doings of big dreams. We often read about people who work towards their goals, and it inspires us to the core. Wait till you read the story of Harekala Hajabba, who materialized his biggest dream of building a school for the underprivileged children in his village. When Harekala Hajabba, dressed in a simple white shirt and dhoti, bare-footed, walked up to President Ram Nath Kovind to receive the prestigious Padma Shri award, he sure made history and lifted the spirits for those who never give up on their goals.
About Harekala Hajabba
Harekala Hajabba can be rightly quoted as the epitome of patience and determination. If you feel it's too late for you to execute your plans, this 68-year-old orange vendor will tell you otherwise. Born on 17th October 1952 to a Muslim family, he lived with his parents in Tumkur but later shifted to Mangalore. With the increasing financial needs of the family, Hajabba had to drop out of school at a tender age to earn money to help pay for the family. He worked at the Mangalore bus depot since 1977, making a living out of selling oranges. On being asked why a person who did not even finish schooling dreamt of opening an English medium school, he shared a very inspiring story.
Many years back, in 1978, an international tourist inquired about the cost of an orange. He was unable to comprehend what was being asked and felt ashamed. He was fluent only in Kannada and could not understand English or Hindi. That is when it hit him what he wanted to do in his life. He could not afford the village schooling, nor did his village have any English medium schools. The next day, he pledged to establish an institution in his village where he could educate all the children who could not afford the village school.
How Did He Fulfill His Dream?
Now for the big question: How did a person selling oranges and earning 150 rupees per day build the school of his dreams? Harekala Hajabba did not have considerable capital stored in the bank for opening his school, so he used a portion of his earnings from selling oranges to build the school in Newpadapu, where he lived. That took a lot of time, and we applaud his devotion and persistence.
At first, a school was established in a mosque after he convinced friends and family members to aid in establishing the school. He ran the school himself initially and was responsible for cleaning the school's premises, boiling water for the students to drink, and more. In addition, he would often travel 25 miles from his village to visit the Zilla Panchayat in Dakshina Karnataka and request the establishment of the schools' educational facilities to look into his school.
His efforts paid off in 2008 when Dakshina Zilla Panchayat Higher Primary school was established in Newpadupu village. Following this, Harekala Hajabba also set up an organization that would get the school some funds. The village was then able to establish an elementary school for underprivileged children. It initially started with 28 students attending the classes. The school is now called Hajabba School and has classes up to tenth grade, accommodating 175 children. He is grateful for the government's aid and donations from private donors.
Hajabba's dreams do not end there; the Padma Shri awardee aims to construct more colleges and schools within his community. He said he's collected money from citizens and has saved cash prizes to purchase property for colleges and schools. He hopes that the government sets up the pre-university college in the same way for the children from his village. Incredibly, the motivational story of Hajabba is already an element of Mangalore University's undergraduate curriculum of Mangalore University. He has also requested Prime Minister Narendra Modi to build classes 11 and 12 for his school.
His Achievements
Hajabba has a book published in his name titled Harekala Hajabbara Jeevana Charitre, authored by the social activist Ismath Pajeer.
The BBC published an article on Hajabba under the title "Unlettered Fruit-Seller's Indian Education Dream" in November 2012.
He was conferred with the Real Heroes Award by Reliance Foundation and CNN IBN.
Hajabba was named "Person Of The Year" by Kannada Prabha.
In 2020, he was conferred by the president, Ram Nath Kovind, the nation's fourth-highest civilian award, the Padma Shri, for social work.
He is affectionately called "Akshara Santa" (letter-saint). Harekala is famous for the outstanding contribution he made, despite his circumstances, to improve the quality of education in his home village. Now his dream of pre-university college is a vision the whole nation shares, and we can't wait to see him achieve it.
His efforts have garnered much praise from everywhere. The former cricket player V.V.S Laxman shared a Twitter post about Hajabba's story. BJP MLA of Karnataka, PC Mohan, said that the fruit vendor has now aspired to upgrade the primary school into an undergraduate college.
We sure look up to him, and we are glad our country has more people like him who are willing to work endlessly towards their dreams. So, who is the person who inspires you the most to achieve your dreams? Let us know in the comments section!
The following two tabs change content below.