7 Things That Women With Healthy Hair Always Do We all know at least one woman among our extended family, relatives, or friends who always has a perfectly groomed mane. Every time we see her, we admire her locks, and our yearning for long and healthy hair like hers increases.
No matter what your hair type is, we have rounded up some hair care commandments for healthier and manageable tresses. These are the golden rules that women with healthy hair follow. Start taking notes – you may have a fair amount of homework to do!
1. They Avoid Heat Styling As Much As Possible
Let's be honest, we all have to rely on heat styling products sometimes. Ensure that you do not overuse them and subject your hair to excessive heat. Be gentle on your hair, and if you have to style your hair using hot tools, use a spray-in-heat protectant or serum to prevent damage.
2. They Don't Skimp On Moisturizer Application
Our scalp needs moisturization, just like our skin does. Make it a thumb rule to apply conditioner every time you shampoo your hair.
However, moisturization doesn't end once you leave the shower. Even while styling your hair, apply serums that will help reduce dryness, frizziness, and split ends.
3. They Eat The Right Foods
A healthy diet that is rich in zinc, iron, and omega-3 fatty acids helps to stimulate hair growth.
Once you start consuming the right combination of vitamins, proteins, minerals, and amino acids, you can obtain stronger, thicker, and shinier hair. Not only your hair, but the nails and skin are nourished as well.
4. They Get Regular Trims
To add a healthy length to your hair, you should trim it regularly. Although you might sometimes be tempted to skip the trims, they are very necessary to prevent split ends and dryness. A haircut every three months is a must.
[ Recommended Read: 25 Effective Ways To Remove Split Ends ]
5. They Keep Their Hair Clean And Use Right Products
Using quality products provides moisture and gives hair an overall clean and shiny look. Don't switch brands frequently. Give your hair some time to adapt to a product, find out which one works best for you, and stick with it.
6. They Avoid Hot Showers
Don't ever wash your hair with hot water. The excess heat blasts the volume out of the hair and leaves you with limp locks. Opt for either warm water or cold water. Cold water locks the nutrients in each strand and imparts a beautiful and healthy luster to hair.
7. They Avoid Cotton Pillow Covers
Always sleep on silk pillow covers. Cotton pillow covers rough up the hair cuticles and steal moisture from your hair when you sleep. Sleeping on silk pillows leaves your hair smoother.
Watch this video for tips on how to reduce hair fall.
Follow these dos and don'ts and banish your bad hair days forever!
Picture Credit: www.shutterstock.com
Recommended Articles
The following two tabs change content below.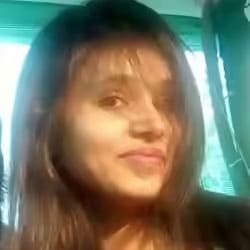 Jyotsana Rao is an engineering graduate from NIT, Nagpur, who discovered her love for writing during her undergraduate days. She...
more