10 Thoughts Every Online Shopping Addict Has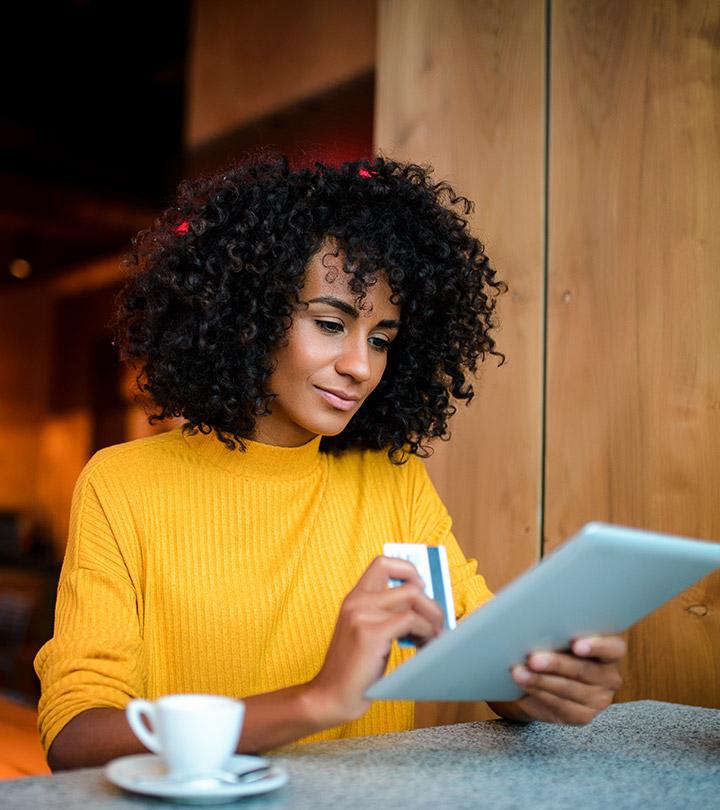 We don't really need to say much since you've voluntarily decided to click on this page. If you are someone who literally has marked online sales on their calendar, then you might just be an addict! Every person who goes shopping online has a list of hacks that they use. It just comes naturally to them and finding what they want with fast research is just another walk in the park. Being skilled is an understatement because (not exaggerating), this is where the real detective skills lie people. They are experts at hunting down precisely what they need to fuel their addiction. Of course, this is not to say that there aren't certain stunts one has tried to pull off during their retail time like wearing it once and sending it back. That's alright; we've all done something we've regretted in the past. But hey, every lady out there has had to hustle for their favorite items. So here are ten thoughts that every online shopping has had:
1. "Sale… Discount… Half Off"
These three words are definitely your mantra, and you probably can't live without them. You live for sales and discounts and probably spend almost all of your spare time browsing shopping websites and looking for any deal you can find. Every online shopping addict has a knack for sniffing offers and discounts like the back of their hand. You are probably the first one to find out about upcoming sales and be ready with your credit card. You already have your budget planned in advance and think about the things you need.
2. "Time To Create A New Email ID To Avail Introductory Offers"
We've all been there. So many websites have half-off introductory offers for first-time shoppers, and it's honestly so unfair! We are loyal customers who keep coming back for more, and we certainly deserve better discounts than some random newbie.
3. "I Just Want To Try These Out For Fun"
You know that feeling when you purchase something that's not your style at all just because you want to try it out for fun. There's no reason to feel guilty about it. If you can afford it and you are ready to experiment, go for it! However, make sure you can handle the humongous purchase and not regret it later.
4. "Work Sucked Today, Time To Treat Me To Some Online Shopping"
One of the many ways you relax and chill is by treating yourself to some online shopping and resting on top of your fresh new clothes. Sure, this may not be the healthiest coping mechanism, but when we're spending our own money and not hurting anybody else, how does it matter, right?
5. "My Wish List Is Too Cluttered, I Guess I Should Create A New One"
We may be online shopping addicts, but that does not mean that we enjoy seeing clutter all around us. If you are an online shopping addict, you probably have at least three wishlists on each of your favorite websites. And if you are someone who is uber messy, then this is probably a point that you cannot relate to. Either ways, if you have six-month old products tagged in your wishlist which you don't want to buy anytime soon, make sure to edit it out and weed out the problems
6. "Yes, I Have An Online Shopping Problem, So What?"
You can't tolerate when people constantly pick on you for spending YOUR MONEY on online shopping. Why should we stop doing what we love just because it is not something we enjoy? Your online shopping problem is not something that is their problem. Even if it has its own struggles, like deciding where to keep your things, at the end of the day, it is your problem and you will deal with it.
7. "I Just Wore This Once, I Guess I Can Return It"
Wearing something once and returning it is an art that most of us have accomplished and done excellently. As long as the outfit isn't badly stained or ruined, what's the harm in returning it? If you don't have access to good clothes rental services, then the best thing to do is wear it once and then return it. Just make sure the tags are not visible.
8. "Hey, Cousin That Lives Abroad That I Rarely Speak To, Can You Please Receive My Package?"
Who wants to pay the insanely high costs for international shipping? Well, if you are a smart and savvy online shopper, then you know that there's no better way to buy clothes internationally than begging your cousins to get them when they are coming into town. So make sure you use your international cousins as much as you can. We're just kidding… or are we? *winks*
9. "Where Is My Package?"
Something that every person who shops online can relate to is waiting with bated breath to receive their package, and if it gets delayed even by a little bit, you'll probably lose your temper. You know that feeling when you keep refreshing the tracking page every five minutes, hoping for some kind of change in the status of your package. Or when you type furiously asking for the customer support number.
10. "Hey Bestie, There's A Discount On Your Favorite Store Right Now"
Are you really best friends if you don't let your friend know about a discount on their favorite store? Well, one of the most critical stages of friendship is when you start to inform your friend of the excellent deals that are on their favorite website?
And there you have it, if you can relate to any or all of these pointers, you're an online shopping addict and have zero qualms about being one. There's nothing wrong with enjoying things as long as you do it in moderation. Since the pandemic breakout, many lifestyle habits were affected, and shopping is also one of them. For habitual shoppers, this became the last resort to get quality stuff that can be shipped to their condo. We totally get the feeling. So let us know all of your thoughts on his article in the comments below!
The following two tabs change content below.