9 Tips On Washing Your Hair And Keeping It Healthy In A Hard-Water Prone Area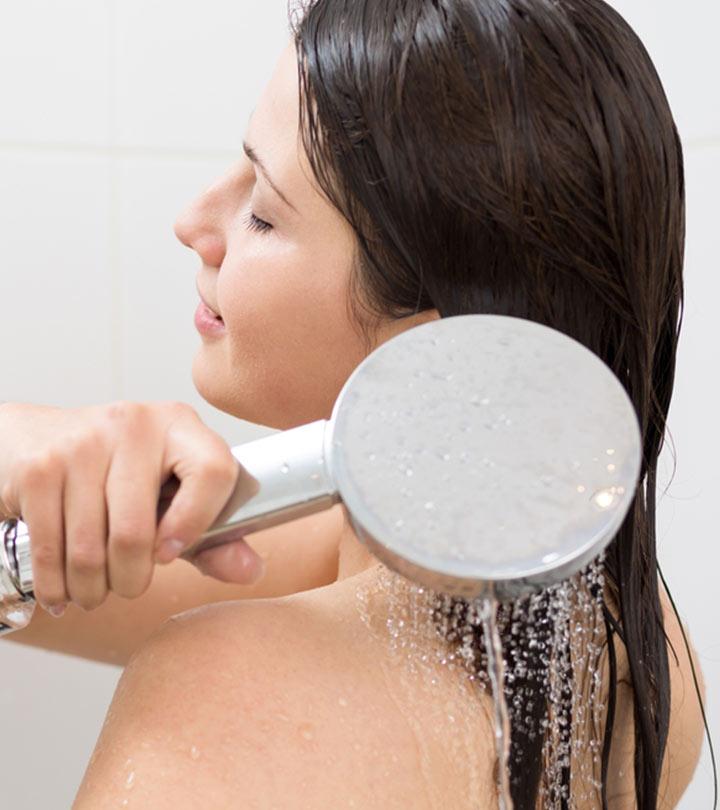 For the uninitiated, hard water is water that contains a high amount of minerals. While drinking hard water once in a while is said to be beneficial due to its mineral content, it can cause all kinds of problems for your hair. Not only can hard water mess with your hair but it can also form deposits on taps and other water faucets. If you're someone who doesn't have a water softener, there are multiple tricks you can use to wash your hair and make sure it remains soft and healthy. We all know that hard water is not the best for your hair, so here are a few solutions to the hard water problem:
1. Purchase A Shower Head Filter
If you can't find a shower head filter at your local hardware store, you can always find one on online websites. Most shower filters contain a unique four-layer filtration system that will get rid of any pollutants like chlorine and any other hard water salts that could cause damage to your shower head as well as the hair on your scalp.
2. Use Drinking Water
Sure, you may feel like using drinking water to wash your hair is a total waste of good consumable water but trust us on this. Even if you don't feel like washing your hair with drinking water throughout your bath, you can also just give your hair a final rinse with drinking water. This will help clear your hair of any deposits that may be left by the hard water.
3. Make Use Of A Clarifying Shampoo
Clarifying shampoos work by attaching to the various metals and other minerals that might be present in your hair and getting rid of them. Clarifying shampoos break down any residues that might be stuck to the hair and scalp, and can even get rid of any clingy product that has gotten in.
4. Apple Cider Vinegar Rinse
You can use an apple cider vinegar rinse or even juice from a lime in order to give your hair a final rinse before you towel it dry. Add a tablespoon of apple cider vinegar or freshly squeezed lime into at least three cups of purified or boiled water. Once you've mixed all the ingredients, leave the solution in your hair for about five minutes before rinsing it out thoroughly.
5. Apply A Leave In Conditioner
Hard water can cause your hair to dry up really quick. You can make use of a leave-in conditioner once a week to combat the moisture draining effects of the hard water on your hair. The leave-in conditioner will seal moisture in your hair and provide a smooth effect. You can also make use of a conditioner infused with argan oil, jojoba oil, or almond oil as they're the best oils for hair that is dry or damaged.
6. Fenugreek Paste
Fenugreek is a great natural remedy for treating hair loss and is even said to regenerate the hair growth from the hair follicles. Soak a cup filled with fenugreek seeds in water for sometime, preferably overnight. The next morning you should grind them into a fine paste and apply it to your hair. Leave the fenugreek paste in your hair for at least an hour (you can use a shower cap) and wash it off with cold water (preferably purified). Give this remedy a try once or twice a month to see a noticeable change in your hair texture.
7. Onion Juice Hair Rinse
The reason why most people recommend incorporating onion into your hair care routine is because of its high sulfur content. Sulfur is great to improve the circulation of blood to your scalp and can even help reduce any inflammation on your scalp. Apply the onion juice directly to your scalp, leave it in for 30 minutes and then wash it off with a gentle shampoo.
8. Consume Flaxseeds
Besides being great for weight loss, flaxseeds are also great for helping tackle hair fall. Flaxseeds contain special Omega 3 fatty acids that are great to help fight off any hair loss that may prevent the growth of new hair. You can consume it daily through salads, soups, and even smoothies.
9. Make A Coconut Mask
While your mother probably told you about the benefits of using coconut oil in your hair, did you know that coconut milk contains tonnes of minerals like potassium and iron as well as proteins and fats? Mix the coconut oil with a small amount of water and apply it onto the scalp. Leave the mask on overnight and wash it off with a mild shampoo the next day.
And there you have it! Nine ways to fight off hard water damage and ensure your hair looks smooth, sparkling and healthy. Do let us know which of these tips worked for you in the comment section below.
The following two tabs change content below.

Latest posts by Niharika Nayak (see all)

Niharika Nayak
Niharika has a passion for all things art, music and travel. During her spare time she likes experimenting in the kitchen, painting pop culture icons and chasing after random street cats. Her dream is to one day own an amusement park so she can ride roller coasters for free.