Struggling With Hormonal Acne? Here Is A List Of Foods To Eat And Foods To Avoid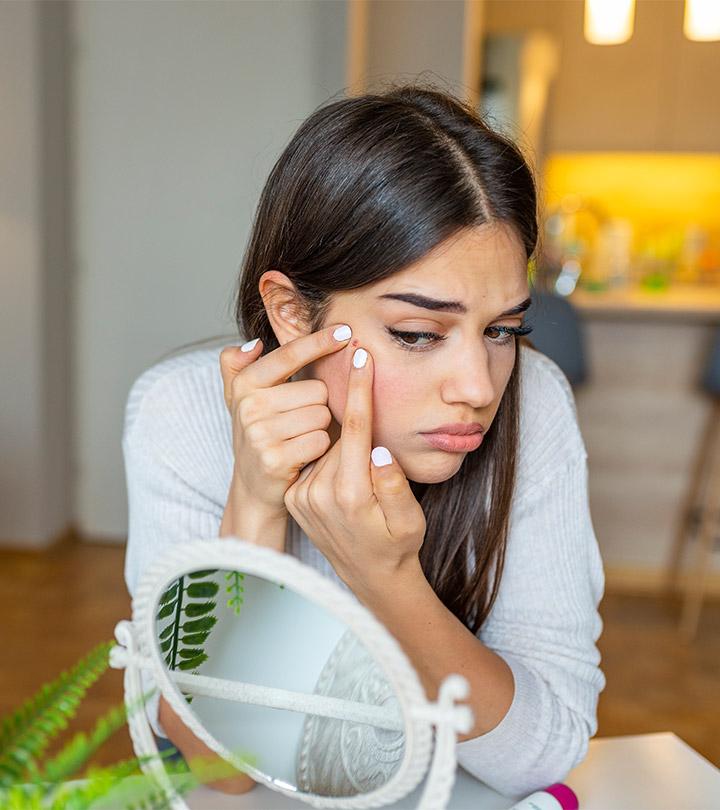 You probably always thought that acne was a thing of the past and that you won't have to deal with it once you reach adulthood. Then, once you actually stepped into adulthood, you discovered that acne isn't just a puberty problem. Plenty of adults of all genders and orientations end up suffering from acne vulgaris. The acne that you get as an adult is usually due to changes in your hormones and hence is called hormonal acne.
For most people, the acne goes away once you apply some benzoyl peroxide, salicylic acid, or other acne-fighting ingredients to it. However, there are plenty of others who've been stuck with hormonal acne for weeks, if not months and years. If you identify as the latter, then you should consider implementing some lifestyle changes. The changes could be something as simple as meditating for ten minutes daily to destress or something big like changing the fabrics you use or getting a good face wash. So in this article, we're going to cover one such lifestyle change you can make- changing your diet. So here is a list of food items to eat and those to avoid:
Foods You Should Be Eating
1. Fruits
One of the best ways to kick acne to the curb is by loading up on fruits that are rich in antioxidants. Berries, oranges, cherries, grapefruit, pears, and grapes should be your go to foods when you're going through a bad breakout.
2. Vegetables
We all know that vegetables are good for us and are necessary for the smooth functioning of our bodies. This is especially the case for green and leafy vegetables like kale, broccoli, french beans, spinach, and more. These vegetables are enriched with iron, folate, magnesium, fiber, and plenty of other nutrients that work wonders on our skin. Peppers, cauliflower, beets, and carrots are also recommended to those who are struggling with acne.
3. Whole Grains
Whole grains like brown rice, quinoa, buckwheat, oats, and millet are packed with plenty of benefits and are known for being rich in fiber, antioxidants, plant compounds, and B vitamins. These are great for your body and even better if you are someone who is conscious of their weight.
4. Plant-Based Alternatives To Dairy
There are plenty of folks out there who have an intolerance to lactose or simply don't want to contribute to dairy farms and want to switch to more ethical alternatives. Well, the good news is that cutting out dairy products from your diet will have a tremendous effect on your skin. Consider switching to almond milk, coconut milk, or even cashew milk. Coconut yogurt is also a great alternative to regular dairy yogurt.
5. Pumpkin Seeds
One of the best ways to get rid of the pesky acne on your face is by eating pumpkin seeds. Pumpkin seeds are a powerful superfood and are enriched with zinc and Vitamin E that are important for the health of your skin. They are also a great source of omega fatty acids as well as omega 3. One way to get in a good dose of these seeds is to add them on top of vegetable salads and fruits.
6. Legumes
Black beans, kidney beans, legumes, and chickpeas are also incredible when it comes to fighting off acne. Make sure that you are getting a good dose of legumes as they are great for your body overall.
7. Fatty Fish
For the most youthful-looking glowy and dewy skin, you need to be eating a good amount of healthy fats. Omega-3 fatty acids are magical for your body and provide your skin with a healthy glow from within. Omega-3 fatty acids heal your skin from within and help your acne marks fade away.
8. Unsweetened Beverages
While it's human nature for us to reach out to those sparkly sodas and colas, the truth is that they exacerbate our acne problems. Instead, reach for green tea, unsweetened lemon water, hibiscus tea, and even sparkling water. Plus, this also has the added effect of helping you lose weight since soda is so calorific.
9. Herbs And Spices
Many common Indian herbs and spices are enriched with anti-inflammatory and antioxidant properties. Cinnamon, ginger, cayenne, turmeric and black pepper, parsley, and more are the herbs and spices you should be on the lookout for.
10. Nuts
Walnuts and almonds are skin food and rich in healthy fats and omega-3 fatty acids. These are essential for your skin's health. Nuts also have anti-inflammatory properties and are enriched with antioxidants.
Foods To Avoid Eating
11. Highly Processed Food
If you are already dealing with a nasty bout of hormonal acne, then you need to avoid eating frozen meals, sugary cereals, microwave meals, and fast food. Anything that is considered junk should be kept aside for some time.
12. Eating Chocolates And Sweets
If you overdo eating chocolates and sweets, you might notice that your hormonal acne has gotten worse. Instead, cut down on your sweet consumption for some time.
13. Sugary Drinks Or Soda
Cakes, sodas, table sugar, energy drinks, candies, and sweetened sports drinks must be avoided at all costs during this time.
And there you have it, a comprehensive list of foods to eat and foods to avoid when you are dealing with hormonal acne. Try some of these methods the next time you get acne. Do let us know if any of the tips were beneficial to you!
The following two tabs change content below.