Guide To Picking The Right Party Blouse To Glam Up A Plain Saree
Some occasions call for a beautiful, albeit plain saree. And if occasions don't demand it, your personal taste and the latest trends may surely do so! As elegant and classy as a plain saree can be, these 6 yards of pure color may quickly turn boring if you don't style it right. Especially if you're keen on wearing that gorgeous plain Chanderi silk saree you have to a party!
One of the ways you can make a plain saree pop is by pairing it with an interesting blouse. These days, blouses have a come a long way from the era of elbow-length sleeved, V-neck items with borders on the edge. Now, blouses are as much as a clothing item as a styling accessory and there's no reason why you shouldn't use them the same way! More so when you're donning a plain saree!
Here are 5 tips on how you can glam up your plain saree with the help of head-turning blouses:
1. Match Your Saree With A Blouse Of A Contrasting Shade
Going the plain saree route for an event takes a lot of guts as the focus is always on heavy embroidery and sequins! Hence, if you want people to envy your supreme style sense, we recommend you match your plain saree with a blouse in a contrasting hue! This simple trick will completely change the way you and your saree look! Think Deepika Padukone in the iconic song Badtameez Dil from Yeh Jawaani Hai Deewani. Her royal blue saree paired with a black sequined blouse was too hot to handle! As for accessories, dangling earrings, statement bangles, and big bindis will all complement your look.
2. Pair It Up With A Designer Blouse
Not in the mood to spend thousands on a designer saree for your best friend's wedding? Save those precious bucks and get yourself a designer blouse instead! Blouses with ornate embroidery or mirror and stone work will look exceptionally eye-popping with your plain saree. In fact, this is the easiest way to look like a true fashion goddess at any event you attend! Just bear in mind to keep your accessories and makeup in sync with your attire. That means glamorous makeup and jewelry with antique motifs. As for your hair, any neat style will do. Don't go messy.
3. Don A Full-sleeved Blouse With Your Plain Saree
If you intend to go completely plain on your saree – which means no border designs, no color grading and no other such tiny design element whatsoever – you should wear it with a full-sleeved blouse. The vintage charm a full-sleeved blouse can add to your attire is unmatched by anything else! This is also a great option if you're attending a formal event or an event with strict dress code rules.
As for the pattern of your full-sleeved blouse, it can be anything – delicate embroidery, bold prints, sequins or lace. The choice is yours! Only ensure that you keep the accessories minimal if you opt for this style.
Neckpieces are an absolute no-no and so are bangles and bracelets. Earrings and cocktail rings will look good though!
4. Try Out Indo-Western Blouses
Lately, there's been a huge influx of Western design elements in the construction of desi saree blouses. Ruffles, off-shoulder, cold-shoulder, one-shoulder, Mandarin collar, bishop sleeves, etc. are patterns often found on blouses, making your saree look like an elegant evening gown! This union of Indian and Western designs is a symbol of the modern woman – a woman who's rooted in traditions and yet bold enough to embrace modern values. Which makes the pairing of such blouses with a plain saree a very powerful look! To spice things up and show your fearless fashion diva side, throw in a sleek metal waist belt. That's the only accessory you need to take your fashion game to the next level.
5. Wear A Plain Matching Blouse
Another look for the powerhouse ladies – styling your plain saree with a plain blouse shows you mean business. However, if you still want to break the monotony of the monotone color scheme, we suggest you go for unusual neck styles such as a boat neck instead of the conventional round one. Another way you can jazz up your solid color look and maintain professionalism at the same time is by accessorizing with a large necklace.
Choose those made of single colored beads or oxidized silver as these look very formal and classy. When going for this look, keep your makeup minimal and hair back in a neat bun. Dark lips and a nice bindi would be great additions!
Who said a plain saree has to be boring? Our most favorite celebs are often spotted wearing them with panache and pizzazz. So, take inspiration from them and rock the plain saree look like a fashionista!
The following two tabs change content below.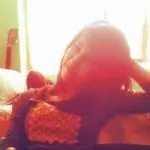 Latest posts by Tanya Arora (see all)