9 Tips To Improve Your Beauty Regimen And Slay The Monsoon Season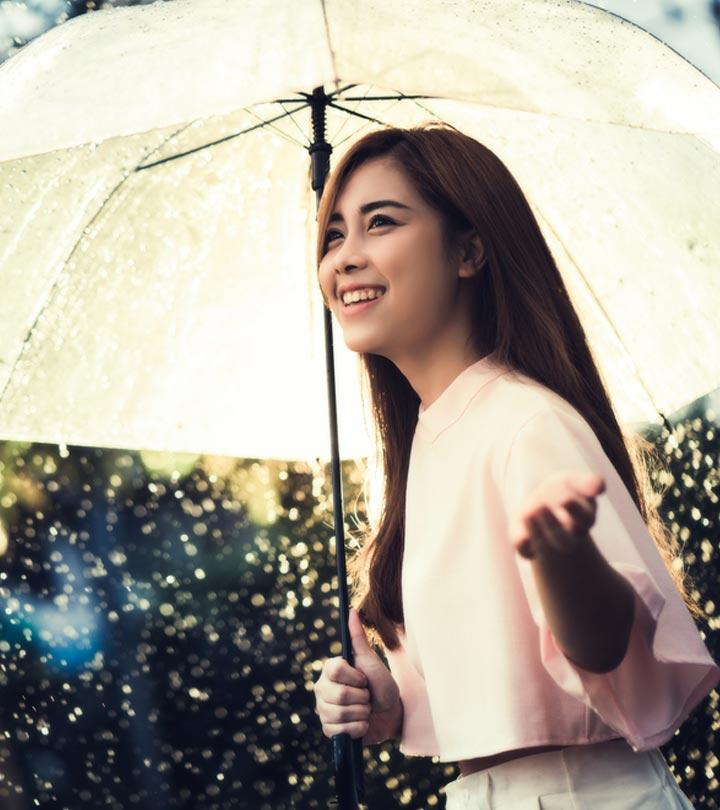 There are a couple of beauty tips that should be followed all year long, and then there are a few beauty tips that are a must in your regimen during the monsoon season. Since the monsoons set in a bit late this year, many parts of the country are still facing downpour and in some cases, even floods. Because of the pandemic, we need to be extra cautious during this monsoon season and try our best to stay as safe as possible. So here are a couple of tips you can incorporate in your beauty regimen to remain as safe as possible during the rainy days:
1. Cleansing, Toning, Moisturizing
The most important thing every person should incorporate into their routine is cleansing, toning, and moisturizing. If you aren't doing it already, you must start. If you've gone out and have come back after a long day, make sure you clean your face thoroughly. Exfoliate twice a week and always use a gentle toner after washing your face to retain all the essential moisture and goodness.
2. Dust Yourself With Anti-Fungal Powder
The monsoons can make the air around you pretty humid, leading to numerous skin infections like fungal infections popping up during this time. If you're someone who tends to have chafing of the thighs or generally sensitive skin in certain regions like your underarms, groin, or even your back, it's a good idea to dust a light anti-fungal powder on your skin. This will keep your skin dry even if you sweat, or if the air around you is too moist.
3. Use Sunscreen
Just because the sun might not shine as much as it used to, doesn't mean that you skip out on using sunscreen. The sun hides behind monsoon clouds, and as soon as it rains, it shines super bright, and you're exposed to getting tanned and suffering from sunburn. As they can penetrate through clouds, harmful UV rays can still affect you during the monsoon season, so it's a good idea to apply a sunscreen of at least SPD 30.
4. Opt For Natural/Organic Makeup
If Kajal is your "bae" makeup and you can't part without it, you should invest in an organic product that is waterproof and free of mineral oil and parabens that could harm your skin. The reason why buying a waterproof kajal for the monsoons is that nobody wants to look like "Monjolika" from Bhool Bhulaiya during this time. Plus, with all the masks covering our faces, our eyes are the only facial features that truly see the light of day, so we might as well jazz them up.
5. Wash Your Hair
Just because it's the monsoon season and you're indoors doesn't mean you skip out on washing your hair. When we go out onto the streets during the rainy season, we expose ourselves to tonnes of germs and bacteria. Just think about you walking down the street with your earphones, unaware that a car driver was going to splash you with sludge water.
6. Hydrate Yourself
Water, water everywhere but not a drop to drink. It's important to make sure you drink water even during the monsoon seasons. You might feel like not drinking as much water during the monsoon season but it is important to drink at least eight glasses of water every day. Hydrating yourself is vital to flush out any toxins that are present in your body.
7. Keep Your Immunity Up
You can take vitamin C supplements or have oranges and other citrus fruits in order to boost your immunity. You should also exercise regularly and incorporate certain spices into your diet that can help keep any common colds and flu at bay. Although it might be challenging to get out and exercise during this time, you can follow a couple of home workout routines and regimens. You can also practice yoga and breathing methods to make sure your organs are at their fighting best.
8. Use Gentle Products
Take care of the sensitive areas of your skin like your lips and the skin around your eyes. These can tend to get dry and chapped during the winter and monsoon seasons. When using a cleanser and toner, make sure that they are compatible with your skin type and won't excessively dry your skin. It's also very very important not to skip using a moisturizer during the rainy days no matter what your skin type may be. If you're someone who has really oily skin, you can make use of a water-based moisturizer and if you have combination skin you can make use of a light lotion.
9. Use Face Masks
Nothing beats a face mask, a hot cuppa chai, a good book, and a rainy view. The monsoon season is the best time to indulge in all your self-care whims and just take a step back to relax. You can enjoy your me-time and multitask by reading or having chai while you're soaking your facemask, or you can just lay back and relax and take a breather for a minute. Either way, it's time you pampered yourself.
The monsoons can be a delightful time for loads of people in the country. Whether you live in Mumbai and patiently await the arrival of the monsoon waves at Marine Drive, or you live in Himachal and wait for the rain to kiss the mountain tops, the memories associated with the Indian monsoons is one that cannot be beaten. So, make the best out of the season and get yourself recharged all the way!
The following two tabs change content below.

Latest posts by Niharika Nayak (see all)

Niharika Nayak
Niharika has a passion for all things art, music and travel. During her spare time she likes experimenting in the kitchen, painting pop culture icons and chasing after random street cats. Her dream is to one day own an amusement park so she can ride roller coasters for free.