9 Tips To Make Sure Greasiness Doesn't Follow After You Shampoo Have you ever touched your scalp and felt that the oil production could easily challenge that of Arabic countries? If that's a yes, then this article is for you. Out of all the problems you deal with daily, greasy hair is the last thing you need. While you would think shampooing is the answer to keeping the oils away, those who have tried will tell you that it keeps coming back, faster! The more you try to take the oils away, the more your scalp produces the oil, and eventually, it leads to thin hair that sits flat on your scalp. Wish there was some way to extend the shampooed hair effect before the oil spills on your scalp? Well, there is! Here is why your scalp tries to supply oil to your hair roots and how to keep it clean and dry naturally for long. Read on to know all.
Why Does Scalp Supply Excess Oils?
While most of us consider sebum the arch-enemy, it is good for our hair since it hydrates and protects our scalps from microorganisms (1). But when our sebaceous glands continue producing this oil, our hair becomes greasy and limp, making it challenging to maintain healthy looking hair. When you wash your hair with shampoos, it causes your scalp to become dry by removing all natural oils. The more you wash, the more the follicles are stimulated to generate excess oils.
Here are a few ways to limit your scalp from getting oily:
1. Reducing The Number Of Hair Washes
Yes, you can gradually reduce the number of times you wash your hair to make it less oily. As you cease rinsing them off, your scalp will stop producing as much oil. So try to keep your hair unwashed for as long as possible.
2. Put Your Hair In A Bun
After the third day of shampooing, your roots may seem a little filthy, but don't worry about it. One of our favorite styles is a low, loose hair bun that can be bound with a hair tie or clipped in place. It looks fantastic and protects your hair from everyday wear and tear. Bonus, it also leaves beautiful curls when you release them!
3. Remove Dead Skin From Your Hair And Scalp
Using a scrub feels fantastic, but it also keeps your scalp looking clean and healthy, even if you have an oily, itchy scalp. In addition, it will help stimulate the roots and ensure better hair growth. It will also reduce the accumulation of dead cells and buildup and keep your hair feeling fluffy and neat.
4. Use Styling Products Sparingly
Avoid using a lot of spray and cream on your scalp since this can lead to oil buildup on the hair follicles. You should only use a styling product on your scalp if you have fine, flat hair that could use some more body.
5. Use A Clarifying Shampoo
Clarifying shampoos can help you train your hair to produce less oil, so use them twice a week if you want to keep the oil production minimal. Once you can keep your hair oil-free the entire week, you can slowly ditch the clarifying shampoo for your regular one.
6. Use A Sulfate-Free Shampoo
Even though sulfates are drying agents, the sudsy detergents could take off the natural oils and make your hair feel rough (2). Your hair may feel clean after using a sulfate shampoo for the first few times, but your scalp may overproduce oil to compensate for the drying effect. If you want to keep the greasy residue to a minimum and avoid depleting your scalp and hair of the oils essential for healthy hair, then choose mild, sulfate-free shampoo solutions.
7. Hairspray
Dry shampoo might help you stretch the time between washes. First, apply the product to your hair and then rub it into your scalp to ensure that it is evenly dispersed. This will soak away the excess oils and leave your hair feeling puffy and fresh.
8. Using Apple Cider Vinegar
Apple cider vinegar can be an effective tool to cleanse your oily scalp once a week. You may combine five parts of bath water with one part of apple cider vinegar and then coat your entire hair in this solution. Let it sit for 5 minutes, and then wash it away with cold water. You can use a mild conditioner if your hair is naturally dry.
9. Try A Texturizing Spray
Dry shampoo is great, but it might damage some hair types. Avoid over-drying shampoos if your hair is constantly greasy. In place of it, use a texture mist to provide dimension. Without introducing too much oil, it works wonders for hair that has seen better days.
So, now that you know how to regulate your scalp oil correctly, there is no need to spend time rescheduling your hair wash day before stepping out. Instead, make sure you eat healthily and provide the proper nutrition to your hair. Do you have anything you would like to add to our list? Let us know in the comments section!
The following two tabs change content below.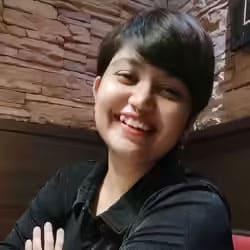 Indrani is a writer and artist who likes to add a dash of humor to everything she does. After graduating...
more