Wardrobe Staple: 16 Traditional Sarees Of India That Every Woman Needs In Her Wardrobe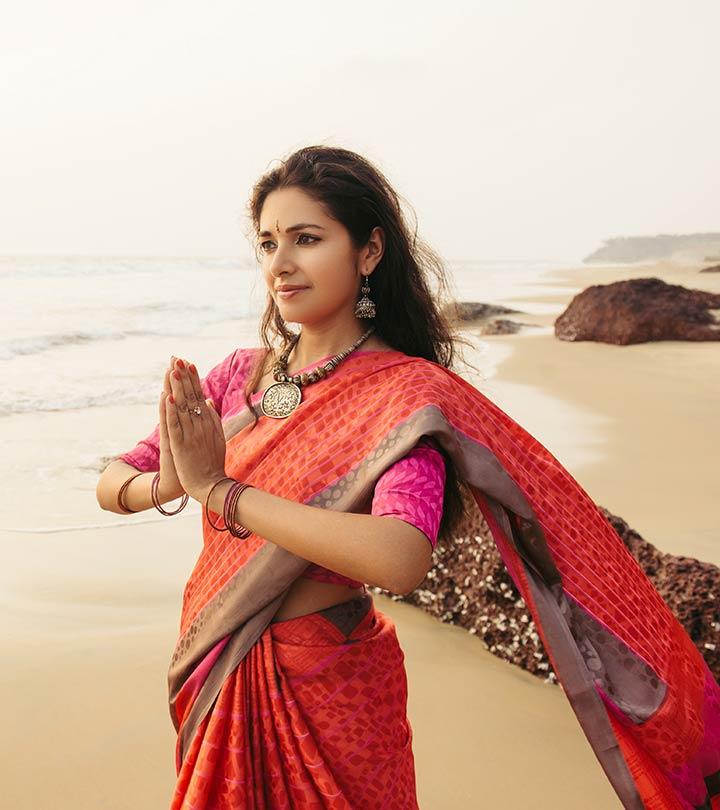 Saree is the pride of the Indian clothing industry. Even on the most high-profile ramps in India, saree is a hit ensemble. No matter how much the fashion world evolves, saree will always be the first love of the Indian woman. Of course, you have your expensive pair of jeans and a leather jacket, but wearing a saree is an entirely different feeling! You feel at home, a part of your culture and most of all, you feel beautiful. There's no clothing item that looks more elegant than a well-draped saree. Saree has been an integral part of our culture for centuries. And for a huge plot of land that was divided into provinces, saree was one among the emotions that remained common.
However, the geographical and cultural differences within the country gave birth to various types of sarees. Well, we are a diverse country and this diversity reflects in the variety of sarees that  Indian women wear. Today, let's take a look at some of these amazing sarees that are so beautiful (and popular) that they deserve to find a place in each of our wardrobes. Now let's dig in!
1. Kanjeevaram- Tamil Nadu
Kanjeevaram is known as the queen of sarees. And why not? Just look at the shiny silk and the golden thread work! There's no saree that is as royal as a Kanjeevaram saree for sure.
2. Kasavu- Kerala
Also known as the settu saree or the Onam saree, Kasavu saree is Kerala's most popular clothing item. Women wear them mostly during temple visits and festivals. It is characterized by its white/ off-white body, and golden color border and pallu.
3. Pochampally- Andhra Pradesh
The famous Pochampally silk hails from the town of Boodhan in Andhra Pradesh. These sarees are a perfect blend of cotton and silk, and are super comfy to wear. Their specialty is the intricate, geometric ikkat design on them.
4. Ilkal Saree- Karnataka
From the town of Ilkal in the Bagalkot, Karnataka hails the Ilkal sarees. These are mostly cotton sarees with a plain (or lines/checks) body, a very simple border, and pallu.
5. Mysore Silk- Karnataka
In 1912, the Maharaja of Mysore established India's first silk weaving company known as the Mysore Silk Weaving Factory. Mysore silk sarees can be spotted from miles away owing to their rich texture and simple design. They have a very beautiful luster, which is an outcome of the excellent quality of silk with which these sarees have been woven.
6. Chanderi- Madhya Pradesh
Chanderi is a mix of silk, zari, and cotton. These sarees have a bright sheen and they are perfect for any occasion. The best thing about Chanderi is that they are super comfortable and easy to manage.
7. Bandhani- Gujarat And Rajasthan
Bandhani has its roots in Gujarat as it is believed that the first bandhani dying work was started by the Khatri community of Gujarat. However, even in Rajasthan, Bandhani is a very important design. The design isn't printed and is created using the tie and dye process. These sarees are usually brightly colored and are beautiful and to die for.
8. Leheriya – Rajasthan
Leheriya is a design that is produced by another form of tie and dye practice, which is native to Rajasthan. The pattern resembles ripples on a bright-colored piece of fabric.
9. Taant- West Bengal
Taant makes an excellent daily wear for office-goers, because they are made of cotton and are very light. You can drape them easily as well. However, this doesn't mean that they look dull, because they have very pretty borders and designs. If you are a fan of the simple, you can always wear these sarees to events like weddings and make your own style statement.
10. Bomkai- Odisha
Bomkai sarees come with traditional motifs and designs that are added through intricate thread work. These are also known as Sonepuri silks and are made in cotton as well as silk.
11. Paithani- Maharashtra
Paithani sarees is named after Paithan, a town in Aurangabad, Maharashtra. These sarees are hand-woven in pure silk and golden zari. They look very royal and are considered to be one of the most expensive types of sarees in India. Recurrent peacock and bird designs are a special feature of these sarees.
12. Banarasi- Uttar Pradesh
Who hasn't heard sagas of Banarasi sarees and their beauty? These sarees are from the holy land of Varanasi and were worn only by the royals back in the days. No wonder every woman who drapes one of these looks like a queen!
13. Phulkari- Punjab
Phulkari made its debut in the story of Heer and Ranjha. It literally means "flower work" and these designs are made with bright-colored threads on bright khadi or cotton fabric. Phulkari dupattas are as popular as phulkari sarees.
14. Chikankari- Lucknow
Chikankari is exclusive to Lucknow and is a type of thread work done on muslin cloth (traditionally). Chikankari sarees are very beautiful, which is why you should make sure that you get your hands on one of these!
15. Muga- Assam
Muga silk is a very durable form of silk that it thicker and glossier. It is made by silkworms that feed only on two particular types of leaves and are found only in Assam. If you are a fan of silk sarees, you must definitely have one of these.
16. Sambalpuri- Odisha
The threads are dyed before they are woven to make the Sambalpuri sarees. These sarees are hand-woven and are very lightweight, which makes it a must-have if you are fond of sarees.
Sarees may not be the easiest outfits to wear but we promise you it's going to be a cakewalk once you wear it a couple of times. Also, no matter what saree you wear, you're going to look amazing in it! Which is your favorite saree from the above list? Let us know in the comments below.
The following two tabs change content below.