11 Trending Blouse Designs In 2019 That Will Impress You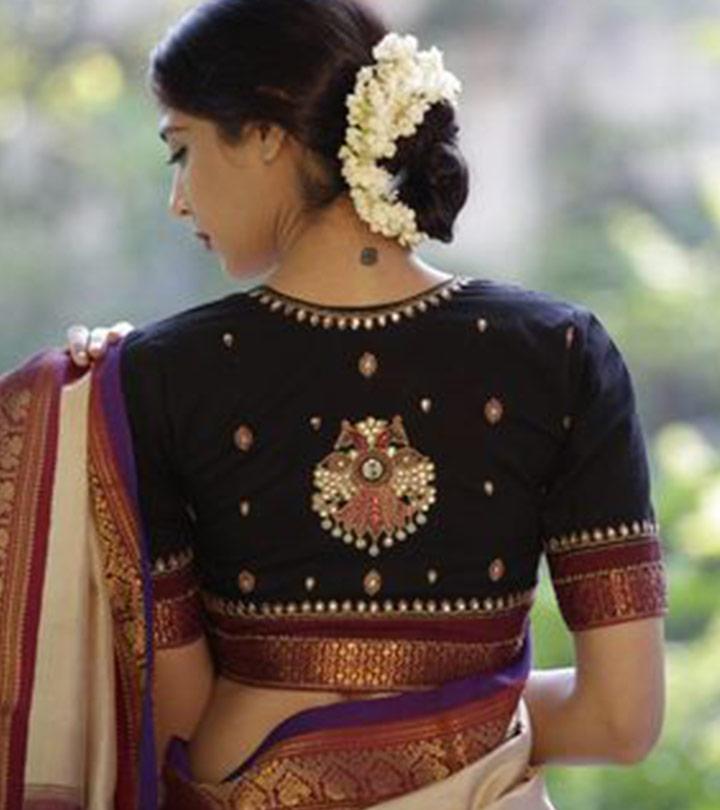 East or West, when it comes to glamming it up, our Indian saree are the best! And I am sure a lot of you who are reading this article, agree with me. Every time an Indian actress struts on a foreign red carpet wearing the nine yards of fabric, our Indian hearts just swell up with pride, don't they?
And not just that, this traditional Indian garment, too, has evolved with time to give the ball gowns of the world a run for their money. So now, you have the pants-saree, saree-gowns and what not! But what about its humble companion, the blouse? Don't you think that it deserves a makeover too?
We, here at StyleCraze, decided that it was time to put a fun, festive, and fashionable spin on the traditional blouse. Charged with this creative impulse, we scoured the Internet for inspiration and came up with a few fun and functional styles that add to the grace of the saree, while simultaneously adding a fun element to it. So, if you are looking to make a style statement with the traditional nine yards, take your inspiration from the styles given below and wow everyone with your look!
1. Full-sleeved Blouse With A Round Neck
If you are thinking why I would suggest a full sleeved blouse, when a saree is just nine yards of plain fabric, I would like to draw your attention to the image given above. The sequined sleeves add an element of glamour to the plain saree, which uplifts the whole look. Go for this if you are looking for a more Pooh bani Parvati vibe.
2. Blouse With Chinese-Collared Neck
While the blouse might have been inspired by our neighbors, there is nothing more Indian than covering it up! Jokes aside, if you have a graceful, swan-like neck, go for this blouse to highlight it the sophisticated way.
3. Blouse With A High Neck
Don't worry, you can still opt for a racier back while opting for a blouse with this neck-style. This is especially recommended for women who have a small bust, as it makes them appear more shapely. You can turn up the glam quotient by getting heavy brocade work or adding sequins as pictured above.
4. Peplum-Style Saree Blouse
Go for this style if you are looking to give your outfit a more Indo-western vibe. This style draws attention to your waist; therefore, you can use it to flaunt your envious frame. Recommended for women with a petite frame.
5. Blouse With A Knot At The Back
We decided to take a risk and brought you this naughty-yet-nice style. If you are looking for something that is flamboyant, yet sanskaari enough, then this is our pick for you! What better way to flaunt your beauty than presenting yourself as a present that is looking to be unwrapped! Recommended for date nights and candlelit dinners.
6. Off-Shoulder Blouse
Taking it up a notch is this peek-a-boo styled off-shoulder blouse that will leave your audience wanting for more. The Duchess (Meghan Markle) might not be allowed to showcase that collar bone, but who is stopping you?
7. Corset-Style Blouse
This one is for the bodacious babes out there. If you are someone who has a curvier frame (a large bust), then this style would showcase your assets in a more graceful manner while also highlighting your hourglass frame.
8. Cape-Styled Blouse
If you thought that capes are meant for royalty or superheroes, then you are right. And you are both. So, strut in style in this gorgeous amalgamation of western and eastern elements in a cape-style blouse.
9. Sheer Blouse
This is for those who are looking something for more flirty than daring. The addition of sheer panels creates an aura of mystery while maintaining the graceful air. If you don't prefer bareback blouses, this is the perfect solution for your "less-is-more" style needs.
10. Boat-Neck Blouse With A Deep Back
Nothing spells elegance as much as this boat-neck style blouse. While the elegant front neck makes it a perfect choice for evening get-togethers, the deep back adds to the oomph, making it the perfect companion for a gorgeous saree worn for a cocktail evening.
11. Blouse With Frilled Sleeves
This is for those who like to add a bit of flair to their outfit. This blouse has the power to transform the most basic of cotton sarees into a fun coffee-date outfit. Case in point: the picture given above.
We hope we gave you enough style inspiration to dust out those sarees rotting away in the long-forgotten corners of your mother's almirahs. Which of these styles did you like the best and why? Share your opinions with us in the comments section.
The following two tabs change content below.