11 Trendy Hairstyles For Round Face Girls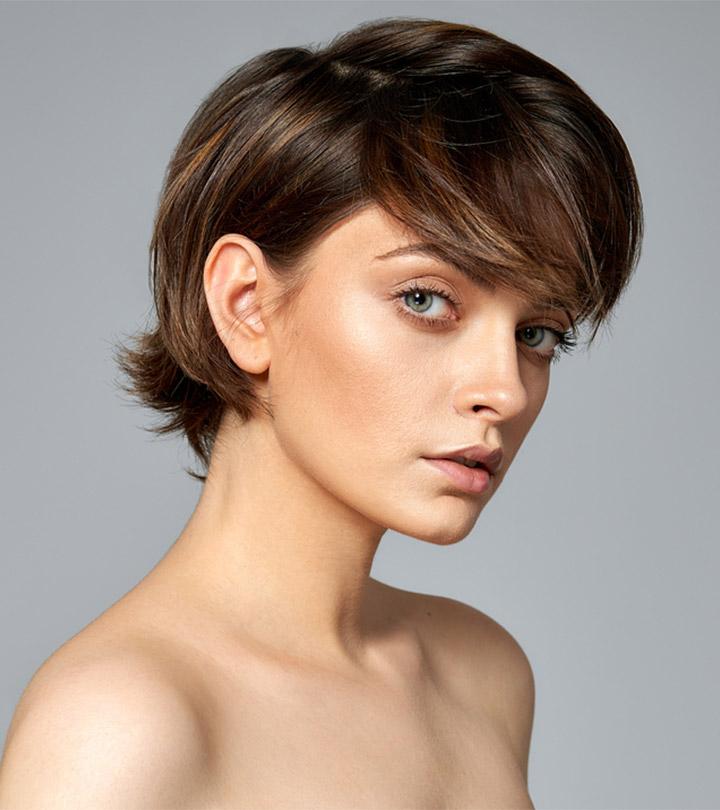 Do you want to know the unconventional ways to detect if you have a round face? First, people compliment you with words like cute, pretty, and sweet. Second, you might be skinny, but the round face will make you look chubby. And third, you rule short hairstyles like no other! People with round face cuts are blessed with a babyface, and that is a sheer blessing when it comes to experimenting with really short hairdos. So, if you have a round face and have been searching for haircuts to change your look this season, we have plenty of styles to offer. Just lay back and read on to know what your next haircut will look like!
1. The Voluminous Pixie
Pixie is one of the most experimented and daring haircuts of all time. While others can't say for sure if the haircut suits them, with a round face, you can rest assured it will look good on you. This haircut looks like an overgrown pixie and frames your face nicely. The best part is, it looks timeless and makes you look way more youthful.
2. Short Bob
Bob comes as a total surprise of how amazing it can look on a round face. Even if you have experimented with bob earlier and feel it will look the same, you should try adding colors to it. Bob haircuts are perfect when it comes to adding highlights and undertones to your hair. So, if you wanted to try wacky hair colors, now is the right time.
3. Asymmetrical Bob
Even though bobs were invented way ahead of time, asymmetrical bobs are comparatively new and look really stylish. The best part is, you don't have to straighten your hair or maintain it vigorously. A slight wave looks more than good on you. You can also dye the end of your hair to give it a trendy touch.
4. Cropped Hair
This is the haircut when you want to look really cute but don't have the time to maintain the long strands. Crop keeps the length of your hair to a bare minimum and helps you flaunt a smart haircut that goes well with formal outfits.
5. Bob With Side Parting
You will be surprised to know how hair parting can affect your hairstyle. If you have tried bob with fringes, you need to give the side parting look a try. Not only will it give a slimmer look to your face, but it will also make you look way younger.
6. Nape Undercut
One thing we really like about a short hairdo is the option of an undercut. It's bold and beautiful and immediately creates a style statement. You can also try different hair colors on them to make them distinctive. If you want to try something edgier, you can ask your hairstylist to make patterns of your choice to the undercut.
7. Long Blunt
Even though we consider blunt as the hairstyle that ends at the shoulders, the length beyond the shoulders also look good on a round face. We like it best because it conceals your face and makes it look way slimmer. You can also try layering to show the shape of your face clearly.
8. Curly Pixie
If you have natural curls and want to keep the length short, we have a haircut that will fill you with confidence. A little overgrown pixie where you can curl the strands shifts your hair upwards and emphasizes your neck. It will help you reduce the focus on your round face and engage in gorgeous curls.
9. Messy Blunt
You would think it is the wind, but we think it's style! Why should your hair be sleek and always tamed when it looks so good without brushing? Once in a while, you can always flaunt the uncrushed party look. Just picture yourself in a jacket and denim and a hair that is so wow.
10. Blunt With Bangs
Bangs have their own way of bringing down your age by a decade, and when it comes to blunt cut with bangs, you are going to look like a teenager. This haircut is specially crafted for people with round faces as it will conceal the side of your face and give a much thinner face frame.
11. Curly Hair Blunt
Whoever said blunt is only for straight hair! In fact, we feel curls are in, and the wavier your hair is, the cuter you will look in it. If you want to add fringes to it, we suggest you use a straightener just for the bangs and let the rest of it be curly.
So now you know the haircuts that make your round face look gorgeous; nothing can keep you from looking absolutely flawless. Cutting your hair short is always a good decision if you feel good and comfortable in it. Experiment with haircuts, hair accessories, and even hair color to know what suits you best. So, do you have a haircut you liked the most? Let us know in the comments below!
The following two tabs change content below.