6 TV Actresses Who Look Stunning After Pregnancy Weight Loss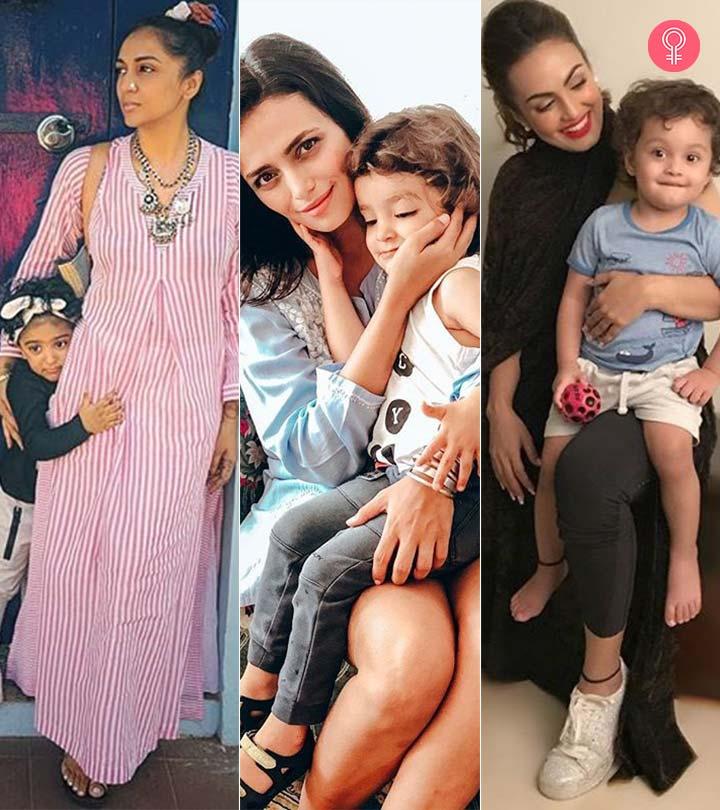 We've always spoken about weight loss journeys of Bollywood moms right after their pregnancy period. We have most of their weight loss secrets, and thanks to the efforts of the paparazzi who are always on their toes following these celebs wherever they go. But we've never really spoken or appreciated the moms from the small screen world, the television industry! Working in the Indian Television industry is no small job. These actors are being watched and loved by people every single day. Television actresses work round the clock each and every day of their lives. Therefore, when pregnancy phase hits them, they're bound to be affected more than the Bollywood celebs because they cannot really go on yearlong maternity leave. And when they return to resume work on their sets after a few months, they are still expected to look all glamorous and stylish.
The small screen actresses figure their schedules out; they celebrate the pregnancy period of their lives. And they also make sure that they've shed all the extra weight before they resume their onscreen roles. Here are few television actresses who looked even more stunning after pregnancy weight loss.
1. Shveta Salve
Motherhood is a time when a woman's body goes through immense changes. You feel outright fat, your body grows, and yes, you put on oodles of weight in a wholesome manner. Many women get panicky at this phase of their lives. But popular TV actress Shveta Salve of "Hip Hip Hurray" fame was otherwise and she chose to break all the stereotypes when it came to pregnancy. One look at her Instagram profile and you'll understand what we're trying to tell here. Throughout the 9 months of her pregnancy, she posted fun pictures of herself on Instagram. She gave birth to a baby girl who was named Arya in 2016. After 6 months of becoming a mommy, she was seen posting bikini pictures of herself on her Insta account.
She is said to have lost most of her pregnancy weight by religiously practicing yoga and exercising regularly.
2. Shweta Tiwari
Lovingly known as Prerna (the role she played in the most famous TV serial Kasautii Zindagii Kay), Shweta became a second-time mommy in 2017 and gave birth to a baby boy Reyansh. Like any other mother, Shweta too gained weight healthily. But now, Shweta has slimmed down and is ready to return to the small screen. When asked about her weight loss secret, "running" was her answer. She says, "I don't have time to go to the gym. So I run, even if it is 2 am after I'm back from a shoot. Even if it means taking a hurried round of the neighborhood, I find time to run every day. It keeps me in shape and I love the runner's high!"
3. Roshni Chopra
If there's any TV actress who lost her extra weight after pregnancy at the speed of a bullet train, it has to be Roshni. It took her just four months after her delivery to get back to her pre-pregnancy weight. Roshni says, "After three months of delivery, I started yoga. As I had indulged in pre-natal yoga, it helped in losing the kilos effectively and quickly. I guess the body knows how to spring back faster."
4. Nisha Rawal
The cute, adorable TV actress Nisha Rawal embraced pregnancy two years ago and gave birth to a baby boy who was named Kavish. She's been keeping herself busy with her fitness routines post pregnancy. She didn't just succeed in losing the pregnancy fat, but she has also achieved a toned body now. She's followed the "slow and steady" mantra for her weight loss journey. She says she took a good two years to get where she is now.
5. Lisa Haydon
Just two months after giving birth to her son, Lisa posted a picture of her with her husband on the beach that stunned the world. She had her perfect beach body back! Everybody wondered how she'd managed to achieve it in such less time. Lisa unveiled her weight loss secret in one of her own Instagram posts which was very informative and emotional. She wrote about how breastfeeding helped her get back in shape and also helped her connect with her son in a better way.
6. Kanika Maheshwari
Who doesn't remember the amazing comic timing of Kanika in the serial Diya Aur Baati Hum, that phenomenal was her performance in it. Kanika is now a doting mother to her son, Riyansh. While she waits for a good comeback role on the television, Kanika has meanwhile undergone an amazing transformation and weighs 17 kilos lighter now. Kanika says that to become healthy was a personal choice she made and she's worked extremely hard for it.
Motherhood is one of the magical phases of life. A woman tends to experience new feelings and learns to explore her growing body in this phase. We couldn't be happier with the healthy life choices that our TV actresses have made. Who is your favorite from the list above? Let us know in the comments section.
The following two tabs change content below.

Latest posts by Shivani K (see all)