7 TV Jodis Who Gave Us Major Marriage Goals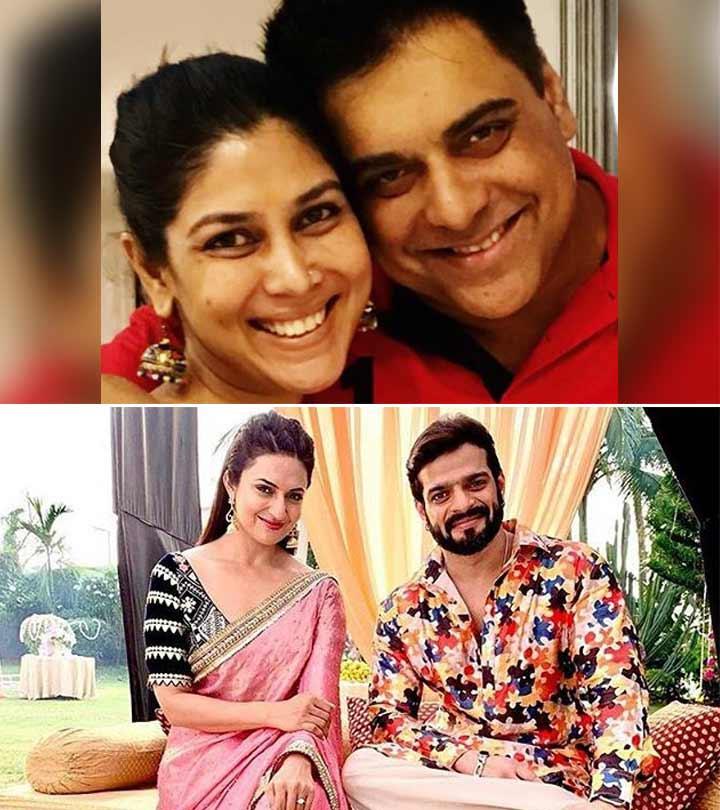 We, as the audience, are heavily invested in the ongoing relationship of on-screen TV couples. Well, why shouldn't we? Each new milestone achieved by our beloved on-screen couple is eagerly anticipated and celebrated by this audience. The same audience who always keeps an empathetic eye out over the years as these screen couples evolve from a love/hate relationships to a working marriage.
When it comes to promoting, the audience is more eager than the promotional content online to collect more viewers and sympathizers of a TV show they love. So that the next time an episode airs they have people to tune in with or just discuss the events of the previous episode at a neighbor's wedding (or funeral). It can either be relativity or aspirational, or a dash of both these factors that make these on-screen TV couples so popular. We have handpicked for you 7 such TV couples who gave us, audiences, major marriage goals.
1. Priya And Ram From Bade Acche Lagte Hain
Like many of our favorite on-screen couples, Priya Sharma (Sakshi Tanwar) and Ram Kapoor's (Ram Kapoor) story started with a marriage of convenience. Later, this relationship develops into a bond of trust and love as this couple starts noticing the similar principles both share even though they come from contrasting backgrounds.
As the show progresses, a series of antagonists and plot twists are introduced to test the tenacity of Priya and Ram's relationship. In each such instance, we see both the spouses acting respectfully towards each other and sorting out personal differences with an air of dignity and commitment.
2. Shivaay And Annika From Ishqbaaz
The love story of Shivaay (Nakuul Mehta) and Annika (Surbhi Chandna) was such a popular one that they earned their portmanteau name, Shivika. Theirs was an arranged marriage and each of the characters had a personality that was as far apart as the two poles of this earth. While Shivaay was the no-nonsense rich businessman with zero interest in affairs of the heart, Annika is portrayed as the outspoken, middle-class girl.
Yet, as time passed we see the spouses getting to know each other better by understanding their likes and dislikes. Slowly, the arranged marriage evolves into love as the couple strives to be a pair that is in-sync with each other; body and mind. We see them overcoming obstacles and hindrances thrown their way by staying together.
3. Khushi and Arnav From Iss Pyar Ko Kya Naam Doon?
Khushi (Sanaya Irani) and Arnav's (Barun Sobti) love story starts from a point where both of them misunderstand and despise each other. The fans watched their story evolve from where they couldn't stand each other to the point where they cannot live without each other. Belonging to backgrounds that are as different as black and white, the chemistry shared by this on-screen couple was adorable as we watched their characters grow over the years. The story of Khushi and Arnav is another testimony to the time known fact, "opposites attract".
The couple taught the audience how to be supportive of each other's ambitions while being true to the relationship.
4. Pratigya And Krishna From Mann Kee Awaaz Pratigya
This is another duo that was brought together by force but stayed together cause they fell in love. Pratigya (Pooja Gaur), an educated, outspoken girl is compelled to marry the local thug and her secret admirer, Krishna (Arhaan Behl). Despite the clashes that are bound to happen in a marriage like this, the on-screen duo falls for each other as Pratigya realizes the extent of Krishna's love for her. The jodi becomes our favorite when we see them making repeated efforts to keep the flame of passion alive. Krishna sets a new bar for all our Indian Romeos with the way he expresses his love for Pratigya through both words and gestures.
5. Suhana And Ishaan From Sasural Genda Phool
Sasural Genda Phool takes a lighter note than the other TV dramas mentioned in this article. Yet, no list of amazing on-screen TV couples can be complete without Suhana (Ragini Khanna) and Ishaan (Jay Soni) who fall in love despite the vast differences in the environments they were brought up. Suhana's character starts as a rich but kind snob who slowly and steadily understands the value of the family she never had. While Ishaan portrays the middle-class guy who gives his newly married wife space and time to sort her past baggage out. Their story teaches us that perseverance pays off if a partner is willing to make the effort.
6. Ishita And Raman From Yeh Hai Mohabbatein
Unlike other mainstream TV dramas, Yeh Hai Mohabbatein deals with complex societal issues such as cultural differences among inter-cast couples, divorce, infertility, mature love, and remarriage. The characters, Raman (Karan Patel) and Ishita (Divyanka Tripathi) bond over their love for Raman's daughter, Ruhi, despite their pronounced difference in opinions and ethnicity. It's a tale of compromise for the sake of family togetherness and narrates a story that teaches parents to find a middle ground for the sake of an impressionable child's happy upbringing.
7. Sandhya And Suraj From Diya Aur Baati Hum
The duo from this series gives us major couple aspirations when it comes to supporting your partner's dreams and goals in life. While Suraj (Anas Rashid) stands up for his wife when she is unable to manage household chores or when she struggles at IPS Academy, we see Sandhya (Deepika Singh) as the wife in the relatable situation of balancing both house and professional work. This admirable on-screen couple preaches and teaches the audience to support their better half in a good as well as a bad situation; to motivate each other in achieving their dreams even if one doesn't understand or agree with it.
We sigh, and cry with these characters, so why not learn from them? If applied, I am sure many of the goals set by these on-screen couples can be achieved in real life. Consequentially, helping us make our relationships better. Can you think of other on-screen TV couples who give us major couple goals? If so, write down in the comments below.
The following two tabs change content below.