This Two-Time Cancer Survivor's Bridal Shoot Shows Beauty Lies In Our Courage To Embrace Life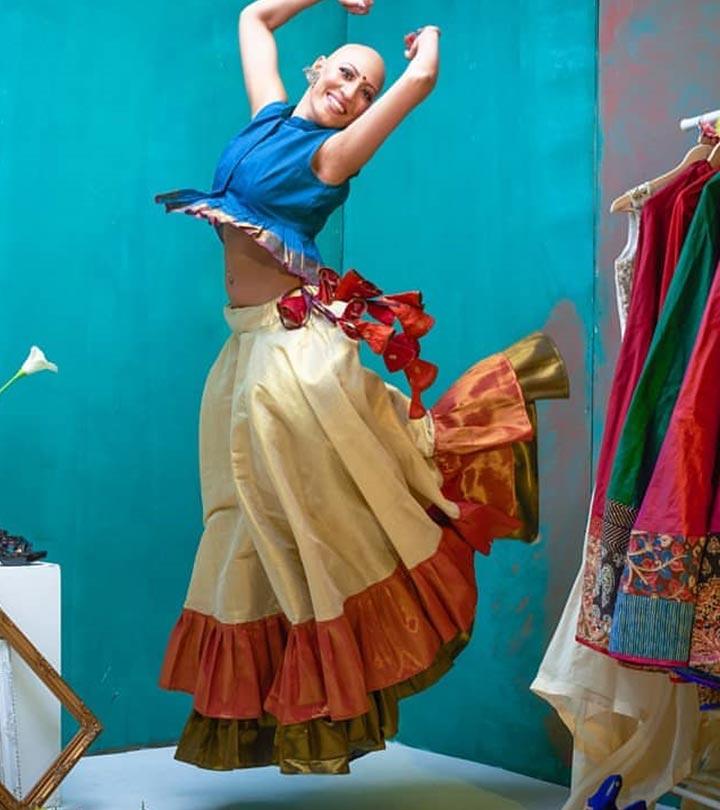 Cancer is that dreaded C-word that often functions as the full stop on its victim's life. It holds their lives captive in its grasp while everything around them, their friends, families and their lives, continues to move at an inexorable pace.
From what we have heard about this dreadful disease, from the countless survivors, and the families of those who perished at its hands, it seems like a single brush with this life-changing disease is enough to make you feel disheartened. But what if you manage to emerge victorious in your battle with this invasive disease only to be caught in its grasp again, that would surely break anyone's spirit, right?
While it may be the case with any lesser mortal, it certainly wasn't for Vashnavi Poovanedran.
Beating Cancer Twice: What It Meant To Her
Five years back, Vashnavi, who goes by the name Navi Indran Pillai, was diagnosed with breast cancer. Following a proper diagnosis and treatment, she had defeated cancer. But last year, she discovered that she had relapsed and now she had Stage-4 breast cancer. But the champion that she is, she beat it again.
However, the treatment took its toll and Navi lost her hair, her "crowning glory" to it. In our society, the term "beautiful" is circumscribed within rigid boundaries, and it's one where being bald is certainly not included. So it is no wonder that this was a devastating change for her. Considering almost every girl has thought about her dream wedding day, Navi, too, had thought about it, and often. However, in her new circumstances, she tried to imagine what her wedding day would look like, whether she would be able to convert her dreams into reality. Whether she would be a beautiful bride, now that she had lost one of the most conventional assets of beauty?
In her own words, "Cancer treatments has given us a lot of limitations, has robbed us from beauty and taken away our confidence. As a little girl, we have always dreamt of what our big day will be like and how we would look as a bride. But having cancer has stripped some of us from fulfilling these dreams. A lot of cancer survivors have postponed or even canceled their big day."
Bald Is Beautiful
Not the one to sit in a corner, Navi thought about others like her, who had undergone similar changes. She decided that she wouldn't be held back by the archaic laws of the world of beauty. Like a boss, she decided to turn the convention on its head and celebrate her bold, bald style. And she did so by staging a gorgeous and unique bridal photoshoot, to inspire other cancer survivors and make them appreciate their beauty. In doing so, she also managed to reclaim one of her dreams, which she feared she had lost to her dreaded disease — that of being a beautiful bride
She summed up her thought process in these choice words, "For me, as a cancer survivor, I dreamt of the day I marry the love of my life. Dreamt, what it is like to look like a bride, to feel like a bride. Having gone through cancer treatments (chemotherapy, etc.), losing my hair was by far the hardest thing I ever had to go through. I felt that I was not beautiful enough to be loved and was not beautiful enough to look or ever feel like a bride. Hair, it is our 'crowning glory' and having that taken away from you is devastating. But we choose to accept what we have, appreciate what we are and welcome what is coming."
And looking at the pictures, we couldn't agree more. Navi seems to light up every frame, with her bindaas avatar and sunny disposition. However, the credit for this unique achievement also goes to her team of dedicated makeup artists and photographers who made sure that Navi truly looked like an ethereal bride.
In an interview with BBC Hindi, Navi acknowledged that though getting married and being a gorgeous bride, was one of her dreams, it wasn't her only dream. Rather the photoshoot was an exercise in self-confidence and self-acceptance. She wanted other cancer survivors to accept themselves and realize their own beauty, rather than having it measured against the conventional benchmarks only to realize that it's falling short (1).
Clad in a red silk saree, and white veil, Navi made for an arresting vision. But more than that, we are in awe of her indomitable and generous spirit, where she went above and beyond and did something which would be an inspiration to countless others who find themselves in similar circumstances. Navi, more power to you. You are an inspiration for all of us who seek motivation to own our inner beauty and be kinder to ourselves.
What did you think of Navi's unique bridal shoot? Share your thoughts with us in the comments section.
The following two tabs change content below.

Latest posts by Saumya Gaur (see all)