7 Ways To Kill Bacteria In Your Mouth And Stop Bad Breath
Those Close-Up toothpaste ads use the age-old cliché of a couple coming together due to minty, fresh breath for a reason! (Hums "Meri saanson mein samao, paas aao na" to self.) You don't want to be kissed by someone with bad breath, do you? And yet, though that is the case, 35-45% of people all across the globe complain of having a foul oral odor (1)!
So, what do they do to combat this problem? Well, they change their toothpaste. Or chew on gum and use breath fresheners and mouthwashes, which have side effects by the way (2), (3). And oh, they also increase the monthly bill!
That said, any foul oral odor is caused by the presence of bacteria in your mouth, which, in turn, are the result of poor oral hygiene (4). Hence, your aim should be to reduce the presence of these bacteria. Preferably without spending a bomb on unhealthy items! So, here are 7 remedies you can try out to have minty, fresh breath:
1. Try Natural Breath Fresheners And Mouthwashes
Mouthwashes and chewing gums come with plenty of side effects such as jaw pain, digestion troubles, and even the risk of cancer! We think you don't want to suffer that much in the pursuit of fresh breath. Which is why we suggest you try natural alternatives! Mint leaves are an excellent breath freshener and so are spices such as cardamom, fennel seeds, and cloves (5). You can also make your own mouthwash by adding a teaspoon of baking soda to a cup of water. Starting your day with fenugreek leaf tea can also help!
2. Gulp Down 2 Liters Of Water Daily
Have you noticed your bad breath increases when your mouth feels dry? That's because the lack of saliva presents a conducive environment for oral bacteria to grow and cause bad breath (6). To make your salivary glands function as they should and consequently prevent bad breath and hinder bacterial growth, you need to drink plenty of water. Preferably 2 liters every day. Don't go for juices as these promote oral bacteria growth.
3. Skip Certain Foods
A few foods are known to contribute to bad breath. Here's looking at you, raw onions! Garlic too. Hence, if you want your breath to smell fine, you should avoid these food items. But here's the catch: Eating onions in moderate quantities can actually help kill four strains of bacteria that are responsible for gum disease and tooth decay (7)!
Nonetheless, foods high in acidic acid or fructose should also be avoided as they increase bacteria, thereby bad breath. Ergo, if you're hungry, eat bacteria-killing, saliva-promoting foods such as apples or yogurt.
4. Clean Your Tongue
Your tongue is actually a storehouse of stinky bacteria, which is why cleaning it is very important! Once you're done brushing, take your toothbrush and run it over your tongue to remove bacteria, its by-products, and plaque (8). Separate tongue scrapers are available in the market if the idea of using your toothbrush grosses you out.
5. Brush Twice And Floss Once Daily
Ideally, to keep your teeth clean and free of all kinds of germs and bacteria, you should constantly brush your teeth in an up and down motion for 2 minutes straight, two times each day (9). And also floss once every day. If you make this a habit, you will notice an improvement in the quality of your breath. However, not many people take this seriously, and studies have shown that only 55% of women brush their teeth twice daily, while the same number stands at 49% for men (10). That's a shame as this simple habit can actually impart you with fresh breath.
6. Follow Healthy Gum Habits
Damage to your gums in the form of diseases is another reason why oral odor issues occur. Gum diseases that are caused by plaque buildup lead to the formation of bacteria, which leads to foul-smelling breath (11). Fortunately, gum diseases can be prevented if you follow healthy habits. These include using a toothpaste with fluoride in it, brushing, flossing, using mouthwashes regularly, and quitting smoking.
7. Chew Fruit Peels
But not any fruit peels. Only those of citrus fruits! These fruits contain citric acid, which freshens your breath, improves the functioning of salivary glands, and consequently, leads to the prevention of plaque-buildup and tooth decay (12). However, before you chew on a fruit peel, ensure you pick a fresh peel and clean it thoroughly with water prior to putting it in your mouth. Fruits such as oranges and lemons are your best bet.
See how easy it is to put an end to a nasty problem such as bad breath? You don't even have to do much! Just change a few habits and you'll have fresh breath always.
The following two tabs change content below.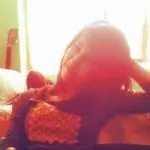 Latest posts by Tanya Arora (see all)