10 Ways To Make Your Bras More Comfortable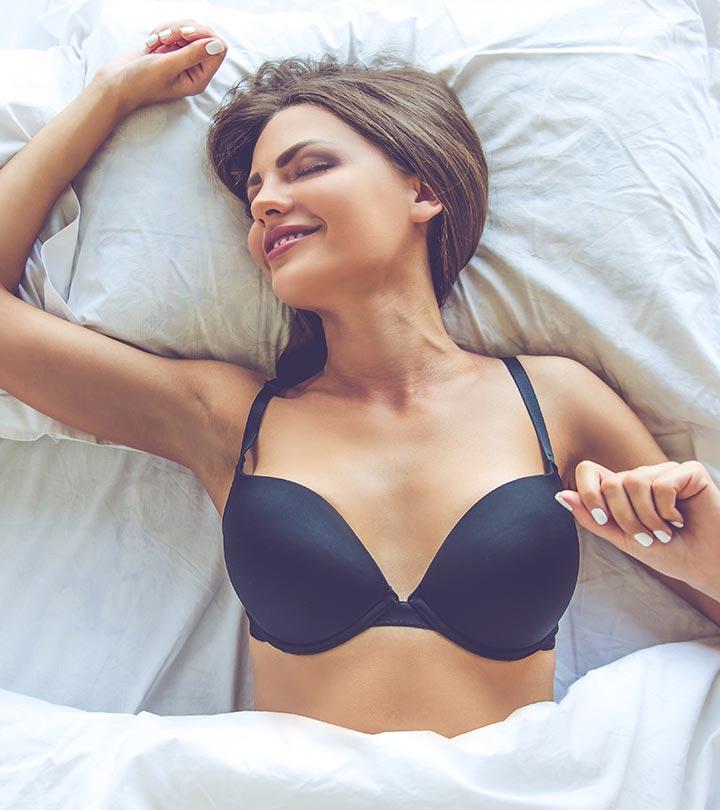 Bras: love 'em or hate 'em, you can't do without 'em!
Call them what you want – from chest-trappers to lady-bits-supporters – this itsy-bitsy piece of cloth is a wardrobe essential. However, despite showing you many good and uber awesome days, you still find yourself dying to get out of your bra each night. They're just so damned uncomfortable. Especially the underwired ones.
But ladies, that's not going to happen anymore! With the bra hacks we're going to share with you, having your bra on is going to feel like putting on a second skin. Here are ten ways to make your bra super comfy:
1. Stock Up On Wider Strapped Bras
You may prefer thinner straps as they generally become invisible under most clothes, but if you're looking for comfort, wider straps it is! Wider straps are able to support your breasts better, thereby increasing comfort to a great degree. In fact, if you're well endowed, you should always wear bras with wider straps.
2. Reduce The Repeat Frequency
It's natural for you to want to wear your favorite bra every other day but you have to give it a rest. You see, bras are as delicate as they look and can get worn out quite easily. Especially with very frequent wear and wash cycles. And worn out bras can get very uncomfortable to wear. So make sure you buy more bras and repeat less.
3. Use Strap Cushions
Bra straps that dig in are literally a pain! But you can save yourself from this pain in the shoulders by using strap cushions. These are easily available online and are pretty easy to use too. All you have to do is place them under your bra straps and – voila! Bye-bye bra-induced shoulder pains.
4. Make Your Own Racerback Bra
No way does this mean you'll have to sew an entire bra on your own. But you can definitely indulge in a little DIY to turn your regular t-shirt bra into a racerback one. Just take a paperclip and clip the straps together at the back and that's it! However, if you're not comfortable with a paperclip, you can always purchase readymade clips.
5. Wear Your Bra The Right Way
Part of the reason why wearing a bra is such an uncomfortable experience for most of us is because we don't wear it the way it's meant to be worn. The correct way to wear it is to bend a little forward and place your breasts in the cup while you slide your hands through the straps. Then straighten up and hook the bra on the loosest clasp. This will ensure you get a snug fit minus the spillage and the straps don't cut into your skin.
6. Going Strapless? Ditch The Moisturizer
This is probably one of the most interesting hacks we have in store for you. Strapless bras are quite hard to pull up, err, off, mainly because they keep sliding down. The sliding might be happening because of the post-shower moisturizing routine. If you ditch it, your bra is not going to slip down so easily.
Besides that, there's another trick that can help you keep your strapless bra in place! Take one of your straps and hook one end to the backside of your bra, bringing the loose end forward and wrapping it around your bra, under the cups like a belt. Now attach the loose end to the other side. This will prevent you from adjusting your bra awkwardly every 2 seconds.
7. Hide Those Pesky Straps Once And For All
Isn't it embarrassing when someone asks you to tuck your strap in? Well, it's time to put an end to that. Prevent your bra straps from peeking under your clothes by a sewing a strap holder under the shoulder area of your clothes. If that's too much trouble, you can even use double-sided tape to do the job.
8. Turn An Ordinary Bra Into A Low Back One
Want to wear a low back dress but the right bra is too expensive? No problemo! Just convert your ordinary bra into a low back one with the help of a strap converter. It's cheap, efficient and totally amazing!
9. Get Bra Extenders
The tussle between the right cup size and band size is one we're all aware of. However, if you've been lucky enough to get a bra in the right cup size but the band seems too tight, you should invest in bra extenders. These add extra hooks to your bra so you can wear it comfortably.
10. Go Full Coverage
Although sensual, the problem with demi cups is that there's too much spillage and accidental shows! If you'd rather keep your assets in your bra, go for one that offers full coverage. Trust us, these are the comfiest of the lot as they offer max support.
Adopt these ten hacks and you'll be saying goodbye to all your common bra woes in no time! If you have any other neat tricks up your sleeve, be sure to share them with us.
The following two tabs change content below.