8 Ways To Make Your Hair Look Gorgeous
Hair problems are the kind that don't fit into the category of "Here today, gone tomorrow." It takes a lot of hard work, persistence, and patience to get the lush tresses you've always desired! So, while you try to make your dream of beautiful hair come true, we've got a few secrets up our sleeve that can definitely help you on the journey. These tips can make your life much easier and ensure that your locks look picture-perfect almost always!
Here are 8 simple ways that can make your hair as gorgeous as Rapunzel's:
1. Use Fabric As A Styling Tool
Hard, plastic curlers can damage your hair by getting entangled in your tresses. Curling irons are no less of a devil either as they can cause burns! To prevent the damage, ditch your usual curling method and use tiny bits of fabric to curl your hair. Divide your hair into as many sections as you desire and wrap each section with the help of a fabric strip. Leave it overnight. Remove the strips in the morning and set your curly hair with hairspray.
2. Try A Top Knot Bun
For those quick mornings when you don't have a lot of time to pay attention to your hairstyle, try the top knot bun. This easy bun is chic and comfy as it keeps most of your tresses out of your face! To make your own top knot bun, tie your damp hair in a high ponytail that sits on top of your head. Now, wrap your ponytail at the base around the hair tie and tuck in the loose strands with the help of bobby pins to form the bun. Once your hair dries, your bun will look voluminous and your hair gorgeous. Point to remember? Only use a smooth scrunchie.
3. Use Bobby Pins For Curly Hair
Bored of your straight hair? Give it a curly spin with the help of bobby pins! Yes, that's right. You don't need tongs or a curling iron to get noodle-like curls! Before tucking in for the night, massage a bit of hair-setting mousse into your strands. Next, divide them into small and equal sections and wrap each section around a bobby pin. Keep going till you've covered all your hair and go to sleep. The next morning, remove the pins to get beautifully curly locks!
4. Wear A Scarf To Get Rid Of Frizz
Humidity can make your hair frizzy and super hard to manage as well as style. That said, smooth tresses can be yours too with this simple hack. Right before sleeping at night, moisturize your hair well with the help of water and apricot castor oil. Once done, brush your hair so each and every strand gets equal treatment and tie it in a bun. Next, wrap your hair in a scarf made of satin and hit the bed with the scarf on. When you wake up in the morning, you'll get easy to manage, smooth hair!
5. 2 Buns For Beach Waves
Get sexy beach waves at home with this tip! Simply massage your damp hair with a non-sticky oil or conditioner and then split it into 2 equal sections. Wrap a small lock of your hair onto your index finger and blow dry it, covering your hair entirely in the same process. Now, make two individual (albeit loose) buns in each section of your hair and go to bed. Untie the buns in the morning and use hairspray to get amazing waves.
6. Sleep On A Silk Pillowcase
How do you think Rapunzel got her long locks to be so smooth anyway? It wasn't any magic potion, it was just the use of a silk pillowcase! Silk or satin pillowcases (unlike cotton ones) reduce the friction of your hair strands, thereby keeping them smooth and even helping you maintain your hairstyle so you can carry it forward to the next day. Trust us, getting gorgeous hair can't be easier than this!
7. Curl Your Hair The Cocoon Way
For tight and neat curls, tie your hair in cocoons. For this, you'll have to divide your hair into multiple sections and rub some hair gel on each section. Next, you'll have to twist every individual section as tightly as you can and fasten them with the help of scrunchies or bobby pins. Keep it on for 15-20 minutes and then untie to get curly locks!
8. Style Your Hair With The Right Brush
If you don't want to ruin your hairstyle or your hair for that matter, make sure you use the right hair brush. Hair experts recommend brushes made of boar bristles as they are gentle on your hair and increase the blood flow to your scalp. Wooden combs are also recommended for the same reason!
Besides following these tips, ensure you get your hair trimmed regularly too. This helps get rid of the damage and prevents split ends, so you always have gorgeous hair!
The following two tabs change content below.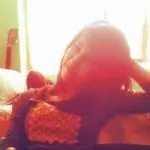 Latest posts by Tanya Arora (see all)