4 Ways To Use Hot Rollers For Styling Your Hair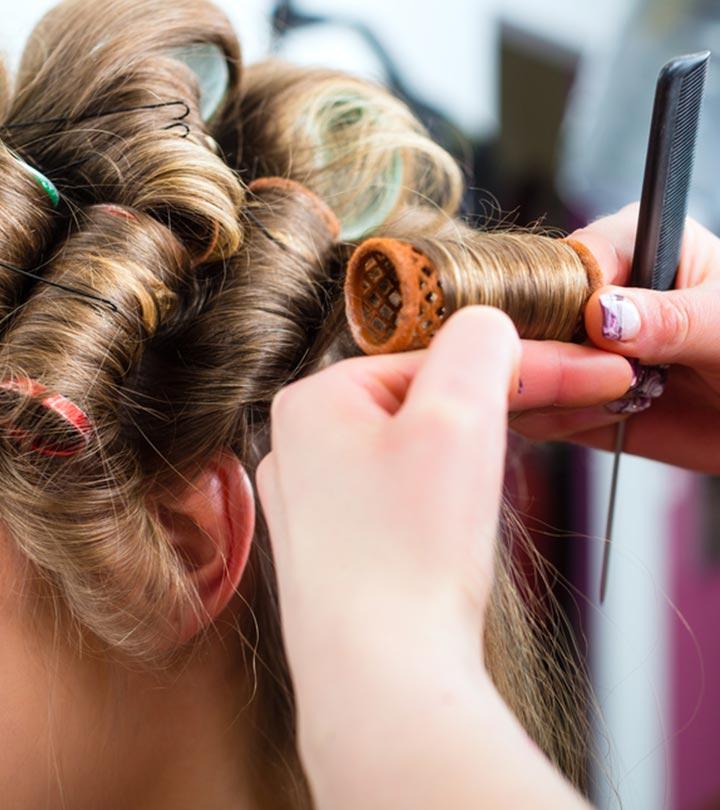 Hot rollers are not something Gen-Z invented to style their hair. There is a good chance that your mother, her mother, and even her mother styled her tresses in gorgeous curls with the help of hot rollers. But of course, thanks to technological advancements, rollers are no more of a device that threatens to char your hair if left on for seconds more than it was instructed. If you are a person who enjoys flaunting curls, we have some genius hair-curling techniques you will absolutely love. Here is how to use your hot rollers to get the perfect hairdo. Read on to know them all!
How To Prep Your Hair
You can't simply wind your unprepared hair to the hot roller. If you have done it previously, your hair was probably screaming. So first, you must ensure your hair is clean, moisturized, and dry before bringing the rollers nearby. Also, you need to spray a heat protectant to ensure your hair does not lose moisture and look brittle after you go through the hassle of curling them. Finally, spray hairspray on them once you twist them to retain the curls longer.
The first step is to make little sections of your hair to easily apply the curling rods. Start from the roots to the crown of the hair and make sections from the sides of your ears. You can leave the hair at the back as it can be clasped to be curled at last.
1. How To Make Beach Waves
Start by middle parting your hair. Once you have two equal sections of hair, roll your hair from the root to the tip and secure them with a clip. You can use the bigger rollers for the top of your hair and the smaller ones for the rest. Leave them on for 15 minutes, and then remove them gently.
2. How To Get A Blowout
To do this, you must start from the top of your head and secure the hair with the biggest rollers about 2 cm from the scalp. It will need about 3 rollers to cover the top of your hair, depending on the volume of your hair. Once the top is secured, move to the sides with smaller rollers. After the whole length of your hair is clasped in the rollers, you must leave them on for 25 to 30 minutes.
3. How To Obtain Tighter Curls
The styling method used for getting tighter curls is like beach curls. You need the same technique except for the fact that you will need to take smaller sections of your hair. You also need the thinnest rollers of diameter not more than 0.75 to 1-inch. Leave your curlers on for 30-35 minutes, and you are ready to flaunt gorgeous curls!
4. How To Get Big Rings With Roller
For creating bigger rings, you will need to pick the rollers with the largest diameter. All you need to do is grab 2-4 inches of your hair and roll them in. The blowout technique will be different for this one. You need to use the roller to go up from the back of your neck. Also, this would require some holding spray as there will be more weight on the roller carrying the entire length of your hair. Once you secure your hair in the curlers, you can use a clamp and leave the rollers on for about 20-25 minutes. After the given time, you can slowly remove the curlers to reveal gorgeously curled hair.
Here are some things you need to keep in mind before curling your hair:
1. Don't Sleep With Your Hair Curled
Rollers retain the heat for up to 15 minutes, so leaving them longer will not positively affect your curls. Also, sleeping with freshly curled hair can destroy the shape of your curls which might need deep conditioning treatment to revive the shape. Finally, using curling iron occasionally will not cause any harm but using it every day might cause alopecia.
2. There Are Many Kinds Of Rollers
You can style your curls differently depending on what curlers you use. There are ceramic curlers, steam rollers, and wax core rollers that you can choose according to your choice of curls.
All thanks to technology, curling your hair no longer means burning them or causing irreversible damage to them. Some products like heat protectants and serums will ensure your hair stays lush and pretty no matter what you use to style them. So, what kind of curls are your favorite? Let us know in the comments section. Have a happy hair day!
The following two tabs change content below.