13 Cringeworthy Fashion Choices From The Early 2000s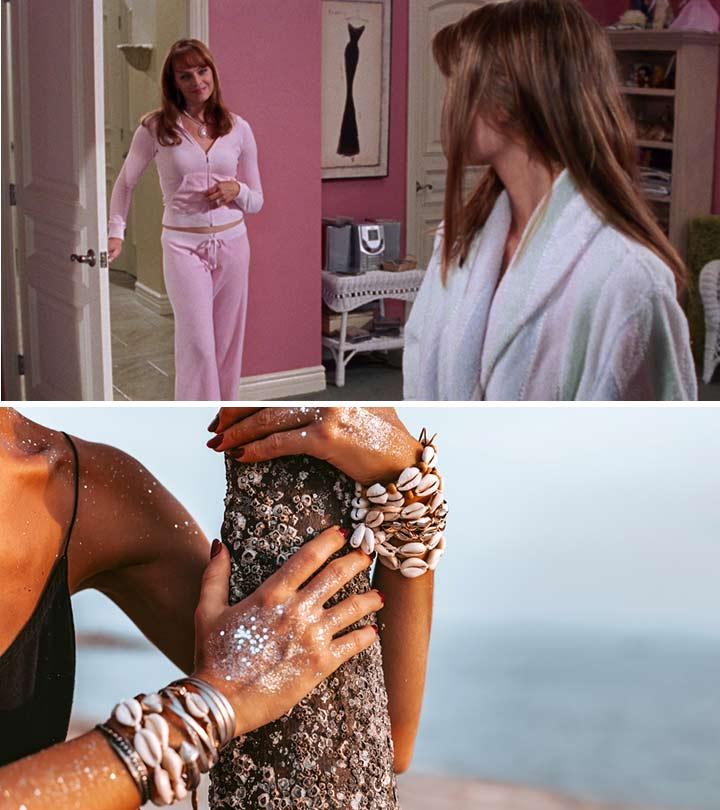 Seriously. What were they thinking?! When you think about past fashion decades, it's easy to be distracted by the elegant silhouettes of the early 50s (think Marilyn Monroe in Gentlemen Prefer Blondes). Or even the peace necklaces and colorful wardrobes of the late 60s. However, not every fashion trend is made the same. When you think of the early 2000s, you probably wish that fashion decade never happened. Of course, we're not trying to say that every 2000s fashion trend is terrible, as fashion is subjective. But some of the fashion trends on our list are so cringey that we had to try really hard to keep a straight face. From velour tracksuits to super low rise jeans and newsboy hats, here's a look back at some 2000s fashion trends that we're glad didn't spill over into this decade:
1. Velour Tracksuits
Sure, we have to admit that they were super comfortable and kept with the matching-matching theme that was so popular back in the day, but c'mon, they don't belong anywhere outside your house. These two-piece tracksuits can definitely find a place in our current landscape of work from home loungewear, but we doubt they'd look good anywhere outside the house (unless you're on a grocery run).
2. Low Rise Jeans
Sure, Mariah Carey looked amazing in these jeans, and we have to give her props for rocking them, but they don't work for everyone. There's a reason why high-waist and mid-waist jeans are more popular because they're both comfortable and hide unnecessary bulges in your waistline. Of course, if you're the bold type and enjoy trying out unique styles, you should definitely check them out, but low-rise jeans are not for everyone.
3. Denim Newsboy Hats
You might occasionally spot people still rocking the denim newsboy look, but they don't really serve much of a purpose in a practical sense. After all, hats are meant to protect you from the sun, and the only part of your head these hats will protect is your scalp. These days baseball caps and sun hats are more in trend and are all the rage in fashion circuits.
4. Tube Tops
Do you remember those weird strapless bandeau tops that your favorite celebrities wore back in the day? Britney Spears, Christina Aguilera, and many other pop music icons used to be spotted rocking this look back in the day. You probably begged your mother to let you wear these tops out back in the 2000s, but even they knew that this style was heading out the door. Now plenty of fashion influencers on Instagram have found more stylish ways to rock this look, and many have turned these tube tops into an outfit to wear under layers, rather than as a complete ensemble.
5. Name Belts
Name belts are a trend that we are glad to see go. Sure, back in the day, we were all spotted wearing our names on necklaces and other jewelry items, but we're pleased that this look, in particular, is no longer popular. We blame Gwen Stefani for making this a thing back during her No Doubt days. We still see certain celebrities like Kylie Jenners, Khloe Kardashian, and more rocking name necklaces.
6. Ponchos
Ponchos are basically like an elevated blanket but are less bulky and more like a shirt. They were, without a doubt, one of the trendiest looks in the early 2000s. While they are perfect for a winter vacation by the campfire, we don't see them as much on the fashion circuit these days. We're secretly hoping an updated version of the look comes back.
7. Shell Jewelry
Shell necklaces and bracelets were all the rage back in the 2000s. Everyone from Quentin Tarantino to Justin Timberlake rocked this look, and they were all over popular novelty store shelves back then. However, we feel like this is a tropical look that would be perfect for summers by the beach, not for regular wear.
8. Kitten Heels
Before the incredible Lizzo rocked her tiny purse on the red carpet, we had celebrities in the early 2000s rocking kitten heels and little purses. We haven't seen kitten heels on red carpets in recent times, and there's probably a reason for that. Now combat boots, stiletto heels, and platform heels are super popular.
9. Locket Necklaces
Back in the early 2000s, a locket necklace was the equivalent of having a secret diary. Many teeny boppers used their lockets to store their secret crushes, pictures of their childhood pet, or even their parents. Nowadays, the only people you see rocking necklaces are rappers, famous celebrities, and Indian aunties (jk).
10. Fringe Dresses
Fringe seemed to be a style staple back in the 2000s, and while we get the appeal, we're delighted that this trend is now only spotted on a few handbags and jackets. Kylie Minogue might have looked incredible in a fringe dress, but that doesn't mean the rest of us would.
11. Denim Vests
Let's be honest, what exactly is the purpose of wearing a denim vest? It's clearly worn simply for appearance purposes and not for other reasons like keeping yourself warm. One good thing about the denim vest trend is that you can rock this look in summer as well, but it only really goes well when you layer it right.
12. Scarf Headbands
Do you remember the era of headbands? While headbands are still popular even now, they're usually spotted on kids and men with long hair who like to keep their hair off their faces. The scarf headband was super popular with many 2000s celebrities and was spotted during plenty of events. One thing's for sure, though; they were way more comfortable than wearing metal or plastic headbands.
13. Tie-Dye T-Shirts
We have to admit that tie-dye as a pattern was super cool and easy to make, but this is a look that definitely belongs at the back of your closet. They became a thing back in the 60s but re-emerged as a fashion trend in the late 90s and early 2000s. Maybe if the style comes back in trend, you can dust off your old tie-dye t-shirts and rock them to the next 60s themed party.
Fashion is highly subjective and lies in the eye of the beholder (just like beauty). If you still like some of the trends on our list, go right ahead and rock them. We're sure you'll figure out how to style the trend in a way that makes it look super cool. Do let us know which of these 2000s fashion trends deserves a second shot!
The following two tabs change content below.

Niharika has a passion for all things art, music and travel. During her spare time she likes experimenting in the kitchen, painting pop culture icons and chasing after random street cats. Her dream is to one day own an amusement park so she can ride roller coasters for free.