What Can Happen To Your Body If You Tie Your Hair In Ponytails Way Too Often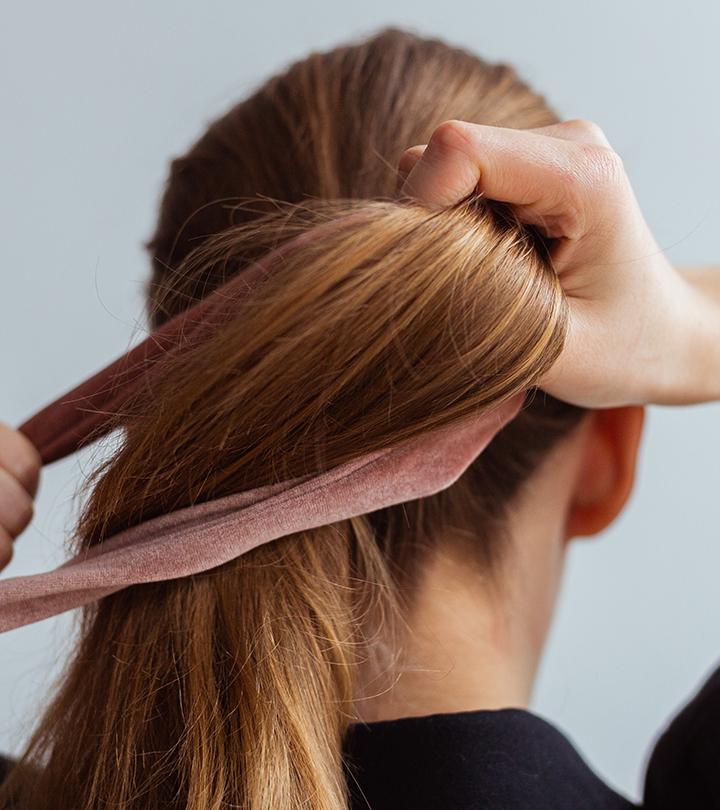 If we ask you what your go-to hairstyle is, and your answer is, ponytail, then this article is for you. We know how convenient, stylish, and easy tying a ponytail can be, especially when you are running late! But clutching your hair in a ponytail always can do more harm than good to your hair, and we will tell you why. Even though a ponytail is a quick, simple, and functional hairstyle, constantly tying your hair back increases your risk of developing serious hair disorders. And it doesn't restrict itself to hair and scalp problems alone, it may even give you backache or a receding hairline. We care about your well-being, therefore here in this article are some health warnings about tying your hair in a ponytail regularly. Read on to know them all.
1. It Might Cause Migraines
You might have experienced a headache after you loosened your hair after tying it in a tight bun or ponytail all day. While you would want to massage it out, the pain doesn't settle down as quickly as we would want it to. Your hair is not sensitive but your scalp is, so pulling the hair in a tight hairstyle is equivalent to pulling your hair, and that is not far from being painful. So even if you want to tie your hair in a ponytail, don't make it too tight, and open it as soon as you can and massage your hair to soothe your scalp.
2. It Might Hurt Your Scalp
You'll experience similar pain to that of a ponytail headache if you tug too tightly on your hair. The perifollicular area, or the skin and tissue surrounding a hair follicle, is where the pain begins (1). This means that the nerve terminals at the tips of the hairs are also impacted. When you first start letting your hair down, you can feel some discomfort.
3. It Could Lead To Back Pain
Your scalp may be experiencing a lot of pressure, especially if you've got thick hair. The discomfort manifests itself and may radiate to other areas, such as the neck and the back. Forcing your hair to stay up does this because it stimulates the sensory nerves (2). You can also invest in a sturdy satin hairband to relieve the pain and keep the band from tearing your hair.
4. It May Make Your Skin Stretch
Tight ponytails are harmful because they may make your skin stretch out of shape (3). Eventually, the effects of age on your appearance will become apparent. You risk permanent skin stretching if you pull your hair back in a tight ponytail every day. Even if you need to tie your hair up for work, make sure you open your hair and massage your scalp the moment you get home.
5. It Might Tangle Your Hair
Friction and stress in your hair may be caused by wearing a tight ponytail for long periods. If you do this, you need to allocate a lot of time to untangle your hair. You can protect your hair by wearing scarves and headbands, but try not to keep the ponytail on for too long.
6. Your Hair Could Break More Often
If your hair is fine and thin, you can't expect many benefits from constantly keeping it up in an elastic. When under stress, strands might snap. If you wear long ponytail-style hair to bed, the problem will only become worse. Make sure you tie your hair in a loose braid if your hair is long and then go to bed. You can also invest in a satin pillowcase to keep the friction minimal.
7. You Might Have To Deal With Alopecia
When strain is applied to the hair, a condition called traction alopecia develops (4). Search your scalp for lumps. Tenderness or perhaps a crusting feeling might also be present. If you stop keeping your hair in a ponytail for lengthy periods, it should go back to normal. But make sure you consult a health expert if the problem persists.
We know how much you love ponytails, and we do too. And just because a tight ponytail is not recommended for everyday hairstyle, it doesn't mean you can't flaunt your hair in it occasionally. Make sure you keep it a tad bit loose and redo it if you feel your hair getting pinched in it. There are numerous videos online on how to tie your hair in a ponytail without causing any hair and health problems. So, what is your go-to hairstyle besides a ponytail? Let us know in the comments section!
The following two tabs change content below.