What Does Hair Dye Do To Your Hair, According To Science?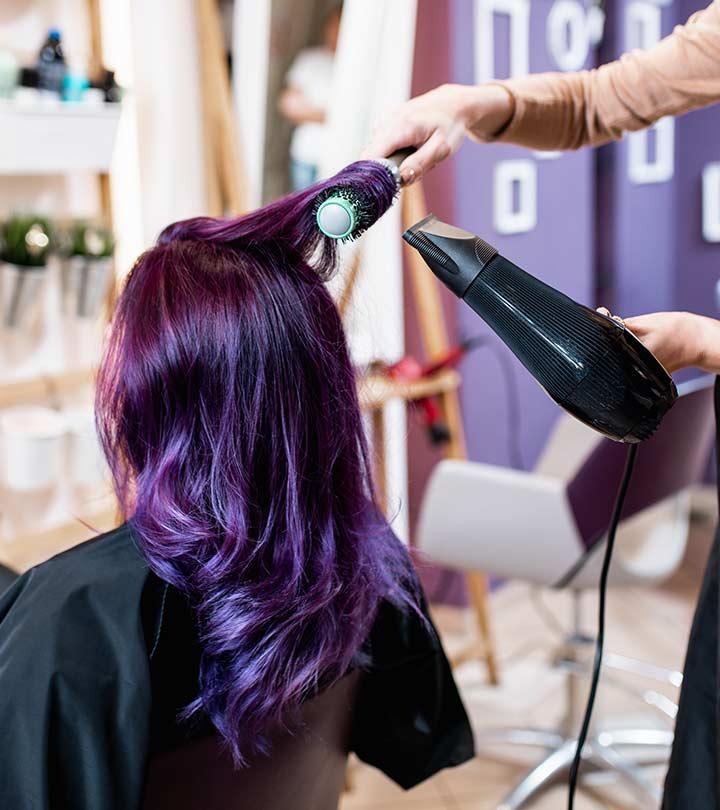 It is cool to see colored hair swooshing in the wind, especially in commercials, celeb photoshoots and the like. We all have a secret wish to get a multi-colored streak or subtle reds in our hair to add some variety to our looks. But not everybody is very daring about it.
Did you ever want to get more than just a haircut? A hair color, perhaps? But before your thought could materialize, you rejected it because you can't afford to ruin your hair. Dyeing hair is not a new concept, and through centuries sassy humans have been escalating their style statement through colored hair. Be it using natural dyes or going for chemicals, they do have some consequences. Does the quality and brand of hair dye impact our hair strands differently? Are all the people with gorgeous hair color gambling with their tresses? To put all the hovering doubts at bay, we have researched how hair color affects your hair, and we have scientific data to keep away myths!
1. Ammonia Breaks Through The Hair Cuticle
If you sincerely believed the advertisements that showed hair dyes gently brushing against the shaft and staining it without any harm, then, there is no better way to say it other than, 'your life was a lie!' Hair dyes break through several barriers to set in permanently, including the natural protection of cuticles. The cuticle is the first line in hair protection, and it protects the natural color of your hair. The agent that pushes the dye molecules in your hair is ammonia (1). The ammonia in your hair color has to get through the natural pigments and leave the new color behind. This can also cause swollen cuticles as a reaction to monoethanolamine and ammonia (2).
2. The Peroxide Strips Away Your Current Color
Once the cuticle is broken, you can add any color of your choice. Peroxide, also known as bleach, removes your natural hair color and makes room for your hair dye. If you ever went to a parlor to color your hair, you must have heard your stylist refer to 20, 30, or 40 volumes. This is the percentage of peroxide in the activator. The primary difference between bleaching and hair coloring is that, in coloring, the dye molecules are put back in, letting the cuticle close. While in bleaching, the pigments are removed as per your shade requirements. This is why bleaching your hair is not recommended by people. Hydrogen peroxide is a strong molecule and hence interacts with keratin and increases the damage (3).
It is hard to resist the vibrant colors, but in the long run, it does more harm than good. If you still love bleaching your hair, your hair care routine needs to be taken up a notch by using hair products, including shampoo, conditioner, and serum, that are exclusively made for colored hair. The ingredients in those products are specially designed to keep the hair color intact and also repair, reduce the potential damage caused by the dyeing process.
3. Deposition Of The New Pigment
Once the cuticle is altered, the original proteins become transparent, so the pigments take over the hair cortex. Permanent hair dye contains larger molecules that penetrate the deepest layers and do not get washed out easily. Once the cuticle closes, the dye molecules trap the hair fiber and allow the hair color to last longer. Demi-permanent stains penetrate partially into the structure, and semi-permanent dyes stay just on the surface. The damage is caused by the opening and closing of the hair shaft multiple times that compromises the system that holds the hair together. It rips the hair of its natural oils and in turn, makes it look dull and lifeless in the long run.
4. Ammonia-Free Dyes Still Penetrate In Your Cuticles
So now that you know ammonia is the problem; Does getting an ammonia-free dye resolve the issue? Not really. You must have seen many companies and brands, advertising their hair coloring products as ammonia free which supposedly causes less damage. The alternative to ammonia is monoethanolamine which serves more or less the same function and is liquid (4). It can be more damaging than ammonia as it stays in the hair longer and does not penetrate well, giving a faded color.
5. The Longer You Dye, More The Damage
Bleach, unlike hair color, is always working and hence is the main trigger for hair damage. When the bleach sits on your head, the molecules are seeping into your strands. The longer the cuticle is lifted, the more damage is done to your hair. Every hair color has a natural timer, after which it stops working. Experts warn against coloring the same hair twice as it will make your hair flimsy and break off easily. If you feel the need to change your hair color, wait until your old one completely fades off. Then get a hair spa treatment or do one at home yourself. When your hair is somewhat restored to a healthy mane, then you can get another color done. This way you can avoid sandpaper-like breakage.
6. Hair Does Not Actually Fall
The worst enemy of hair color is not hair fall but dried-up-looking hair. There is no scientific evidence that states dyeing hair have triggered hair loss episodes of any kind. Hair color can initiate hair damage which can end in breakage. This happens because the strength of hair primarily resides in the strong disulfide bonds of the hair. Hair coloring and bleaching are capable of breaking the bonds permanently, making them weak. The only way to maintain their good health is to deeply condition it and enjoy the color.
So now that you know all that happens to your hair once you get it colored, you can take a responsible decision of whether you are willing to deal with the aftercare. Even though it might not be a healthy move, if you deep condition it and take care of your hair, you might be able to flaunt the color without worrying about the damage. If you are trying colors for the first time, you can start with highlights and then dip dye your hair without including your hair roots. So, what is your dream hair color? Let us know in the comments below!
Sources
Articles on StyleCraze are backed by verified information from peer-reviewed and academic research papers, reputed organizations, research institutions, and medical associations to ensure accuracy and relevance. Read our editorial policy to learn more.
The following two tabs change content below.