This Is What Happened On The First Night After My Wedding – 7 Funny Stories
If there's one night couples look forward to more than anything, it's their wedding night! It doesn't matter if you had or haven't had the chance to romp under the sheets with your partner, before the wedding. When the wedding bells ring, you can't help but fantasize about getting some alone and possibly naughty time with the one you married. After all, what's better than ending a very stressful albeit happy day with a little bit of canoodling?
But contrary to the popular belief, wedding nights are not all about roses and coyness. Most couples end up having a hilariously funny time on the first night of their wedding. Sometimes, these moments reach way beyond their expectations! We spoke to 7 such people who shared their stories from their first night after the wedding that'll have you ROFL-ing:
1. The Obtrusive Mom-In-Law
"Our wedding was a long affair and we knew it wasn't going to end any time soon. My husband and I wanted to do nothing more than get in the sack with each other so we quietly snuck out mid-way through the post-wedding dinner and went to our hotel room. In all the rush and the heat, we didn't realize that our room was being used to stack all the presents that we got. And, as we were in the middle of our session, my dearest mother-in-law burst through the door with more gifts in her hand! It was the most embarrassing night ever."
Rashmi, 28
2. The Unending Undressing
"We really thought we would have a naughty time but I had so many bobby pins in my hair and safety pins in my dress that I took almost all night to take them out, individually one by one while my husband sat and watched the TV. After that, we were so tired that we just crashed."
Leela, 30
3. The Uninvited Friends
"We had an arranged marriage and it's safe to say that we were pretty much like a noob in the world of intimacy. When his friends met my friends at the wedding, they happened to quickly exchange this information and decided to gang up against us! As soon as we got into our room for the night, there was a loud knock on our door. Both of our friends came into the room with quiz cards in their hands! Apparently, they wanted to test our knowledge of what happens between the sheets. Needless to say, the questions they asked were very graphic!"
Meenakshi, 26
4. The Shy Husband
"My husband was so shy on our wedding night that he wouldn't even look at me! I literally had to coax him to lift up my 'ghunghat'! Which he did very gingerly, with his fingers trembling. We sat this way for a quite a long time, with him keeping his hands on his crotch as if I was about to attack him! I tried to reach out for a peck on his cheek but every time I touched, he blushed a deep pink like he was the 'dulhan' and I was the 'dulha'! It's been 5 years since we're married now and this shy ostrich has turned into a bold tiger!"
Sanjana, 32
5. The Very Supportive Joint Family
"I got married into a joint family and I didn't realize just how 'joined' this family is to each other until my wedding night. Not only did every elderly member come into the room on our wedding night to give tips on how to do it and what position works best, but they also stood out the room with their ears pressed on the door to know if we were doing it! I was too creeped out by that so I fake moaned, hoping they'd leave. And damn right they did! There were audible feet shuffling."
Sara, 25
6. The Vomit To Remember
"Since I'm a Catholic, mine was a Christian wedding. And there's not a Christian wedding that doesn't have booze in it! I was very happy on my wedding night and kept having one glass after another of champagne, wine and everything in between. The extent of my drunkenness was unknown to me until my husband carried me to our wedding suite. As soon as he dropped me on the bed, I puked all over it! A bit of puke also landed on my husband's brand new tuxedo."
Jessica, 31
7. The Dancing Groom
"My husband is an enthusiastic dancer! Nobody danced at our wedding more than he did. He was up on the dance floor till barely anyone was left, flashing his moves. And during one of those moves, he slipped, fell and broke his leg! So my wedding night was pretty much spent eating leftover wedding cake in the emergency room of a hospital."
Priya, 29
These wedding night stories were definitely hilarious. The reel life might tell you otherwise but, these stories show what the first night of the wedding looks like in real life. What was your wedding night experience like? Did things go as planned or was luck not on your side? Let us know in the comments below!
The following two tabs change content below.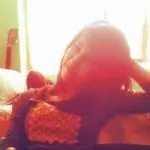 Latest posts by Tanya Arora (see all)