What Happens To Your Skin If You Don't Wear Sunscreen?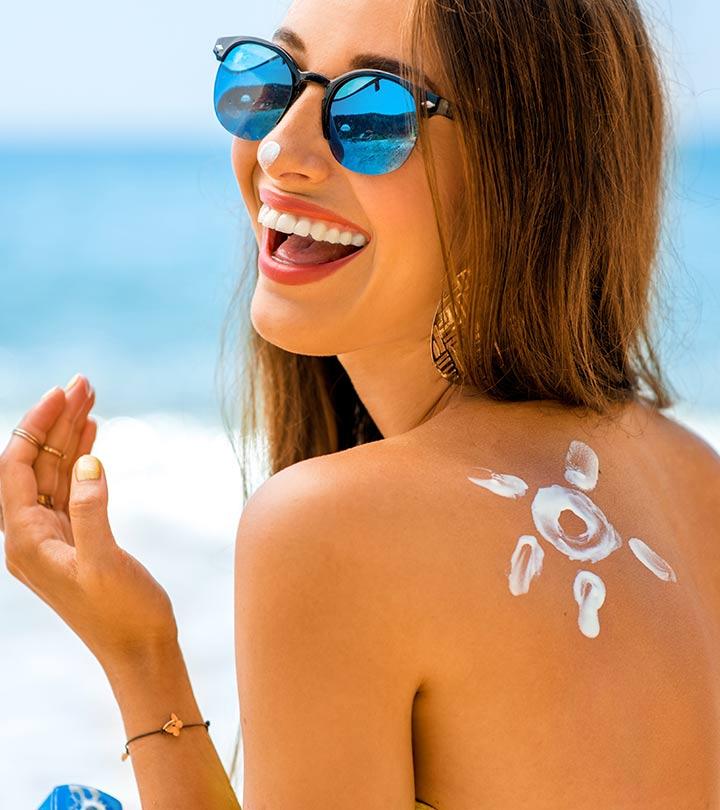 Who doesn't love a bright, warm, sunny day? Sitting by the pool sipping a cool drink isn't less than a moment of ecstasy for most of us. While we never forget to have fun-under-the-sun, we always tend to miss one important thing — a sunscreen. Not wearing sunscreen can have drastic effects on our skin. All those beach models that you see? They must have either bathed in a tub of sunscreen before the photoshoot or undergone a tan removal treatment at the spa later on.
Also, sunscreen is important not just when you're out in the sun but whenever you're stepping out during the day. It protects you from the harmful UV (Ultra Violet) rays that can damage your skin even when it's cloudy outside. So if you're an outdoorsy person, never forget to wear a protective layer of sunscreen on your precious skin. Many people use sunscreen even when they're staying indoors so that even the indirect exposure to sunlight doesn't hurt their healthy skin. Using sunscreen should be made a part of the daily skincare routine and if one fails to do so, they are just unleashing the wrath of the Skin Goddess!
Here are some of the skin problems that you can walk away from if you befriend a good sunscreen:
1. Sun-Tan
While some people like to get tanned and even get artificial tan sprayed on to their skin, it's not quite healthy. You may love your skin tone after a few hours under the sun but it's not worth the price you pay in the long-term. For people who have dusky to dark skin, getting tanned is a nightmare. Why would you want to spend hours trying to get rid of the tan if you can prevent it from happening? A good sunscreen goes a long way to maintain the natural tone of your skin.
2. Sunburns
Sunburns are painful, red, itchy spots that occur due to sun exposure. In extreme cases, one may get blisters that can last for a while until they heal. Sunburn also leaves unattractive marks on your beautiful skin and repeated sunburns in the same area may increase the risk of skin cancer. All of this can be prevented if you use a good sunscreen. Nonetheless, going out in the sun when it's scorching hot isn't a great idea even with the sunscreen on.
3. Signs Of Aging
Signs of aging are clinically divided into four — wrinkles (change in texture), lack of firmness, vascular disorders, and pigmentation. Exposure to sunlight can speed up the process of aging, making the signs of aging more visible. Imagine waking up one fine day and noticing wrinkles and dark spots on your face? You definitely don't want to be a victim of that. It's a misconception that the signs of aging will start appearing only once you're close to the thirties. You can experience them even in the early twenties if you're always out in the sun without sunscreen. According to a study, about 80 percent visible facial aging signs occur due to UV exposure (1).
4. New Moles
Remember the attractive mole on Merilyn Monroe's left cheek? Well,Blake Lively and Natalie Portman wouldn't look the same without their moles either. But, not all moles look that good in reality, do they? Sun exposure can sequentially increase the number of spots, moles, and/or freckles on your skin. Fair-skinned people are more likely to get new moles and freckles on their skin during summers. This is because of the lower content of melanin on the upper layer of their skin (2).
5. The Danger Of Skin Cancer
Melanoma, one of the most serious types of skin cancer can occur as a result of sun exposure (3). Today, melanoma is considered to be among the fastest growing cancers worldwide (4). While a few minutes of sun exposure is essential for the body to get enough Vitamin D, anything more than that can be dangerous. Skin cancer is deadly and can spread much faster than you can imagine. Regular usage of a good sunscreen will help you keep melanoma at bay.
6. How To Pick A Good Sunscreen?
Now that you know that the absence of sunscreen can cause so much of destruction, you would probably want to invest in the best sunscreen there is. So, how do you pick the right one? Until a few years ago, we just went for the sunscreen that had the highest SPF (Sun Protection Factor) number. But, SPF can only block the UVB rays and not the UVA rays that can also cause damage to the skin (including cancer) (5). If you're confused about finding a sunscreen that gets all the ticks in the boxes, seek the suggestion of a dermatologist.
We all crave for a spotless, firm, and glowing face, don't we? But remember that there's no easy road to beautiful skin, we've got to put in continuous effort to protect it. So,how do you pick your sunscreen? Do you agree that a good sunscreen keeps your skin look healthier and younger? Let us know in the comments section below.
The following two tabs change content below.