4 Things That Happen To Your Body If You Wear A Misfit Bra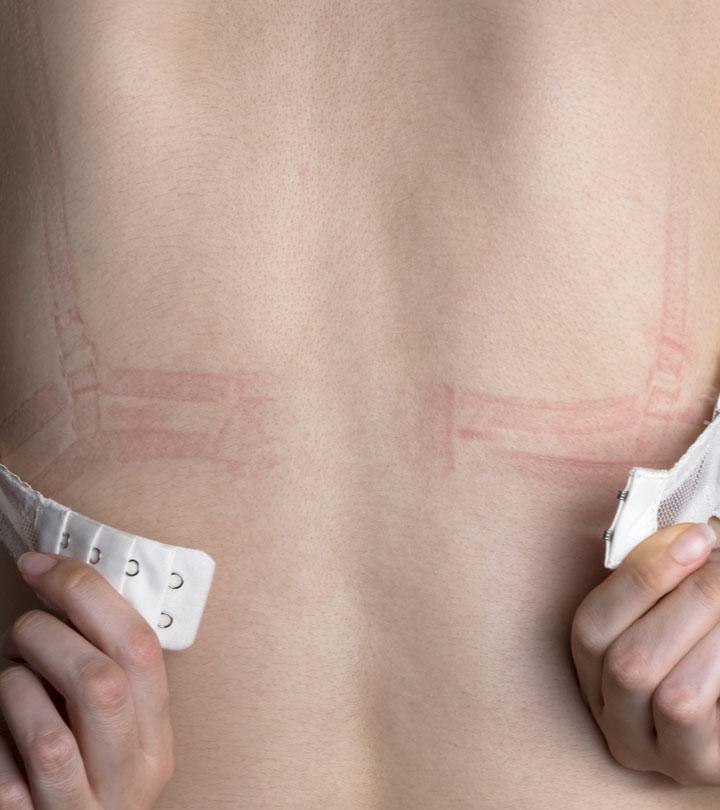 If you think about it, a good bra is like a good friend. For starters, it gives you support, holds you up, makes you feel good about yourself, is close to your heart, and the perfect ones are always hard to find! Ever since you get your hands on the first sports bra as a teen, the quest for finding the one that suits you ideally begins. While the market is full of different kinds of products that promise to give you the perfect fit, wearing something that is not the correct size can do more than just give you discomfort. We at Stylecraze made thorough research on what are the things that can happen if you continue wearing bras that don't fit you well. Read on to know them all!
1. Neck And Body Ache
There is ample research done to prove that wearing a bra of a different size can lead to health issues (1). The most prevalent one is muscle pain in the neck and back. Bras that don't give you support exert strap pressure and can even lead to a bad posture (2). If you have been dealing with cramps in your torso, your bra could be one of the reasons leading to it.
2. Headache
The pressure that the bra strap exerts can cause severe headaches (3). If your bra is too tight or too loose, the weight of your breasts will pull the straps down and exert pressure on your shoulder muscles. This leads to the concentration of weight on certain nerves that cause headaches. Make sure you opt for thicker and stronger straps to minimize the pressure on your shoulder.
3. Shoulder Deformation
If you ignore the pain caused by a misfit bra for long, there is a good chance that it could cause deformation in your shoulder joints and make you slouch down (4). It could harm your posture, and you might need physiotherapy to correct it.
4. Skin Problems
You might look for a bigger size bra to be more comfortable and get more breathing space, but ill-fitted bras often rub against your skin and cause skin damage. It is essential to find a bra of the perfect size that covers you without leaving any space.
How To Choose The Perfect Bra
Knowing the proper method to choose the right size bra can help you choose the one made for you without any stress. There are two main parameters to a bra; one is the band, and the other is the cup size. Take the measurement under your breasts to know the band size. To know your cup size, measure the largest part of your breast and subtract the band measurement. The inches represent the cup size; for example, 1 inch is A cup, 2 inches is B cup, and so on.
1. Choose The Right Band
While we mainly concentrate on the cup size and material, the thickness of the band has a lot in giving you support and comfort. Both the shoulder band and bust band are essential when it comes to buying a perfect size bra. The cup is made to keep the breast in place, but the band gives your breast the support to stay upright and look perky under your clothes. This is probably why strapless bras can support your breast and look gorgeous when wearing off-shoulder clothes.
2. Check The Size Chart
Yes, we know by now your bra size is etched in your memory better than your passwords, but like every other outfit you own, the size of bras also varies from company to company. This is why checking on the size chart before making your purchase is essential.
3. Round Up The Sizes
We understand your dilemma regarding measuring cup size; most women have one breast slightly larger than the other. This is why you would need to adjust the straps accordingly to maintain the weight balance.
4. If The Straps Dig In, The Cups Are Too Small Or Band Is Too Big
Even after you think you have bought the perfect bra, if you feel the straps dig in your shoulders and create the bra strap mark, it could mean that your strap needs to be shortened or that your cup size is not ideal.
5. If The Straps Slip Off, It Means The Cup Size Is Too Big
If your straps fall off even after adjusting them numerous times, it could mean that your cup size is way more than it should be. It will increase the friction and might give you skin rashes.
6. There Are Different Kinds Of Bras For Different Looks And Purpose
When you look for a bra, the search starts with why you need it. Everyone likes a versatile wardrobe where your bras help you wear every outfit without any fuss. While most bras are T-shirt bras, there are also convertible, sports bras, wired, non-wired, and bralettes to make you look absolutely perfect no matter what you wear.
So now that you know how important it is to wear a perfectly fitted bra, and how to choose the right size, you will surely be able to get the one you want. It is always better to invest in good quality inners as they are the ones that come in direct contact with your sensitive skin. Once you know the correct measurements, you can explore online sites to get yourself the bra you had always wanted to wear!
The following two tabs change content below.