What Happens When You Use Baby Powder As A Dry Shampoo?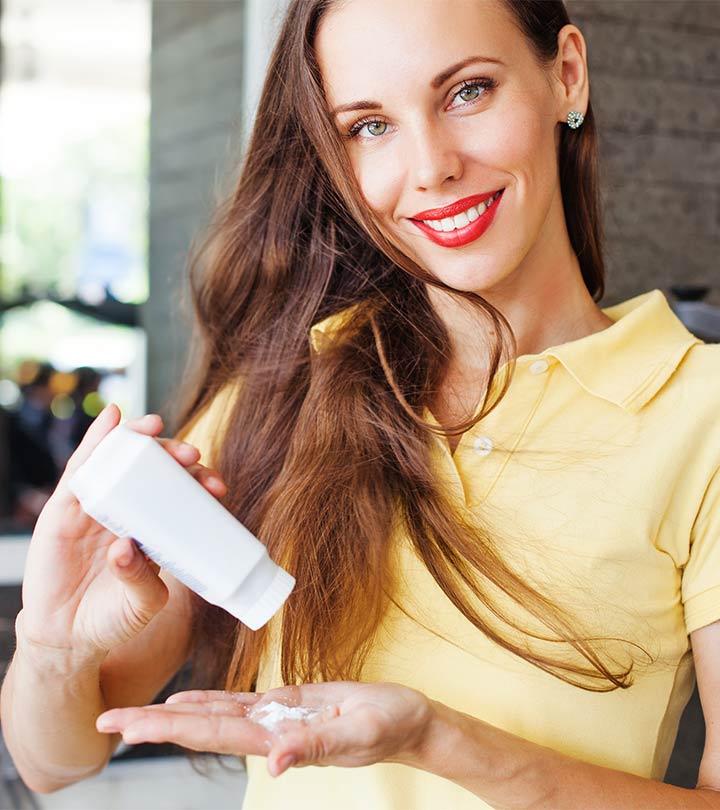 Have you ever felt like there aren't enough hours in the day to keep your hair washed and clean? Even if you cleanse it really well on the weekend, the dust, dirt, and buildup catch up the very next day. The possible solution to this problem is a can of dry shampoo that will have your back for surprise parties and meetings. Now for the part where we all shriek, what if the can feels too light and there is no time to rush to the drug store and grab one? Well, that is when the bottle of baby powder comes in handy. You must have seen reels and posts about how effective they are, and some even claim that this trick is better than designated hair care products. Here is a detailed analysis from experts on how good baby powder is and if it is ideal for replacing dry shampoo with it.
Dry Shampoo Vs. Baby Powder
When it comes to baby powder vs. dry shampoo, you may be wondering what the differences are. Well, there are a lot of them. For starters, dry shampoo formulations vary and come in various forms. Some absorb oil using starch, while others utilize alcohol (1).
Starch-based dry shampoos are more like baby powder than regular shampoos. They do not clean the scalp. Acne and seborrheic dermatitis might occur if used excessively or in large quantities (2). Some dry shampoos and baby powders may also include mineral talc, so be aware of that while using these products. Talc can naturally contain asbestos, linked to some types of cancer (3). So being cautious is key!
Advantages Of Using Baby Powder As A Drying Shampoo
There are many hair and skin experts who have differing views on this. Butane, Isobutane, Parabens, Phenoxyethanol Cetrimonium Chloride, Silicones, propane, Siloxane, Octamethylcyclotetrasiloxane, and Sulfates are chemicals are substances that some experts advise against using for hair (4). Thankfully they are rarely found in baby powder. However, some dry shampoos contain these chemicals.
There are also experts who recommend that no matter how safe the components in baby powders may be, it is still not safe to use them daily. Instead, use it only twice a week in modest doses. Products not designed to be used on the scalp may pose a risk to the health of the hair follicle (5). This is crucial for those with undiagnosed scalp problems that might become itchy or inflamed.
Factors Affecting The Hair And Scalp
You can use baby powder if you want to erase odor and oil from your hair till your next wash day and have no scalp issues. However, it is recommended to use a dry shampoo rather than baby powder for daily use. In addition, anyone who has a scalp ailment, flaking, or itching on their scalps should avoid using powder or alternative products that worsen the condition of their hair (6).
How To Substitute Baby Powder For Dry Shampoo
You need to start with separating the hair into sections and gently massage the scalp with a tiny quantity of baby powder wobbled between your hands. Brush your hair for a few minutes after the powder absorbs the oil to eliminate any white residue.
Here are a few alternatives to baby powder that you may use:
1. Transparent Powder
You can use a transparent powder free of glitter if you have it. Use a brush to apply it to your roots like you would to your T-zone. Once you're sure the oil is gone, use a brush to remove any remaining residue. It's one of the most commonly used makeup tricks, and chances are you already have a translucent powder in your bag. If you fear your hair is going greasy again and need to reapply pressed powder, you can do so.
2. Deodorant
If none of the items listed above are in your bag, a spritz of perfume will do the trick. First, get rid of the greasy look by spraying your hair with deo. Many perfumes contain alcohol, which aids in the breakdown of our hair's oil and keeps it smelling great. However, don't overdo it with this approach, or your hair may become dry and brittle.
3. Blotting Paper
Paper towels and blotting sheets are essential if you have oily skin. You can massage a paper towel into your scalp to eliminate extra oil from the roots. You may not have a 100% success rate, but you can swiftly remove the excess oil from the affected regions.
4. Hand Sanitizer
Yes, you read that right! You may also break down oil from your hair by using hand sanitizers, which have a high concentration of alcohol. Take a small quantity and gently massage it into your hair roots. It is important not to overuse sanitizer, so use a tiny quantity and air your hair out.
So now that you know how and why people rely on baby powder for their hair, you know exactly how to give yourself a quick fix in a matter of seconds!. However, remember baby powder should not be a regular component of your hair care routine. So, what is your favorite way to ditch oily hair in the middle of the week? Let us know in the comments section!
The following two tabs change content below.