What The Shape Of Your Body Says About Your Health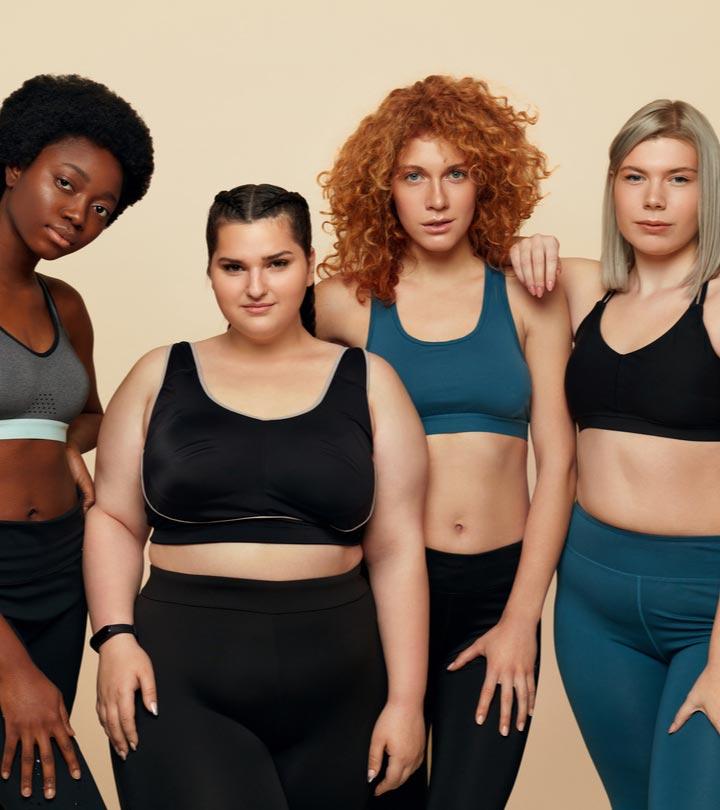 By now, you must have realized that everyone's body shape is different. Remember, body shape is not the same as body size. It is basically how the curves of your body form according to your figure. Whether you gain weight or shed some kilos, the shape of your body is going to remain the same, unless there is a drastic change due to an accident or extreme dieting. This article is for the ladies, so gear up for a masterclass on body shapes.
You may have admired the hourglass and pear shapes, but there are many more body types to embrace. Understanding the shape is essential as each kind needs a different workout to tone down perfectly. Many variables influence the body's shape and size, such as genetics, lifestyle, and age. Centered on the body fat distribution, most people can be classified into the apple, hourglass, pear, ruler, and inverted triangle. Once you understand your shape and exercise accordingly, you will know the secret to looking flawless in your perfect body. Here is what each kind of body signifies and how to maintain proper health if we are that kind.
APPLE SHAPE
1. Health Hazards
Abdominal fat is harmful to all body types, but the apple body shape is the most vulnerable to health issues. Broader waists could increase the chances of suffering from heart illness (1). It could also indicate an increased chance of having Type 2 diabetes. If you're apple-shaped and not overweight, it means that your BMI is less than 25. But you should always stay conscious about your health as diseases like heart blockage, diabetes, and cancer have more chances with an apple shape. So the question is, why does abdominal fat cause problems? Contrary to the fat found elsewhere on the body, the fat around the abdomen is similar to an iceberg. Here's what causes the threat of growing abdominal fat.
Here's what causes the threat of growing abdominal fat.
2. Why Does Belly Fat Cause Health Ailments?
Belly fat expands deep into the abdominal cavity, plugging the gap between organs. Belly fat is an immense influence on metabolic rate. They release fatty acids into the blood via the vein connected to the liver in the vicinity. It can lead to metabolic syndrome, which can decrease working from the pancreas (2). As a result, your blood glucose levels remain high, and you're at risk of developing the disease diabetes. Fat cells may cause an inflammatory response, which releases cytokines. This is the main factor that leads to heart disease (3).
3. What You Can Do-
Reducing your waistline with an energizing diet and vigorous exercises will help you save yourself from health problems. Bread, sugar, pizza, rice, white potatoes, sugar bagels, and corn increase blood glucose levels and generate more fat. Consume fruits and vegetables that are rich in fiber. It is a misconception that if you are eating healthy, it will most likely not be tasty. As many are trying to turn vegetarian or vegan nowadays, there are a variety of recipes that you can find online. Not only are they healthy, but with the right ingredients and cooking ability, you will start loving your veggies. Also, make it a point to engage in any kind of workout. You can simply start by walking a few rounds outside your house or taking a slow jog. Slowly, increase it to at least thirty minutes of exercise each day to shed pounds and strengthen the muscles.
Pear Shape
1. Health Risks
Results from studies are not necessarily consistent with the health hazards associated with the pear-shaped body. The fat found in the thighs, hips, and buttocks may reduce the risk of heart disease (4). Yet, a new study suggests the reverse and that a slimmer lower body is more beneficial for your heart health. If you are overweight, the loss of weight in the abdomen, the leg, and buttocks, can help lower cholesterol levels.
2. What You Can Do-
The accumulation of fat in the lower body can be a real pain in the neck. It is something that sheds at last if you do an all-body workout. The recipe for weight loss success is eating right and exercising more. It's the same with the pear shape. This starts by taking smaller meals and incorporating more fruits, vegetables, and low-fat food.
Hourglass Shape
1. Health Hazards
Probably one of the most famous body shapes out there popularized by celebrities and social media influencers. This body shape implies that when you put on weight, it's not focused on an area like an apple or pear-shaped body. You might gain weight equally but fail to identify that the weight you have gained is actually a concern. The reason why weight gain is challenging for you to identify is because you are not in the habit of checking your weight or keeping your weight fluctuations in check. when you don't regularly check your weight. If you're overweight, you're more at the chance of suffering from chronic cardiovascular diseases (5).
2. What You Can Do-
Full-body workouts are beneficial for those with an hourglass figure, as there is a chance of gaining fat on the upper and the lower part of your body. Additionally, you can add healthy, low-fat fiber foods into your diet, which will help maintain weight.
Inverted Triangle
1. Health Hazards
If you're an individual with larger breasts and a thinner bottom, your shape is an inverted triangle. There is a common belief that larger breasts lead to breast cancer, but the link is not proven. It is more about the density of the breast than the size. You need to be aware that your breasts contain connective tissue more than fats, which can escalate your risk of developing breast cancer (6).
2. What You Can Do-
To appear less slender in the lower part, you can concentrate on workouts that increase the strength of the lower part of your body, like lunges, squats, or leg raises. It is also essential to be conscious of your BMI since being obese could increase the risk of developing breast cancer. It's not a surprise that you must adhere to a balanced diet and be physically active to keep your weight healthy.
Ruler Shape
1. Health Hazards
Many skinny people have this type of figure; however, this does not mean all rulers are slim. If you're a female who is overweight, you're susceptible to various health issues, including issues during the menstrual cycle, pregnancy in the future, malnutrition, depression, heart ailments, and many more.
2. What You Should Do
While it's difficult to put on weight in a ruler body type, it is essential to be aware of your food and exercise. Slim people may escalate the risk of health problems in the belief that they will never appear overweight. In reality, the proportion of fat in your body has increased without your noticing. This could mean you have the same chances of developing health problems.
So now that you know what your body type is and how you can improve it, finding the proper exercise will not be difficult for you. Each body is unique, and if you have been sulking seeing a curvy girl in a dress you don't look good in, there is a dress perfectly suited for your body type out there too! Make sure the next time you buy clothes, keep a note on what will compliment your body type. Hope this helps in keeping you healthy and confident!
6 Sources
Articles on StyleCraze are backed by verified information from peer-reviewed and academic research papers, reputed organizations, research institutions, and medical associations to ensure accuracy and relevance. Read our editorial policy to learn more.
The following two tabs change content below.