7 Things That Happen When You Have A Strong Woman In Your Life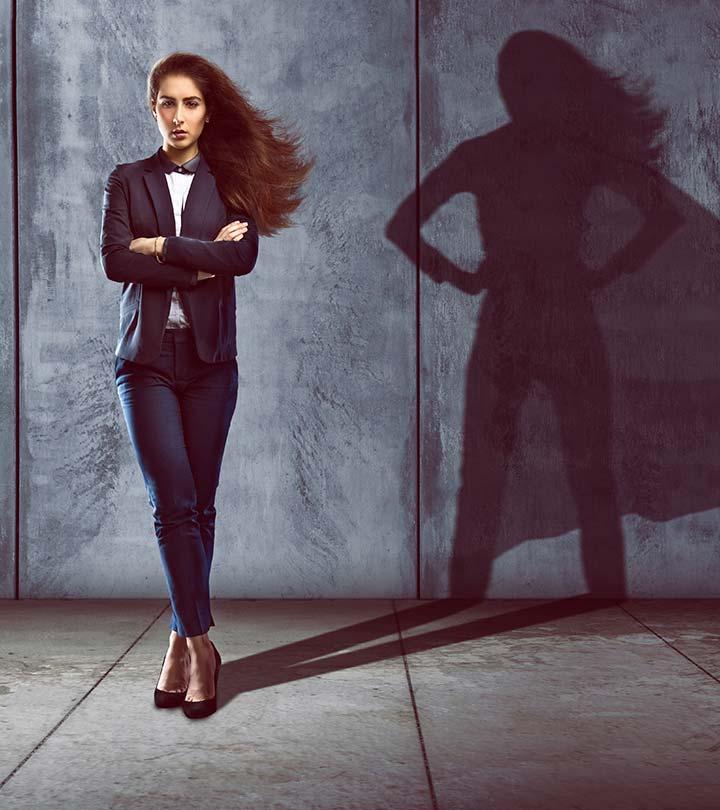 Not everybody loves Miss Independent. But you wanna know a little secret? She doesn't really care. Society usually judges her as being uber career-oriented, unreceptive, unlikable, and unapproachable. However, anybody who's actually friends with her will tell you this is far from the truth. Strong women are often seen as intimidating and persistent. The truth is, every independent woman knows that time is of the absolute essence, and they won't waste their precious time on you unless they see a mutual sense of respect. Here is a list of things that will happen the moment a strong independent woman walks into your life:
1. She'll Help You Discover Your Strengths And Weaknesses
A strong woman will never hold back when it comes to providing you with constructive criticism. She'll keep it a 100% real with you and won't be afraid to leave out all the nasty bits. Fret not, however; she will also advise you on how to overcome your weaknesses and be the very best you could possibly. She's a firm believer of the analogy "truth hurts" and won't be afraid to drop a few truth bombs when you least expect it. Take her advice, though as she comes from a place of knowledge and hardship herself.
2. She Doesn't Need You, She Wants You
Kanye West's song Gold Digger is precisely the opposite of who she is. Movies have us believing that all career women are greedy and money-hungry, and even if she is that way, she's definitely not interested in YOUR money. You'd best believe this woman can pay her own bills and won't expect you to take care of her or go out of your way for her.
Just as you have a stable career that you love, so does she. Her work ethics and her dedication will ensure that she never has to depend on you for money and will only be with you because she genuinely cares for you. All of this is further proof that she's with you for all the right reasons.
3. She Will Push You To Achieve Your Goals
Mediocrity isn't a word in her dictionary, and she will ensure it isn't present in yours too. A strong woman will go out of her way to push and motivate you to achieve your goals. Whether you want to improve your finances or climb up the corporate ladder, a strong woman will be by your side, cheering you on. She would never expect you to compromise on your career for her sake or for the family's sake. And once you've earned the success you desire, she will stand proud by you and encourage you to grow even further.
4. She Will Love You With No Conditions
You don't need to be earning six figures to win the love of an independent woman. Neither do you need to be the hottest stud in the room. If she does love you, she's not going to be coy about it in any way and won't shy away from flaunting you in public. Considering how picky she probably is with her love interests, it's actually a major compliment that she's proud to be seen by your side. A strong woman knows that there's no time for playing games on the battlefield of love, and she will never hold back from expressing how she feels. What has she got to lose anyway?
5. She'll Be Your Anchor During Rough Seas
Maybe things aren't going so great in your family life? Or perhaps you're looking for a career change and can't quite seem to take the final step. An independent woman will ensure she stays by your side through sickness and health and provides not just for herself but for you as well. This would make the process of transition a much smoother experience for you.
6. She Will Treat You With Respect
She chose to be with you for a reason. And it has nothing to do with your financial status. Strong women are attracted to men they admire and respect and know all too well the value of respect. She will treat you the way she wishes to be treated and never tolerate anyone disrespecting you in front of her.
7. She Gives You The Space You Need
Have you ever gone out with your buddies and heard them talking about how clingy their girlfriends are and how you can never relate? If your answer is yes, then you're probably dating an independent woman. She has zero qualms about spending time by herself and would never hold you back from wanting to spend time with your friends.
The sad reality of the matter is that strong women have always been portrayed in a bad light. From movies mocking them and calling them cruel names like 'cat lady' to 'always the bridesmaid, never the bride', independent women have always been made a mockery of. It's only during recent times that women have been seeing a change in how society looks at them.
It's funny how when a man is entirely self-sufficient, it's expected of him to be, but when a woman is, it's surprising. Shouldn't we be raising our girls to have that same headstrong, never-back down attitude we raise our boys with? Tell us what you think in the comments.
The following two tabs change content below.

Latest posts by Niharika Nayak (see all)

Niharika Nayak
Niharika has a passion for all things art, music and travel. During her spare time she likes experimenting in the kitchen, painting pop culture icons and chasing after random street cats. Her dream is to one day own an amusement park so she can ride roller coasters for free.