Dia Mirza Opens Up About Her Decision To Have A Priestess Conduct Her Wedding Ceremony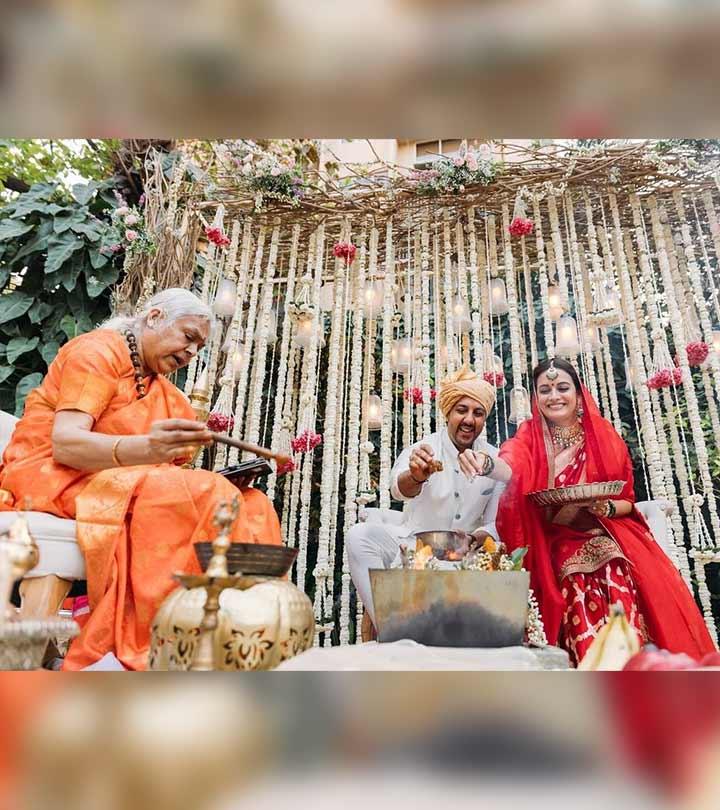 It's no secret that wedding rituals all over the world are highly patriarchal in nature. Just as Catholics have a "giving away the bride" ceremony where the father of the bride "gives" the daughter to her husband, Hindus too have a ceremony called kanyadaan and bidaai. But why is it that in this modern day era, we still have to be "given away" to our husbands? Well, Dia Mirza had this exact same question in mind and thus decided to do something about it. Both Dia and her husband, Vaibhav Rekhi decided to not only banish the old fashioned traditions from their wedding but also, opt for a priestess to conduct the ceremony instead. So, here's why they decided to change things up:
"Change Begins With Choice"
 

View this post on Instagram

 
In a post that Dia shared on Instagram, she opened up about her decision to ask a priestess to conduct the wedding nuptials over a priest. Dia started out by sharing that the place where they conducted the wedding ceremony held a lot of importance for her as they celebrated it in her garden. She stated that she has spent her mornings for the last nineteen years of her life in that same garden. She also spoke about how her and Vaibhav wanted their wedding ceremony to be as eco-friendly and sustainable as possible and that they ensured they chose bio-degradable and natural decorations.
 

View this post on Instagram

 
Dia added that a high point for them was having a priestess conduct their wedding nuptials and she spoke about how she had not seen the rituals being conducted by a woman until she attended the wedding of a close friend of hers. This same friend decided to gift Dia by introducing her to her aunt, Sheela Atta, who is a priestess. Dia added that her friend, Ananya even helped out her aunt. She endured several hours of training to understand the meaning behind the scriptures that they were reading and explain it to Dia. Dia stated that she felt extremely privileged and lucky to have the opportunity to get married in this manner.
 

View this post on Instagram

 
In the post, Dia wrote, "We do hope with all our heart that many more couples make this choice. For it is a woman's soul that contains love, wonder, benediction, magical energy, tenderness and deep empathy for all that lives. It is time for women to own their own agency, their divinity, their power and to redefine what is old and birth what is new." She added that it was extremely uplifting and empowering to watch this same fire and energy take center stage at her wedding ceremony. She ended by stating that she was overwhelmed by all that she had experienced and that both her and her husband had decided to say no to the 'Kanyadaan' and 'Bidaai' rituals.
The Wedding
 

View this post on Instagram

 
When Dia had posted pictures from the wedding, many commentators had noticed that the nuptials were being conducted by a priestess. Many of Dia's fans praised her forward thinking mentality and spoke about how this was the first time that they were seeing a woman in that role. Of course, there were a few trolls and unnecessary comments that questioned Dia's motives but it shouldn't really matter.
Dia and Vibhav decided to tie the knot in an intimate wedding ceremony on the 15th of February. Very few people were invited and only loved ones and close friends were in attendance. Dia's gorgeous garden was decked in beautiful pink and white flowers and she wore a striking red Banarasi saree. Dia had also shared plenty of images from the mehendi ceremony as well as her bridal shower. This will be Dia's second marriage and she was married to a film producer named Sahil Sangha before meeting her current partner. Sahil and Dia got divorced in 2019 after around 11 years of marriage together.
 

View this post on Instagram

 
After the wedding nuptials were conducted, Dia and her husband were spotted outside the venue, posing for the paparazzi. A little later, Dia started personally distributing sweets to all the paparazzi who were present outside her residence and we have to say, we're impressed by her humility. For those who are unaware, Vaibhav is an established Mumbai-based businessman and he and Dia have been dating for sometime now. Dia is very private about her personal life and didn't give away too many details about their relationship until recently. When she shared news of her engagement she wrote a beautiful post about love and how she felt incredibly blessed to be on this journey with her partner. She stated that she hoped all the puzzles that were out there would find their missing pieces and hope that people's hearts would heal from their past traumas.
It's wonderful to see people in Bollywood stepping up and being an active part of change. While Dia's move might be considered unconventional to some, we are sure that her move resonated with thousands of women out there who didn't have the choice that she did. What are your thoughts on Dia's decision to hire a priestess instead of a priest? Tell us all of your thoughts in the comment section down below.
The following two tabs change content below.

Latest posts by Niharika Nayak (see all)

Niharika Nayak
Niharika has a passion for all things art, music and travel. During her spare time she likes experimenting in the kitchen, painting pop culture icons and chasing after random street cats. Her dream is to one day own an amusement park so she can ride roller coasters for free.