5 Reasons Why Hair Damage Occurs Mostly In Summer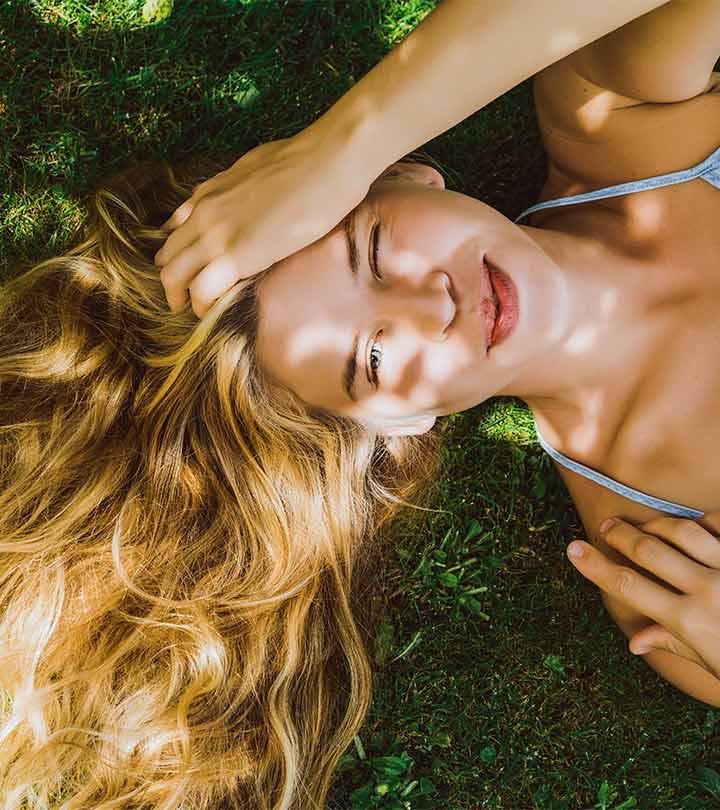 After the long stretch of freezing winter months, the sunny summer is a blissful change. While summer mostly paints the picture of a breezy day at the beach, the reality is seldom as peaceful. Research says that summer causes more hair damage than winter, mostly because of the accumulation of dust, sweat and lack of moisture.. While we don't have any control over the change in season and its effect on our hair and skin, we can always take precautions to protect our hair from the summer heat and keep the hair problems at bay. Here are some common triggers to hair fall in summer and easy ways to counter them. Read on to know them all.
1. The Sun
Summer is all about sunny days and vitamin D. Even though it is a refreshing change from winter, it does take a toll on your hair if left unprotected. We may put on layers of sunscreen to protect our face, but our hair is mostly left to bake in the sun. This might cause fading of the natural pigment of your hair and hair fall. The UV rays can also strip off the natural moisture coating and make it brittle and dry. The best way to protect your hair from the sun is to invest in good hats and scarves. There are numerous ways to tie them, and honestly, they can also amp up your fashion quotient! Learn some quirky ways of tying a scarf and even match them to your outfit to create a unique style statement. Some even wipe off the sunscreen on the hair strands, but that will only make your hair look stiff and oily.
2. Chlorine
If you think about why you would put chlorine in your water, it's probably your bath water that already contains it. Water reservoirs add chlorine to ensure there is no bacterial growth in the water you wash and bathe in. In addition, the pool is a perfect place to smell the excess chlorine in the water. You can't avoid it which is bad news as it dries out your hair strands and strips the sebum causing hair to become dull and brittle. You can try nourishing your hair with coconut oil and olive oil to ensure your hair stays hydrated even through the chlorine washes. So before you dip in the pool, get a hot oil massage done, wrap your hair properly in a swimming cap, and enjoy!
3. Dandruff
The warm weather is known to aggravate dandruff . It's good to avoid dark clothes in summer; otherwise, the flakes on the shoulder will be easily visible. If left untreated, it can cause hair loss and even give way to other scalp problems. You can go for home remedies or invest in a good anti-dandruff shampoo to cleanse the scalp. If dandruff stays persistent even after a week's wash, visit a dermatologist.
4. Wet Brushing
Wet brushing is a huge no-no, and that goes for all other seasons too! Summer is all about getting your hair wet. Be it taking shower twice or splashing in the pool to keep cool, you need water to beat the heat! However, brushing your wet hair will only rip the hair roots off the scalp and cause irreversible damage. If your hair is too long and you can't wait for it to dry out on its own, you can towel dry and then use a blower. Comb the dry hair gently and tie it in an updo to let your neck and back air out.
5. Air Conditioning
Yes, we know the air conditioner is your best friend in the summers but is it any good for your hair? Even though it's nearly impossible to resist sitting in an AC room after toiling all day, you may have to give it up as it dries your hair out, making it look like a bush. Every place you walk in, including multiplexes, malls, and offices, are centrally air-conditioned, so good luck trying to avoid being in it! If you are tired of your hair breaking off with each tug of your hairbrush, we have something you can try. Even though you can't avoid the AC, you can always invest in deep hair conditioners and hair masks. Pampering your hair with them will ensure your hair retains the moisture even after a full day of sitting in the air-conditioned conference room.
We understand the pain of watching your hair fall off one after another. However, it is not the end of the world! Now that you know how to beat the summer hair problems and bring the silky tresses back, nothing can stop you from flaunting gorgeous hair all year long. But, first, keep your hair clean and hydrated and protected from the sun. So, do you have any special techniques for keeping your hair smooth and healthy through summer? Let us know in the comments section!
The following two tabs change content below.