7 Reasons Why You Should Be Watching Netflix K-Drama Vincenzo Right Now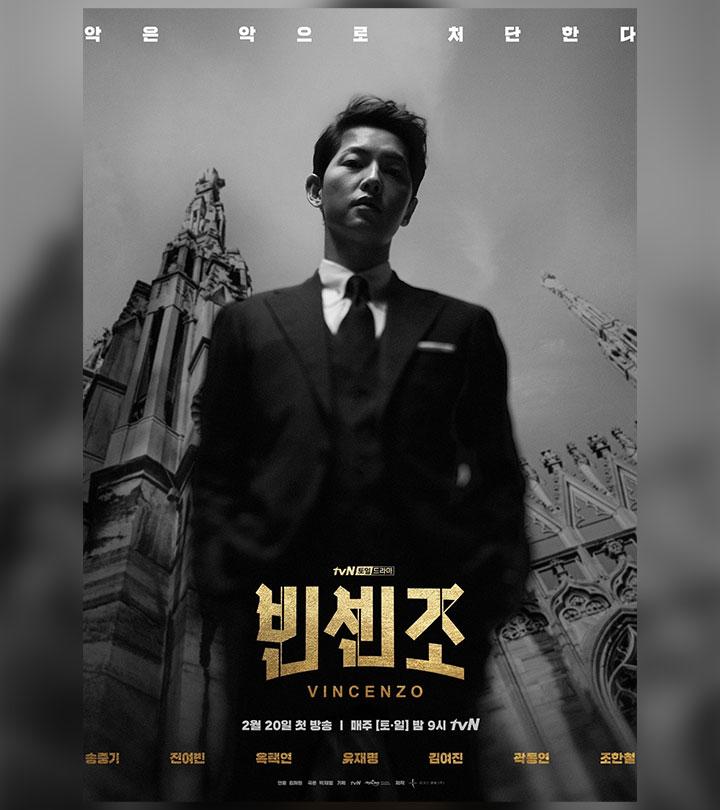 One of the most incredible things about Netflix is that it showcases films and shows of all kinds of genres, languages, and periods. Thanks to this, many of us have been able to tune in to shows that are internationally acclaimed. Recently, one of the highest-paid South Korean actors Song Joong Ki's epic film, Space Sweepers won tonnes of praise. The film is supposed to be South Korea's attempt to make a name for itself in the sci-fi genre, and it has received a lot of positive reviews online. Now, Song Joong Ki is back to acting in K-dramas and is set to steal the show as the titular character in the mafia-themed drama, Vincenzo. Song plays the character of Vincenzo Cassano and will be seen taking on a more rugged and machismo persona for the role. Here are seven reasons why you should be tuning into Netflix's, Vincenzo:
1. Song Joong Ki Is Back After Two Years
The last k-drama series that Song Joong Ki had acted in was Arthdal Chronicles. This will be the 35-year-old actor's first appearance in a drama series since 2019 and the show has been hotly anticipated. While it is mainly a crime drama, it will also contain a romance plot (every K-drama is incomplete without one, let's be real).
2. The Series Will Be Focussed On The Mafia
If you are a fan of movies like The Godfather, Good Fellas, etc, then this is definitely a series that will catch your eye. If you're wondering why a South Korean has an Italian name in the series, then don't be alarmed. You see, Vincenzo Cassano's character was adopted into an Italian family after fleeing South Korea. Now, he is back to seeking vengeance against the Korean cartels that wronged him.
3. We'll Get To Hear Song Speak In Italian
It truly takes an actor of immense talent and skill to pick up new languages for their roles. For Space Sweepers, Song had to pick up Spanish and learn how to speak the language fluently. He also acted in a recent film by the name Bogota and had to speak the language in that as well. He stated that due to his ease learning Spanish, he believed Italian would be just as easy to pick up.
However, he later admitted that the two languages are very different and unique in their own way. He also added that speaking Italian in a country like Korea proved to be quite awkward as not many people speak Italian there.
4. The Score Is Going To Be Incredible
If there is one thing about a mafia themed series/films that is guaranteed to be on point, it's the soundtrack and ambience. Producing director Kim Hee Won explained that she wanted the main character to be a "foreigner" in his own country and hence decided to give him Italian ties and an Italian upbringing rather than a Korean one. She added that the score would feature a lot of operatic music, stable and unstable musical notes to set the themes and clashing beats.
5. Song Jong-Ki Will Be Paired Opposite Jeon Yeo Been
Who doesn't love an (not so) innocent love story? Song Joong KI will be paired opposite popular actress, Jeon Yeo Been. Jeon Yeo Been rose to prominence after starring in the critically acclaimed film, After My Death for which she even won an Actress of the Year Award at the 22nd Busan International Film Festival. She has also starred in the series, Being Melodramatic and we cannot wait to watch her ace the role of a confident, cunning and independent lawyer, Hong Cha-young. Ok Taecyeon, who is a member of the popular South Korean pop group, 2PM is set to play Hong's intern, Jang Joon Woo.
6. BTS Gets A Shoutout
The name BTS has become almost synonymous with South Korea and most of us associate Korean pop culture with the One True 7. So of course, Vincenzo had to give a shout out to the seven popular k-pop idols in the show. The internationally famous boy band was referenced in the first few minutes of the first episode of the show itself.
7. Bong Joon Ho Is Referenced As Well
There is an interesting moment when a con-man driver references Bong Joon Ho and BTS as Korea's national treasures. He speaks about how the con-men and crime in Korea are ruining the meticulously crafted image that BTS and Bong Joon Ho have showcased to the world and applauded them for putting South Korea on the map. While this simply proves to be a distraction tactic so that the driver can con Vincenzo's character as well, we must say that hearing the names of BTS and Bong Joon Ho were music to our ears!
Even if you are someone who doesn't necessarily enjoy watching shows or films of foreign languages, we must say that this is a show that you definitely do not want to miss. Keep your eyes peeled for Song Joong Ki's incredible acting skills and his talent for speaking Italian. Do you love Song Joong Ki? Let us know in the comment section of the post!
The following two tabs change content below.

Latest posts by Niharika Nayak (see all)

Niharika Nayak
Niharika has a passion for all things art, music and travel. During her spare time she likes experimenting in the kitchen, painting pop culture icons and chasing after random street cats. Her dream is to one day own an amusement park so she can ride roller coasters for free.