6 Workouts For The Bride To Do Before The Wedding!
With the recent photographs of the Virushka wedding doing the rounds on the Internet in general and social media in particular, all of us have gained some really tough bride goals, haven't we? I mean, just look at her in all those pictures! She's the perfect bride, wearing the perfect pastel shades, and looking like a million dollars! And we all know that having a nice, healthy, and toned body only helped in making her look even prettier than she already is in her gorgeous wedding outfits.
So, if you are a bride-to-be and want to rock it like Ms. Sharma – scratch that – Mrs. Kohli, here are a few tips which will help you get that toned body that you've been dying to have. Well, not quite (depending on how far away your wedding is), but it will definitely help in giving you a confidence booster and more reasons to love yourself!
1. Do The Crunch!
It is probably one of the most popular exercises in gym culture – and rightly so! – because we all know how efficient it is in burning away those rolls of fat. However, it is important to do crunches correctly, otherwise, you stand the risk of injuring your neck as well as your back, and you for sure wouldn't want that right before your big day. While the best way to go about it is to get in touch with a trainer, here are a few pro-tips that we can share with you:
At all times while doing the crunches, your lower back must be in contact with the ground or surface on which you are doing the exercise.
It is important that you do not strain your neck muscles while doing crunches by putting unnecessary pressure on it.
Using your upper arms to pull yourself up is also not a very good idea and neither is coming up too high while lifting your upper body towards your stomach.
Always remember to lift your shoulders off the surface.
2. Squat All The Way
One of the most underrated exercises is perhaps the squat. We tend to not take this mode of workout seriously. However, it is one of the best ways of losing all the unwanted fat from your lower body, especially the thighs and calves. Once again, it is best to work with a trainer to make sure that you're doing it the right way. However, here's a little tip – always push your butt out behind you and don't lean forward while doing those squats.
3. Pushups And Weights Should Be Your Thing
Nobody wants flabby arms peeping out of their sexy bridal outfits now, do they? But to get those toned arms, you'll need to work those triceps. And what better way to work those triceps than by doing pushups and lifting weights? Unlike the squat, the pushup is quite a popular workout and even though it looks easy, it isn't. Always consult your trainer to make sure you are not hurting yourself while pushing yourself to do another set of pushups or while lifting weights. Body posture and the right angles are very important.
4. Do The Plank (And Not Just Because It Went Viral!)
We understand that planning a wedding can be a stressful affair with very little time for yourself, let alone having a dedicated hour for exercising. But that doesn't mean that you must give up and resign to the fact that you'll get into your wedding outfit all flabby and unhappy. When all else fails, do the plank! It doesn't require any space per se, except a place where you can lie down on your tummy. And that's it. You don't even need to do it for a very long time. And the best thing is, it is one of the most effective tummy reducing exercises ever!
5. Exercise Those Lats
While this is slightly more challenging than the other exercises mentioned so far and requires you to visit the gym, it helps in toning your back and those chest muscles so that you'll be able to rock in those backless and deep neck cholis with much élan.
6. Breathe, Breathe, Breathe
Weddings can be strenuous both physically as well as emotionally. Sometimes, everything becomes extremely overwhelming as well and we tend to go into panic mode. However, don't worry. This is perfectly normal and rest assured, it happens to every bride-to-be. But the best thing is, you don't have to live with it. All you have to do is set some time aside to sit and meditate, and focus more on the silver linings, and in the process, attract all the positive energies to you. And since meditation is all about slowing down, and breathing, we urge you to do so as often as possible in the lead up to your wedding.
Did you find this article helpful? Let us know in the comments. Also, if you know a bride-to-be who would benefit from this information, share this with her!
The following two tabs change content below.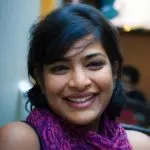 Latest posts by Chandrama Deshmukh (see all)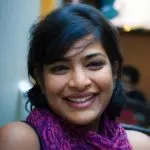 Chandrama Deshmukh
Creativity has no limits. And words have no barriers. Together they can create magic, bridge all gaps.
I work with words. Words that sound great, words that make sense, words that sell and words that tell.