5 Videos Featuring Workouts That Can Help You Get Fit At Home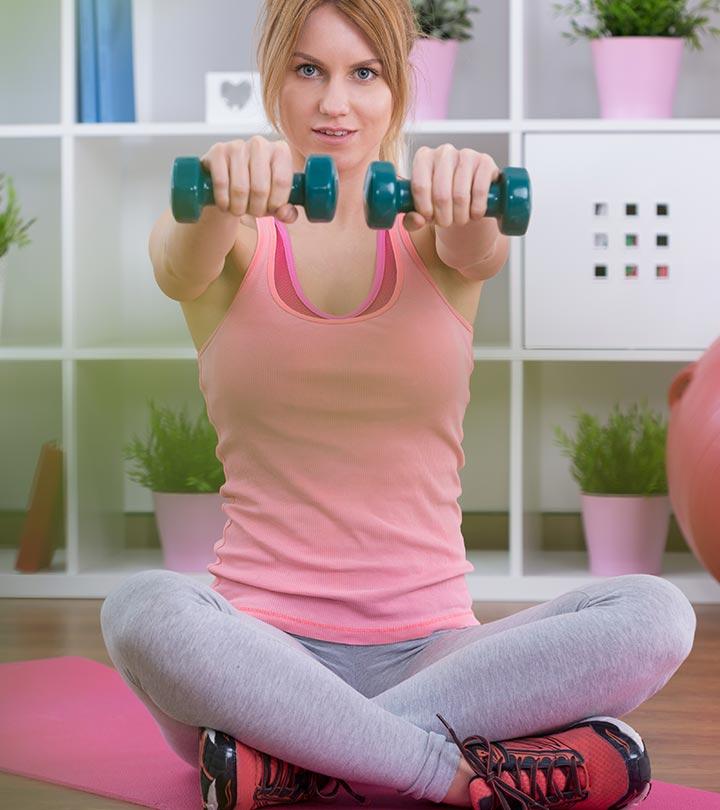 There are days when the gym is the perfect stress buster for you – you go in, exercise, sweat a lot, get out, and feel fresh. But, again, there are days when you cannot afford to go to the gym because of your busy work schedule and other responsibilities.
Well, guess what? You can still get a killer workout without going to the gym. Don't believe us? Watch the videos below, try these routines, and see the difference yourself.
1. Pilates For Beginners At Home
Pilates is a form of workout that focuses mainly on strengthening your core, i.e. correcting your posture, and increasing strength, balance, and flexibility. One of the best parts of Pilates is it is suitable for people of all age groups and of any fitness level. The classical Pilates consists of more than 600 exercises, with modifications and variations. The name itself might imply a number of pricey equipment or a fancy studio, but in reality, all you need to perform Pilates is a mat. Since it is a full-body form of exercise, every part of the body is targeted.
Here is a 31-minutes video tutorial for beginners on how to perform Pilates at home. Watch the video and you can start practicing by yourself.
2. 10 Minutes Power Yoga Sequence For Beginners
If you think that yoga is only good for attaining peace of mind and for stretching, then you might want to reconsider.
A 10-minute power yoga session can not only engage your muscles, but also strengthen and tone the entire body. The video below features an easy exercise that can be done within a span of 10 minutes. It is a fitness-based approach to Vinyasa-style yoga – though many people consider it to be the "gym yoga."
Here is a video tutorial on how you can perform power yoga at home. Practicing it early morning regularly will make you feel fresh and active all the time.
3. 3 Easy Cardio Walking Workouts
Can you really become fit by walking? Definitely – as long as you do it the right way and work hard enough.
Low blood pressure, low cholesterol, and reduction in the risk of diabetes are a few benefits of walking. Walking can also be considered as a cardio exercise if it includes exercises that give your heart, blood vessels, and lungs a workout and make them strong.
Here is a short video on three easy cardio walking workouts by our fitness instructor Shobha, who is also associated with True Weight. Watch the video and burn your calories in a natural way.
4. HIIT Upper Body Workout For Women At Home – Upper Arms, Chest, And Back
Life these days keeps us so busy in other activities that we have very less time for ourselves. This post is for those women who do not find the time to go the gym, yet still want to stay fit. We have some fantastic HIIT upper body workouts lined up for you all that you can perform in the comfort of your home and without a trainer.
The video begins with a few set of warm up exercises such as spot jogging and side jacks. The upper body program usually aims at toning the upper chest, shoulders, and arms. Practice these simple workouts at home and see yourself transform.
5. Zumba ® Fitness Workout At Home
Zumba has quickly grown to one of the most popular workouts worldwide. Zumba has many subcategories, but the common thing in all of them is the Zumba step.
Practicing Zumba regularly helps in burning the excess fat and toning the muscles. It helps you stay fit and healthy. Along with this, it helps in combating stress and increases your body's metabolic rate.
Watch the video below and start practicing Zumba.
These were the five different types of workouts that can help you get fit at home. Hope you liked the article. Share your views in the comments box below.
The following two tabs change content below.