There is no one who can deny it!! Indian women are the most beautiful women. No matter where you are in the world, women always desire to look beautiful and healthy.
Think of Indian beauty? What comes to the mind is the picture of a humble, traditional woman with alluringly long hair and a gleaming delicate skin. Want to know how Indian women have been maintaining this image for centuries? Here comes the answer.
India's beauty is mesmerizing, mysterious and awe-inspiring and the same applies to the beauty of India's women. It has been admired, worshipped, talked of and celebrated for years now. Today here in this article we are going to discuss few beauty, makeup, fitness and diet tips that keep Indian Woman so darn gorgeous!
Beauty Tips for Indian Women
1. Amla Oil:
Amla is also known as gooseberry. The oil of this fruit is the richest source of vitamin C. This oil is applied since many centuries by Indian women on the hair and scalp. This gives stronger, thicker and beautiful hair. It is also a useful remedy to get rid of many hair and scalp related problems. You can apply this hair oil daily for the best effective results.
2. Besan/ Gram Flour:
A must ingredient in any Indian kitchens, also known as chickpea flour. This has exfoliating properties that makes it popular also among the top Indian actresses. This scrub is also used to take the excess oil from the hair. It can be mixed with milk and cream and used as soap. The milk and cream helps to hydrate the skin and makes them soft, supple. Besan can be added to honey, milk or lime water to make a good face pack.
[ Read: Homemade Beauty Tips For Fair Skin ]
3. Haldi (Turmeric):
Haldi is a well known Indian spice that has been used fur centuries. Turmeric plays a very vital and auspicious role in Indian culture. Hence, it is very essential in many rituals. We Indians have haldi ceremony during wedding, which is done by rubbing turmeric paste on the bride and groom. This is believed to purify the body and soul. Turmeric has an antiseptic property that can treat skin inflammation, skin rashes, infection or itching. This has a very important place in the Ayurvedic medicine. Turmeric is another wonderful beauty tips for Indian girls for removing skin tan and improving the skin tone. This is also effective for lower pigmentation and growth of facial hair.
4. Kesar (Saffron):
Kesar, an Indian spice is grown in Kashmir valley. It is deep red and orange in color. It is an old age remedy to raise the body temperature of pregnant women. Kesar plays a vital role in wedding rituals too. This expensive beauty ingredient is useful to cure dry skin and many other skin problems. This also lightens the skin tone and gives fair glowing complexion.
5. Gulabjal (Rose Water):
Fresh rose petals are plucked to prepare rose water. This is used as a perfume and sprinkled over the guests during Indian marriages. Gulabjal acts as skin relaxants, toner and removes dark circles. It is used in many face packs by Indian women to remove oil and dirt from face.
[ Read: Beauty Secrets ]
6. Chandan (Sandalwood):
Chandan has acquired a very religious significance in Indian rituals. They are added to beauty and medicative product since centuries. Chandan paste and oil is used by both Indian women and men for skin care. This is effective on rashes, spots, pimples, and blackheads.
7. Shikakai:
It is also known as 'fruit for the hair' in ayurveda. This plays a vital role to cure dandruff and weak roots.
8. Curd:
This is a milk product widely used in Indian food. They are added to curries, made into chaas and lassi that have many health benefits. This also has many beauty benefits and is made into various face packs by Indian women. Consume curd in your daily diet for good digestive system and to cure stomach problems.
[ Read: Brazilian Beauty Secrets ]
9. Lip Care:
Indian women have got perfect lips and pout. They love to apply lipstick, especially during special occasions. All they need to do is to add a bit of shimmer to the centre of the lower lip to create illusion of a fuller lip. They use maroon and red shades mostly, which are best suitable for their skin tones.
10. Bindi:
No Indian makeup is complete without a bindi. This is a bright red color dot put on the center of the forehead. They are available in many shapes and colors to finish the final touch of Indian makeup.
[ Read: Asin's Diet And Food Habits ]
Well, now that you know Indian women beauty secrets, which of these are you going to start following? We will be back with more exciting beauty secrets. Do keep visiting. Share your comments below.
The following two tabs change content below.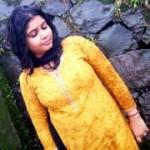 Latest posts by Jayshree Bhagat (see all)