10 Best At-Home Highlighting Kits For A New Look At A Low Cost
Make your hair look absolutely breathtaking without spending too much in the parlour.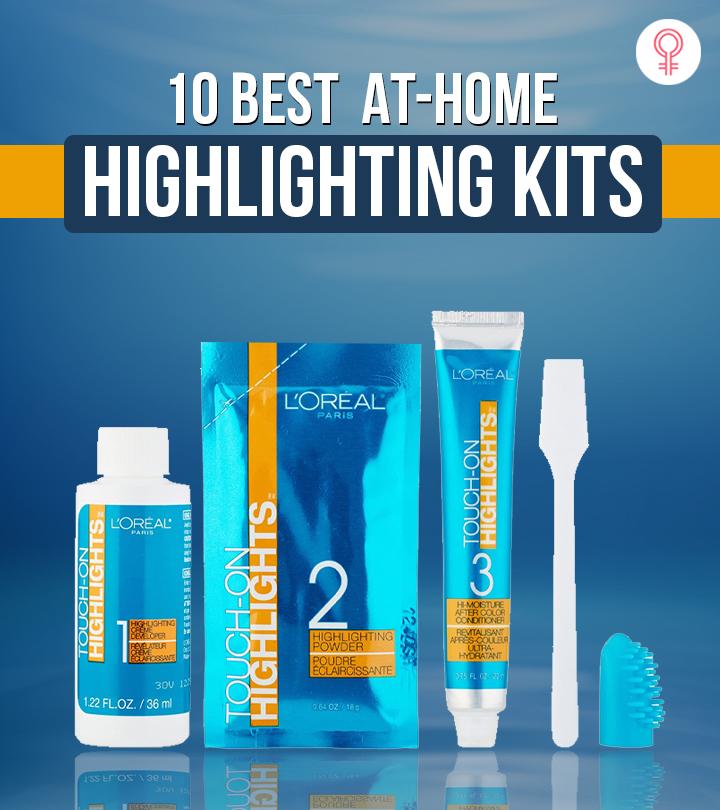 You can get a completely new look every time you want with only one thing: the best at-home highlighting kit! All you need to do is strategically place a few highlights on your mane, and your entire look is transformed. Highlights can not only brighten your face, but if you do them well, they can add dimension as well as depth to your hair. But because getting highlights at the salon can be quite expensive, a DIY highlight kit is the best option.
Speaking of options, we have a list of the 10 best at-home highlighting kits for you to choose from.
How Can I Highlight My Hair At Home?
Here are a few ways you can highlight your hair at home:
Use aluminum foil.
Try hair painting.
Use a cap and hook.
Use the applicator provided in the box.
Whichever option you choose, you will need the basics: rubber gloves, a mixing bowl, an applicator, plenty of hair sectioning clips, and an old T-shirt you don't mind getting color on.
Let's now look at the top 10 at-home highlighting kits you can consider buying.
10 Best At-Home Highlighting Kits
The Garnier Nutrisse Multi-Lights is a non-drip highlighting kit that helps you create subtle contrast and highlights in your hair. It contains a triple oil blend of avocado, shea, and olive oils that locks in moisture and nourishes your hair to make it soft and silky. This kit also comes with a grape seed oil ampoule that you can snap and add to the color before applying. This makes the color seep in better and stay on longer.
This product penetrates deep into your hair fibers and nourishes and conditions them from within while coloring. The shade H2 Golden Blonde looks gorgeous on natural hair between dark blond and light brown. This product is formulated with color boost technology and can color even the darkest of hair. It comes with an applicator brush that offers ultimate control.
Pros
Non-drip formula
Easy to use
100% gray coverage
Comes with gloves
Cons
May cause an allergic reaction.
Pro Tip
For a natural look, highlights should be in the same tonal family and not more than two to three levels lighter than the base color.
Price at the time of publication: $15.94
This kit by kit by Manic Panic was initially designed for pre-lightening the hair before using permanent hair colors. However, it also works wonders as a highlighting kit. It is especially suitable for darker hair colors and contains everything required to lighten your hair.
The 40 Volume Cream Developer is prepared with the perfect ratio of developer and bleach powder to give you consistent and even results. This kit will give you dark blond to platinum white hair, depending on how long you keep it on and what color your tresses are. It promises to lift your hair color up to seven levels. This product is ideal for highlighting light brown to medium brown hair and gives quick and visible results.
Pros
Vegan
PETA accredited
Cruelty-free
Ammonia-free
PPD-free
Paraben-free
Phthalate-free
Gluten-free
Resorcinol-free
Cons
Damages the hair
Causes itching and burning in the scalp.
Price at the time of publication: $12.99
This highlighting kit by Revlon provides gorgeous, trendy, salon-like highlights at home. The product is formulated with Keratin Moisture Complex, and it deeply penetrates the hair to moisturize, nourish, and protect it. It makes your hair silky and healthy-looking.
This highlighting kit is suitable for natural, permed, or color-treated hair and is perfect for those with lighter hair colors. Bonus – it comes with a pull-through LightZones Cap that allows you to customize your highlights. Use the cap to add highlights to the front of your hair for a face-framing effect or the middle area for dimension. If you have blonde to light-brown hair, this color will add depth and dimension to your tresses.
Pros
Ammonia-free
No damage
Easy to use
Comes with a highlighting cap
Cons
Pro Tip
Place the thickest and lightest highlighted pieces around the frame of the face. As you move away from the face, reduce the size and lightness toward the crown.
Price at the time of publication: $6.98
This hair highlighting kit by L'Oreal caters to those with mature, gray hair. It is formulated with Layered-Tone Technology, which helps it create natural highs and lows in your hair. The result? Awesome multi-tonal hair!
This product contains the restorative Pro-Keratine Complex that replenishes hair from within. If you are over 50 and have 70% or more gray coverage, use this kit for amazing blond highlights. It also adds volume and shine to your hair. This natural blond color suits those who either have gray hair or blond streaked with natural grays.
Pros
Comes with a brush applicator
Easy to use
Long-lasting color
Value for money
Adds volume
Cons
May impart a darker shade than expected.
Quick Tip
If you are using foils at home, remember that it's also a heat conductor, so when you wrap hair in a foil, it lightens faster.
Price at the time of publication: $10.99
If you have long hair that goes past your shoulders and have been dying to get highlights, this product by L'Oreal Paris is perfect for you. It colors your hair in classy champagne color.
The kit comes with a hi-precision pull-through cap with styling hooks to let you customize your look and create subtle or bold highlights. It also includes a toner that you can use as a rinse post-application to eliminate brassy undertones and impart shine. This L'Oreal product has a non-drip formula, which makes the highlighting process easy and mess-free. The kit comes with a mixing tray and gloves.
Pros
Comes with a toner
Includes a cap, hooks, mixing tray, and gloves
Non-drip formula
Easy to use
Cons
Price at the time of publication: $10.94
This product by Sun Bum uses the power of heat – from the sun or a hairdryer – to give you awesome highlights. It is formulated with Costa Rican pineapple and Meyer lemon and is perfect for those who are afraid of chemicals yet pine for hair with highlights.
The Hair Lightener amplifies the lightening effects of the sun, and the Toner removes the brassiness and brings out cooler blonde tones. This kit is created specifically for women with blonde hair and gives a natural sun-kissed look. It also protects your hair from humidity, frizz, UV oxidation, and dullness. The product is suitable for both natural and color-treated hair and comes in an easy to use spray bottle.
Pros
Natural
Cruelty-free
Vegan
Gluten-free
Paraben-free
Cons
May turn the hair brassy.
Price at the time of publication: $12.65
The L'Oreal Paris Touch-On Highlights delivers radiant, dimensional highlights to your hair with your fingertips. It comes with a Control-Touch Finger TIP applicator that gives you precise control for achieving even highlights from the roots to the tips.
Whether you want subtle or dramatic highlights, this product can help you. It is perfect for a DIY session and requires neither a cap nor foils. Iced Champagne is a classy color that looks great on medium blonde to dark blonde hair. It may also work on dirty blonde hair, provided you go for thinner wisps of hair.
Pros
Comes with a fingertip applicator
Easy to use
Long-lasting
Works on dark hair
Cons
May leave the hair brassy.
Price at the time of publication: $39.99
This is a godsend for those with very dark hair as it can lift color from any hair. The 10-minute bleach formula can be activated by using the 40 Vol Peroxide. If you are using this kit to highlight blond hair, you can go up to stark white highlights. The kit comes with a conditioning toner that eliminates brassy tones. If you want funky highlights – pink or green – you can lift your natural hair color using this product and then apply the funky colors. This kit is suitable for any hair color or texture and is an affordable option for dark-haired beauties.
Pros
Easy to apply
Long-lasting
Suitable for all hair types
Works on all textures
Cons
Price at the time of publication: $15.0
The L'Oreal Frost and Design Pull-Through Cap offers high-precision professional highlights. It is ideal for long hair past the shoulders and complements at-home coloring in under 20 minutes. This kit lets you select the exact strands you want highlighted to eliminate any chance of mistakes and undesirable results. In addition, the salon-inspired cap comes with two hooks to provide a customized look that can be precise or bold.
It is perfect for first-time DIY highlighters as it has a no-mess application. The box includes a mixing tray, special non-drip formula, gloves, hooks, and an overcap. It also includes a conditioning shampoo and color toning rinse that infuses the hair with a healthy shine and reduces brassiness.
Pros
High-precision highlights
Conditions the hair
Offers customization
Anti-brassiness
Non-drip formula
Affordable
Cons
Not suitable for thick hair
Price at the time of publication: $10.94
This highlighting kit by SplaT is a semi-permanent color kit that promises to stay fresh up to 30 washes. If you have virgin or dark hair, it will impart rich hints of color to your mane. On the other hand, if you have lighter-colored hair or bleached tresses, it will provide vibrant color to your hair. This product is formulated with conditioners and panthenol that increase your hair's moisture retention abilities. The kit includes a pair of gloves, Complete Shampoo, and Deep Reconstructor Conditioner to help balance the overall hair pH after lightening.
Pros
Cruelty-free
Vegan
Easy to apply
Cons
Price at the time of publication: $9.77
Achieving salon-like results at home has never been easier or more affordable, thanks to the growing selection of at-home highlighting kits. If you are looking to add some brightness and definition to your tresses, but aren't sure where to start, read our guide to find the best at-home highlighting kits.
Things To Look When Purchasing An At-Home Highlighting Kit To Style Your Locks
Hair Type: This is probably the most important factor to consider when choosing a hair kit! If you have fine, delicate hair, avoid kits that are too harsh or aggressive. On the other hand, if you have thick, coarse hair, you may be able to handle a more intense kit.
Ingredients List: Many at-home highlighting kits use peroxide to bleach the hair, so if you have sensitive scalp, be sure to choose a kit that is peroxide-free. Use kits that come with gentle and nourishing ingredients like walnut oil and argan oil that cater to your hair's shine and smoothness.
Natural Hair Color: Another important factor to consider is your current natural hair color. If you have dark hair, choose a highlighting kit with slightly lighter shades so that the contrast is not too drastic. If you have light hair, you can choose just about any shade for your highlights.
Application: There are three main methods of highlighting, namely, foil, cap, and hand-painting. Foil highlights are the most common type that you can do with at-home kits. Cap highlights are best if you want more control over where the highlights are placed, and hand-painting is the right kind of highlighting method if you're looking for a more natural look.
Make sure that the kit comes with everything you need for a successful application, including gloves, a brush or comb, and easy-to-follow instructions.
That was our list of the best hair coloring kits available on the market for highlighting your hair at home. No matter what your hair color and type is, there is something for you! Pick your favorite kit, and have fun coloring your hair. Happy highlights to you!
Why Trust StyleCraze?
The author, Shiboli Chakraborty, loves experimenting with hair colors. This at-home hair highlighting kits list provides direct and unbiased information to help our readers pick the best product for themselves. The colors last longer, the ingredients are safe, do not cause hair damage, keep the hair strands soft and shiny, and add dimension and depth to make the user's tresses look gorgeous
Frequently Asked Questions
How do you use a home highlighting kit?
Choose your highlight color kit and gather the supplies you may need. Decide on what method you want to use and section your hair into even chunks. Start applying the color on each section evenly maintaining at least two inches distance from your roots. Leave the dye to settle and wash it off with a mild shampoo. Finish the process with a toner and a deep conditioner.
Can you use foil with home highlighting kits?
Yes, you can use foil with highlighting kits. In fact, the foil method is one of the most common methods of highlighting hair.
Can I use a highlighting kit to dye all my hair?
It is best to avoid using highlighting kits as a regular dye because most highlighting kits contain lightning agents that can fade your natural hair color.
How do you touch up roots without ruining highlights?
You can either use a root concealer as a temporary fix or try out the T-technique, where you middle-part your hair into two sections and apply color on the visible part. This will ensure the color does not come in contact with the current highlight.
Can you highlight your hair right after coloring?
Yes, you can highlight your hair after coloring or wait 4-6 weeks, which is the standard wait time.
Recommended Articles
The following two tabs change content below.