15 Flattering Bras For Women With Small Breasts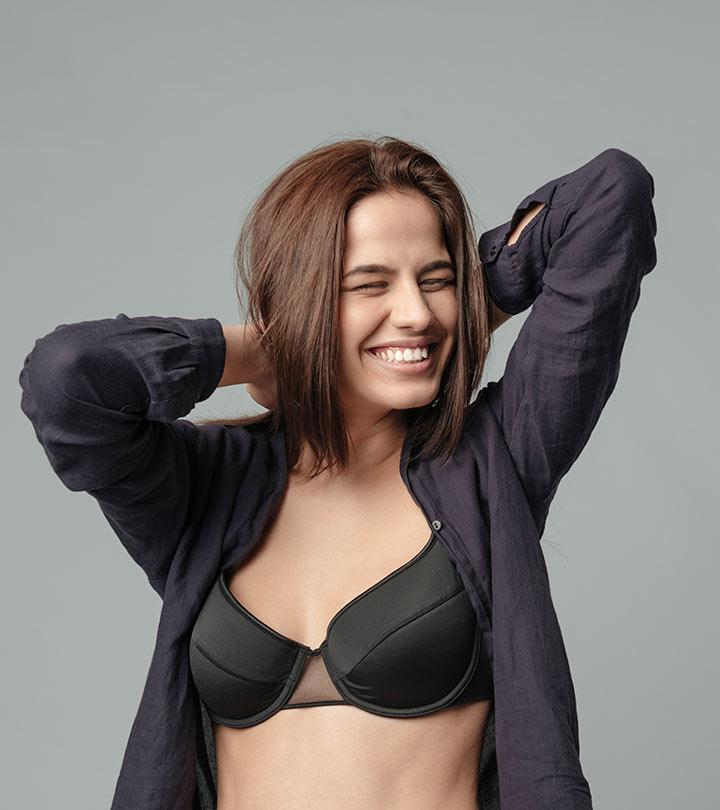 Just because you couldn't grow into a full D-cup doesn't mean you cannot rock a cleavage. Wear the right bra and look like the diva you know you are!
We have compiled a list of fine lingerie from wired and non-wired bras to push-up bras to some really stunning lace bras that you cannot say 'No' to. Not only are these bras are amazing to look at, but they are also really comfortable to wear. These will fit you right and make you perfect. You won't have to tighten the straps or be gloomy about an empty cup anymore. Let's begin!
Playtex strongly believes in women being confident and comfortable in what they wear. This motto is reflected through the products they produce. This bra is designed to help women look and feel their best. The cups offer full support, and the back forms a 'U' shape to make the cups look fuller. This bralette has a silky soft finish.
This bra is made of spandex and is super soft and smooth on your skin. It is a tight-fit bra that offers immense support. This bra is equipped with a buckle closure with 100% cup lining. It is available in multiple colors and at a very reasonable price.
This bra is made of fabric that is 88% polyester and 12% elastane. It feels super soft on your skin. It is designed with a hook and eye closure. This bra has adjustable straps with an under band for greater support. The padding makes your bust look bigger, and the straps are thick for inbuilt support. Warner's bra is budget-friendly and available in many colors.
This push-up padded bra from FallSweet looks great in its satin finish. It works wonders for women who have small breasts. The padding can add up to two cup sizes. It offers a tight fit and is super comfortable. The fabric used to design this bra is of great quality and durability. It is an unlined seamless bra. The straps of this bra are adjustable and thick for support and comfort.
Champion Women's Sports Bra is super soft, and its fabric comfortably blends in, giving you a relaxed feel. The bra is wire-free, and its straps are adjustable as per your needs. This bra offers a smooth edge for a no-show look. It is available in many sizes and is specially designed for women with flat chests to give a push-up bra effect.
The push-up effect of this bra is best suited for women with a flat chest or small bust. It is super comfortable and looks great in its shiny black color. It is made of fabric that is a blend of nylon, spandex, and lace. This bra feels super soft and smooth on your skin. It has crisscross straps with lace panels at the back. Maidenform's bra is available in multiple sizes and fun colors.
This scoop-neck bralette looks simple, elegant, and comfortable. It is made of a blend of nylon and spandex and is perfect for women who have small breasts. It is a tight-fit bra with straps that are of good elastic and durability. This wire-free soft cup bra has a lace under-bust band.
Wingslove women's full coverage bra is made of super soft fabric that is a great combination of nylon and elastane. Its lace cups look really attractive and feminine. It fits conforming to your curves. This bra is lightweight and comfortable to wear.
This bra is pretty basic and can be used for your daily chores. It is made of nylon and spandex fabric that offers light support. Its seamless construction gives a figure-hugging shape, and it is perfect to wear over t-shirts and camisoles. Cables bra is available in multiple colors.
Mae is a lingerie brand with some really amazing comfortable bras for small breasts. This is a racerback bra that looks feminine and pretty. The lavender color of this bra looks soft and stunning. Not only does this bra look good, but it is also super comfortable and fits really well for women who have small busts.
Barbra's bra is made with 95% cotton and 5% spandex. The fabric is super comfortable to wear all day. The bra comes with simple hooks at the back along with light cotton pads. This set of bras are most suitable for daily wear for women who have small busts. It comes in six pretty colors, making them all the more desirable. It gives a tight-fit effect for small busts and offers immense support.
12. Ittcbro Seamless Bra
These bras from the brand Ittcbro are light and super comfortable. They are practically invisible under your clothes. For women who are petite and have small busts, this bra is a great choice. The fabric is silky and breathable. The bra also has removable pads so that you can go comfy or go sexy whenever you want! Ittbro bras are available in many sizes and basic colors.
This bra from Sea Bbot is a seamless push-up bra that offers shape as well as comfort. It has wide straps and a band underneath for support. The bra also has a simple hook at the back that is easy to wear and remove. The straps are adjustable and comfortable. It is available in many colors and for all sizes.
Wacoal's b.tempt'd push-up bra is both stylish and sturdy. It is made with 8% nylon and 20% spandex and can push you up to nearly one cup size. This low plunge bra comes with integrated wire to keep the look bold, while the convertible strap allows you to style it the way you like. You can get this model in solid colors and animal prints on the inner lining.
This plunge bra from Natori gets its sleek finish from the fabric it uses – a brilliant balance of nylon, lycra, and spandex. It offers average coverage and has a molded mesh outer cover and lace at the neckline. It is available in many different colors, so feel free to pick the one that suits your skin tone and personality.
Finding the right bra without a professional guide can sometimes be a nightmare for any woman, especially if your size is beyond the 'regulars.' We hope our list of the best bras for women with small breasts has made it easy for you to pick one.