10 Best Drugstore Eye Creams That Give The Best Results – 2022
Kick away the premature signs of aging and improve skin elasticity without burning your pockets.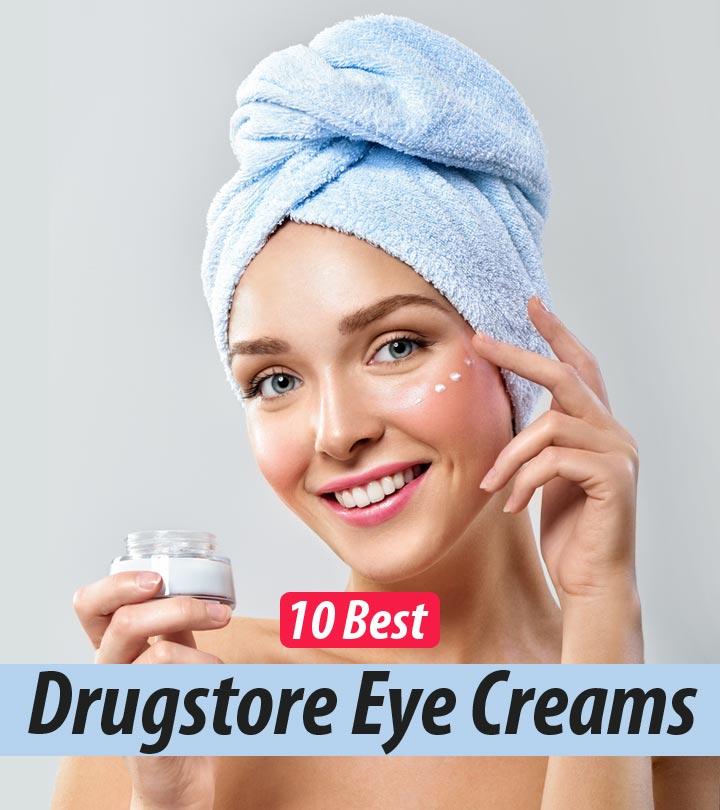 If you have been waiting to get the best drugstore eye cream, we have exactly what you need. The common misconception about eye creams is that people need them only when they start showing signs of premature aging. Once your skin reaches maturity, the lack of proper nutrients and collagens sags the skin and gives way to fine lines and pimples. The skin around our eyes is extra sensitive and needs proper care and nurturing. To make sure the dark circles, crow's feet, and puffiness go away, here are some of the most effective eye creams that improve skin elasticity and help you flaunt young and bright eyes. With that said, here are the 10 highest-rated eye creams to invest in.
The 10 Best Drugstore Eye Creams
The L'Oreal Paris Skincare Revitalift Anti-Wrinkle and Firming Eye Cream fights wrinkles, firms up the skin, and claims to reduce the appearance of dark circles in just four weeks. This eye cream is non-greasy and fragrance-free. This is ideal for people who are sensitive to chemicals. The cream is formulated with stimuplex and pro-retinol A. These ingredients help in minimizing the appearance of wrinkles and dark circles. The eye cream also contains centella asiatica, which is also known as tiger grass. It is dermatologist-tested for safety and is safe for contact lens wearers. It is easy to apply and starts to work right away. It does not leave a filmy residue behind.
Pros
Safe for contact lens wearers
Fragrance-free
Shows results in just 4 weeks
Effective
Easy to apply
Moisturizing
Non-greasy
Cons
May cause an allergic reaction in some individuals (Do a skin patch test before applying to your eyes).
The Garnier SkinActive Clearly Brighter Anti-Puff Eye Roller is an easy-to-apply gel eye cream. The eye treatment is formulated with antioxidant vitamin C, mint, and caffeine. These ingredients cool and refresh the under-eye area instantly. The eye cream comes in the form of a micro-stimulating roll-on applicator. This applicator helps de-puff and reduce the appearance of under-eye dark circles with just one use. With continuous use, you will see effective results in just under two weeks. The applicator is handy and small. This allows you to use the treatment on-the-go, and it can be stored in your bag as well.
Pros
Easy to use
Cooling
Easy to carry applicator
De-puffs the eyes
Shows results in just 2 weeks
Cons
None
The Neutrogena Hydro Boost Hydrating Gel Eye Cream has a unique water gel formula that is long-lasting and absorbed quickly. It hydrates the delicate eye area and is specifically designed to help smooth the skin around the eyes. The gel eye cream is formulated with purified hyaluronic acid. This acid is naturally found in our skin and attracts moisture and locks it in. The cream makes the skin supple and smooth. It is oil-free, fragrance-free, and dye-free. The eye cream is ophthalmologist-tested and dermatologist-recommended. The cream can be worn alone or under makeup as well. The formula is non-comedogenic (it does not clog your pores). Take a look at this video to learn more about the Neutrogena Hydro Boost Hydrating Gel Eye Cream with Hyaluronic Acid.
Pros
Fragrance-free
Oil-free
Dye-free
Locks moisture into the skin
Does not clog pores
Lightweight
Moisturizing
Ophthalmologist-tested
Dermatologist-recommended
Cons
May not be good for sensitive skin.
The RoC Retinol Correxion Anti-Aging Eye Cream Treatment fights the signs of aging around the eyes. It is a non-greasy moisturizing cream that is especially formulated for use around the delicate under-eye areas. The cream reduces the appearance of under-eye dark circles and puffiness in around four weeks. It also visibly reduces the appearances of wrinkles and crows' feet around the eyes in around 12 weeks. This anti-aging eye cream contains pure RoC retinol and an essential mineral complex that help slow down the signs of aging. The formula also starts to work immediately to smoothen the skin's surface and diminishes fine lines. Retinol is a chemical formula, which, if exposed to light or air, can degrade and lose its effectiveness. However, RoC Skin Care has developed an innovative process to limit the exposure of retinol to light and oxygen that preserves the integrity of the nutrient.
Pros
Contains retinol
Lightweight
Moisturizing
Good for sensitive skin
Reduces under-eye dark circles in 4 weeks
Reduces wrinkles and crows' feet in 12 weeks
Diminishes fine lines
Cons
None
The Olay Deep Hydrating Eye Gel is formulated for the delicate eye area. It has a fast-absorbing formula that is supercharged with hyaluronic acid, peptides, pro-vitamin B5, witch hazel, and cucumber extract. The hyaluronic acid in the formula hydrates tired eyes and gives a wide-awake, refreshed look. The cooling gel hydrates and plumps the delicate skin under the eye. The fast absorbing gel also helps in reducing fine lines. It provides 24-hour hydration. The cream goes a long way with just a small amount. It is clinically-tested for hydration. Watch this video about the Olay Deep Hydrating Eye Gel with Hyaluronic Acid to better understand the product.
Pros
Hydrating
Fast absorbing
24-hour hydration
Moisturizing
Hyaluronic acid hydrates the eyes
Helps reduce fine lines
Clinically-tested for hydration
Cons
May not be ideal for sensitive skin.
The CeraVe Eye Repair Cream is developed by dermatologists. It visibly reduces the appearance of dark circles and eye puffiness. The cream also restores and repairs the delicate skin barrier around the eyes. It is formulated with three essential ceramides (1, 3, 6-II). These ceramides help in restoring and maintaining the skin's natural protective barrier. Moreover, it utilizes the patented MVE controlled release technology to help replenish ceramides and deliver long-lasting moisturization. The cream also contains hyaluronic acid that helps skin retain its moisture. The cream is fragrance-free, hypoallergenic, and non-comedogenic. It is also ophthalmologist-tested and can be used once or twice a day. Here is the personal review of CeraVe Eye Repair Cream in this video.
Pros
Fragrance-free
Hypoallergenic
Does not clog pores
Moisturizing
Ophthalmologist-tested
Ceramides restore skin barrier
Patented MVE controlled release technology for lasting moisturization
Cons
None
The Clinique All about Eyes is a lightweight eye cream. This cream diminishes the puffiness and the appearance of under-eye dark circles. It has a non-creep gel formula that helps hold eye makeup in place. It is suitable for all skin types. The cream is ophthalmologist-tested and can be used twice a day, morning and night. Use the cream sparingly and apply it to the entire eye area using a patting motion. The product is free of synthetic colors, denatured alcohol, SLS, SLES, and talc.
Pros
Chemical-free
Moisturizing
Suitable for all skin types
Non-creep formula holds eye makeup in place
Ophthalmologist-tested
Lightweight
Cons
None
The Himalaya Under Eye Cream contains a proven and safe blend of herbs especially formulated to protect the delicate area around eyes. The herbal formula helps reduce the appearance of dark circles. It moisturizes the under-eye area and smoothens wrinkles and fine lines. It contains herbal actives of cipadessa baccifera and winter begonia. Cipadessa baccifera helps reduce the appearance of fine lines and lightens dark circles. Winter begonia helps keep the under-eye skin healthy looking. The cream also contains wheat germ oil, a source of natural vitamin E that nourishes the skin. The Himalaya under eye cream is hypoallergenic and non-comedogenic. The cream is also dermatologist-tested and suitable for all skin types.
Pros
Hypoallergenic
Does not clog pores
Suitable for all skin types
Contains useful herbs
Wheat germ oil nourishes skin
Dermatologist-tested
Cons
None
Reduce puffiness, dark circles, and fine lines with the L'Oreal Paris Dermo-Expertise Eye Defense. It is infused with hyaluronic acid and caffeine that fight against aging signs. This eye cream replenishes the under eyes and keeps the skin hydrated. In addition, the cream diminishes the appearance of dark circles and nurtures the skin around your eyes.
Pros
Lightweight
Non-greasy
Dermatologist tested
Suitable for all skin types
Ophthalmologist tested
Cons
None
The Boots No7 Restore And Renew Eye Cream is supercharged with the technology of a multi-action serum that targets the key visible signs of aging. It reduces wrinkles, puffiness, and dark circles. The formula also has a skin fortifying complex of calcium and amino acids that provides essential skin nutrition. This helps your skin look and feel young again. It also protects the skin against the damaging effects of daily environmental stress and boosts the skin's natural defenses. The eye cream contains retinyl palmitate that supports the skin renewal process and slows down the signs of aging. It is mild enough to be suitable for sensitive skin.
Pros
Moisturizing
Suitable for sensitive skin
Reduces wrinkles, puffiness, dark circles
Supports natural skin renewal process
Cons
None
These are the top eye creams available online. It is important to make sure the eye cream you pick meets the basic requirements to be effective. We have covered them below.
How To Choose The Best Drugstore Eye Cream
Should Be Small: Always go for an eye cream that is easy to carry around in your bag or pocket. This will allow you to use the product anytime during the day.
Contains Peptides: Peptides make sure the eye cream penetrates the skin barrier to create a reaction. This will help in collagen production and cell renewal.
Contains Caffeine: The topical application of caffeine is believed to narrow down blood vessels. This reduces the visibility of dark circles. If your main concern is the visibility of dark circles under your eyes, choose an eye cream that has caffeine.
Contains Hyaluronic Acid: Hyaluronic acid keeps your skin well moisturized. Hence, an eye cream that contains hyaluronic acid ensures the skin around your eyes is well hydrated.
Contains Retinol: Retinol promotes collagen production in our body. Hence, this vitamin plays an essential part in slowing down aging. An eye cream with retinol will be great for you. However, retinol is known to cause sensitivity. Hence, use a retinol-based eye cream with caution.
The eyes are sensitive. Though the eye creams in the list are safe, it always is better to be extra careful. Do a patch test before applying the cream around your eyes.
How To Do A Patch Test
Take a small amount of the eye cream and smear it on your neck or jaw line.
Leave the product on the skin for 24 hours.
If you experience no allergic reaction, proceed to use it under your eyes.
Frequently Asked Questions
Does it matter what eye cream you use?
Yes. Always choose an eye cream with caffeine, hyaluronic acid, and peptides as key ingredients. If you have oily skin, opt for a lightweight formula, and for dry skin, choose a hydrating serum formula. If you have sensitive skin, opt for products free of irritants.
Should I use eye cream in the morning or at night?
The skin rejuvenates and heals best at night, so apply the eye cream before sleep to protect the skin under your eyes.
At what age should I start using an eye cream?
Start using an eye cream in your 20s. Starting early will help you to combat aging signs effectively.
How often should you use drugstore eye creams?
Use a drugstore eye cream daily to replenish the skin under your eyes and combat the aging signs.
What are the benefits of drugstore eye creams?
Drugstore eye creams plump the eye area with hydrating ingredients and reduces the appearance of fine lines and wrinkles.
Recommended Articles