11 Best Half Wigs That Will Give You A Natural Hair Look – 2023
Get yourself a new hairdo every day with these high-quality and easy-to-wear wigs.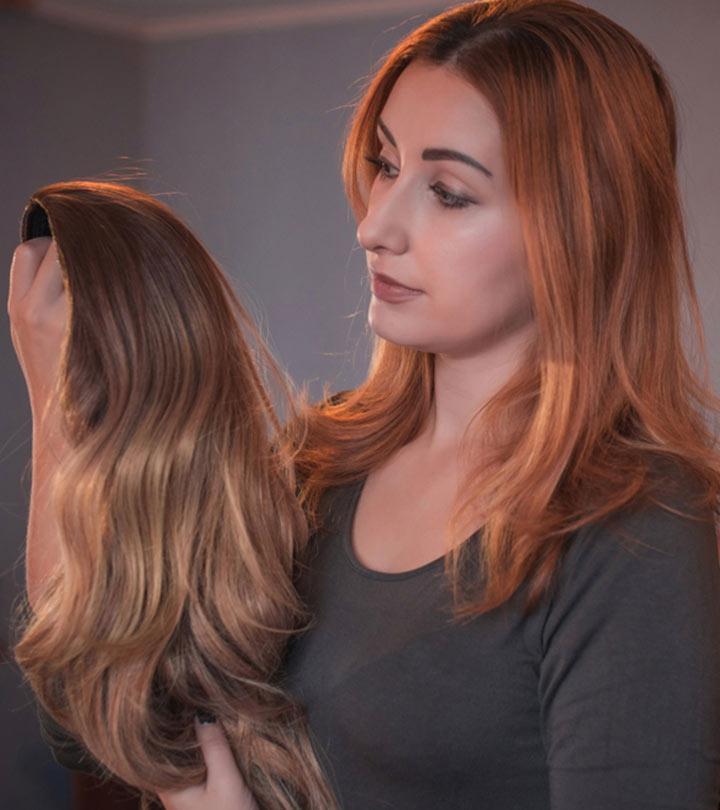 If you are a person who stops at nothing to be stylish always, then your wardrobe needs a place for the best half wigs. We love looking different but committing to a hair color or haircut will eventually make you bored of it, and sometimes, flaunting a new look can be challenging. So, the best answer is to invest in stylish half wigs. These wigs are soft and shiny and only make your hair look denser without making it look artificial. Here is a list of 11 gorgeous half wigs made to add glamour to your look without damaging your natural hair.
What Is A Half Wig
A half wig is exactly what it sounds like; it is a wig that covers half the head. It usually has a headband in the front to disguise the transition between the wig and natural hair. These are worn to add volume to your natural hair and make it look fuller and thicker. Wavy half wigs and curly half wigs look great on African-American women. Half wigs can be placed on the head using clips; however, headband wigs are more convenient and easier to wear. The trendy headband wigs are made of synthetic and human hair, hence provides a realistic look to the wig.
Top 11 Best Half Wigs To Buy In 2023
Get this Outre Quick Weave Synthetic Half Wig, which is so light that you will forget that it's on. It easily blends with your natural hair. It doesn't take time to place this wig correctly on the head; it stays in its position throughout the day without moving or falling off. This Outre half wig remains in good shape all day and doesn't require brushing. Just combing the hair strands using your damp fingers is enough to style the hair the way you want. To get a better understanding of the product, you can check out this video on YouTube.
Pros
High-quality
Heat-resistant fiber
Affordable
Soft hair
No shedding
No tangling
Cons
The wig might not fit those with a large head.
Price at the time of publication: $23.52
Buy this all-time favorite, FreeTress Equal drawstring half wig, which is extremely shiny in its appearance and looks very natural. It has beautiful curls and a lovely texture. This FreeTress half wig is of high quality and the perfect length with minimal shedding. Check out the review of this product for more information.
Pros
Adjustable straps
Super soft
Blends seamlessly with natural hair
Lightweight
Does not tangle
Comb located both in the front and back
Cons
The comb might be a little harsh on sensitive scalp.
Price at the time of publication: $31.99
Look stunning and get lots of compliments by wearing this Outre Synthetic half wig. Nobody would be able to figure out if you are wearing a wig or it is your real hair. One of the best half wigs you will ever find, it blends flawlessly with your natural hair and looks like your own! Get volume and smooth hair all at once with this half wig!
Pros
High-quality
Good texture
Heat-resistant fiber
Lightweight
Breathable
Does not tangle
Takes only 60 seconds to self-style it
Cons
Might require too many clips to place it well
Price at the time of publication: $21.86
Receive a ton of compliments with the Sensationnel half wig. It makes your hair look thick and shiny. This curly half wig won't disappoint you as it is lightweight and has a lovely natural texture. Plus, it requires minimal maintenance and gives a realistic look. This product can accommodate all head sizes and shapes. Wear this half hair wig, and turn heads wherever you go! If you want to know more about the benefits of this product, check out this quick review on YouTube.
Pros
Heat-resistant
100% premium fiber
Easy to manage
Very soft
Adds fullness
Comfortable cap
No tangling
Cons
Might look too poofy sometimes
Price at the time of publication: $30.28
Don't hesitate, just buy it! We present to you one of the best half wigs that can transform your appearance and make you look more glamorous and young. Try this Alimice U-Part Yaki Wig and get natural, voluminous, and soft-looking hair within no time. This wig can be dyed, curled, and straightened too. It is effortless to comb, wash, and maintain.
Pros
High-quality
Glueless
Tangle-free
No shedding
Has great texture
True to length
100% Remy Virgin human hair
No synthetic or animal hair
Cons
Might have an unpleasant odor
Price at the time of publication: $39.99
OneDor brings to you the best hair wig — even if you are new to the world of hairpieces, you will fall in love with this half wig, primarily because it is completely easy to wear. This wig can conceal your damaged hair. Whether your natural hair is fine or thin, this half wig will do its job so efficiently that you will be able to pull off any look naturally. This wig is comfortable to wear and works well for everyday use.
Pros
Fits comfortably
Natural texture
Adds volume
Easy to wear
Very thick
Adjustable to different head sizes
Cons
Might feel a bit rough and coarse
Price at the time of publication: $27.99
Buy this half wig by Janet Collection that will never disappoint you but instead surprise you with its natural-looking appearance. This wig has a great texture that makes your hair look flowy and beautiful. If you like to try out different hairstyles every now and then but don't want to ruin your real hair, this half wig is the most ideal for you!
Pros
Smooth and shiny
Lightweight
Very soft
Blends well with your hair
Cons
Price at the time of publication: $22.45
This Fancy Hair Curly Afro Half Wig will give you the most realistic and stylish look. This curly wig comes with multiple clips that can be easily fitted in the free cap that comes with it. You can now try different hairstyles without worrying about any damage. You can wear it and take it off easily without any hassle. This wig has minimum shedding and no tangling, making it ideal for daily use.
Pros
100% high-quality
Heat-resistant fiber
Environment-friendly
Breathable
Comfortable
Strong straps
Fits most head sizes
Cons
Might be too thick and puffy for some
Price at the time of publication: $21.99
Try Urbeauty U-Part Hair Wig, which allows you to try all kinds of hairstyles hassle-free. This wig is easy to maintain and requires regular shampoo and conditioning. The placement of the wig does not require any sewing hence prevents hair loss. Get fuller-looking hair in no time; you can also bleach and dye the hair without having to damage your natural hair.
Pros
Natural color
Adds softness
Safe to use
Glueless
Adds volume
Can be curled
Minimal shedding
Cons
Might have a chemical smell
Price at the time of publication: $59.98
Look fabulous with this lightweight AIDUSA half wig that has minimal shedding and looks absolutely natural on anyone. This wig comes in various striking colors that look natural and a few shades that are perfect for a dramatic appearance. This wig is suitable for long-time usage and everyday wear. Plus, it doesn't have any unpleasant smell and looks great on all skin tones. Get yours soon!
Pros
High-quality
Heat-resistant
Comfortable to wear
2 adjustable straps
Cons
May not include a wig comb
Price at the time of publication: $24.97
Wear this half wig that requires minimal maintenance and looks and feels as real as human hair in terms of softness and shine. Boost volume and make your hair look thicker than before with this fantastic hair accessory. Made with 100% Japanese Kanekalon synthetic hair, this wig blends well with your natural hair, hence, enhancing your appearance.
Pros
Reusable
Washable
Heat-resistant
Soft texture
No shedding
Cons
Price at the time of publication: $22.99
Now that we have come across various half hair wig options, it is essential for us to know which wig is right for us in terms of length, texture, size, etc.
Buying Guide
How To Choose Half Wigs
Size of the wig
You must check your head circumference and choose the wig accordingly. Some wigs can be too small or too big for your head. Jot down your head measurements and select accordingly.
Color of the wig
There are numerous options when it comes to wig colors. There are color charts made to match your requirements. You can choose the wig of your choice on the basis of your skin tone or pick the color you wish to try.
Material
Wigs are made with synthetic hair and human hair. The advantage of using synthetic hair is that it remains the same, even after it's washed. But heat styling and dyeing cannot be done on this wig type. Human hair, on the other hand, can resist heat and can be colored a shade darker but cannot be lightened. That said, heat-resistant synthetic hair wigs can withstand heat up to 150°C.
How To Wear Half Wigs
Step 1: Comb your hair back into a ponytail, create parting from ear to ear, and leave some hair in the front of your face.
Step 2: Now take your half wig and place the comb section at the top of your head where you made the parting. Slide the comb downwards against the scalp. We can also slide the comb downwards and pull it up. Secure it with some hair clips.
Step 3: You can finish the look by accessorizing the hair with headbands or clips. Comb the hair to blend the wig with your hair.
Do's And Don'ts Of Wearing A Half Wig
Here are some tips to follow when it comes to wearing and maintaining a half wig:
Remove the wig daily: Wearing the wig at night while you sleep can cause damage; it can break the strands and cause friction too. Hence it is advisable to remove the wig before going to sleep.
Get a wig stand: It is an excellent option to take good care of your half wig to make sure that you get the most extended use out of it. A wig stand can come in handy to store the wig to help retain its shape and prevent it from becoming ill-fitting later.
Moisturize: Apply moisturizer to your real hair before wearing the wig and do the same after removing the wig from your head. You can also wear a cap (plastic) over your hair to lock in the moisture.
Why Trust Stylecraze?
Kirtana Divakar strives to write dependable hair care product reviews for her readers. To curate this list of best half wigs, she has conducted an exhaustive study and has evaluated many user reviews. For the products of this list, Kirtana has included a description and a few pros and cons. These products have been selected due to their adjustable straps, good quality fibers, and blended looks. To help you make the best choice, Kirtana has also included a buyer's guide.
Frequently Asked Questions
Are half wigs good for your hair?
Yes, they are. These wigs help enhance the overall look of your hair and adds volume. They are the perfect options for transforming your look when you don't want to chop or color your natural hair.
Are half wigs a good protective style?
Yes, they are. It protects your natural hair from pollutants and other factors that can damage it. It also blends with your natural hair to give you a new look.
Can half wigs damage your hair?
If proper care is not taken, then it can damage your hair and scalp.
How often should you wash my human hair wigs if you wear them frequently?
Wash your human hair wigs every 1-2 weeks if you wear them frequently.
How do you blend half wigs with natural hair?
1. Blow dry your hair and the wig so that they blend easily.
2. Run your finger through the wig before you put the wig on to make it more natural.
3. When you put on the wig, make sure the front clip is right behind where you parted the hair so you can pull the hair over to the side and blend a little.
4. Brush the strands together.
5. Use a curler or a flat iron to make sure that your natural hair matches the wig's curl. Take strands from both your natural hair and the wig as you curl or straighten them.
6. Use an edge booster to keep your style intact.
How long can you wear half wigs?
You can wear the hair wigs about 6-8 times before washing them.
Recommended Articles