7 Best Hot Combs For African American Hair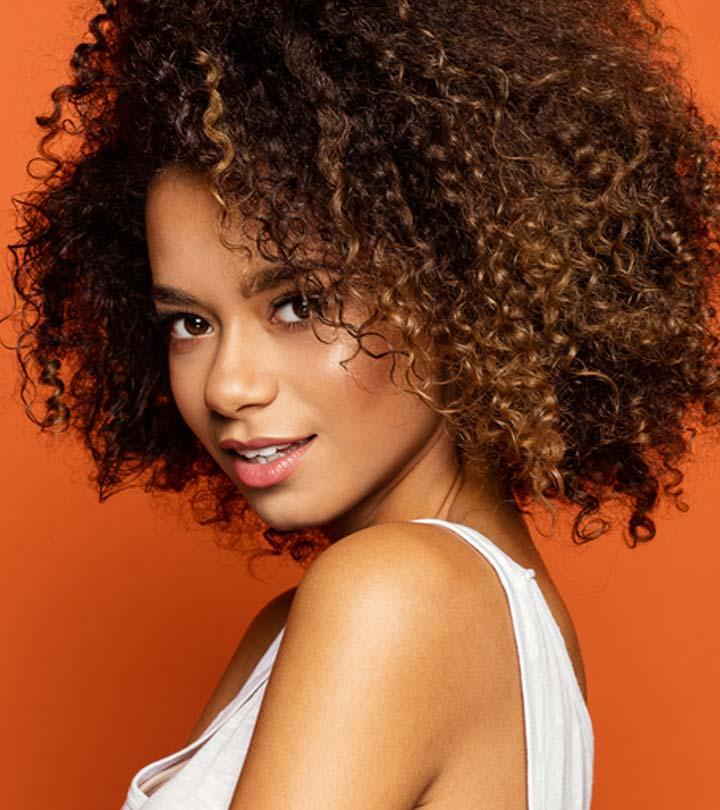 Hot combs are one of the best and easiest ways to straighten African-American hair. Also known as a straightening or pressing comb, it smooths out unruly natural hair by straightening it out from the roots. Although naturally curly hair is beautiful and bold, it's nice to try something new and different. A hot comb comes in handy when trying out new hairstyles.
Hot combs are made of metal and heat up quickly to give you silky and healthy-looking hair. Hot combing natural hair is an easy process. You can either heat the comb directly on a stove, or it may be heated electrically. If you want to know more about hot combs, let's first learn about the different types of hot combs.
Types Of Hot Combs For Natural Hair
There are two types of hot hair combs:
1. Manual Pressing Comb
Also known as a stove-iron pressing comb, these combs were popular back in the day. As the name suggests, these combs are heated in a thermal stove and take a lot of time to heat. It causes more heat damage than an electric pressing comb.
2. Electric Pressing Comb
One of the most sought after ways of straightening natural or 4c type hair these days, these combs use electricity to heat up fairly quickly. They cause less heat damage as most of them feature a heat recovery system.
Now, let's look at a step-by-step guide to use a hot comb.
How To Use A Hot Comb
Step 1: As a hot comb works best on natural hair, ensure that it is at least an inch long starting from the scalp. If you have chemically-treated hair, it is best to grow it out and only then straighten your hair using a hot comb.
Step 2: Wash your hair properly before you begin. A hot comb works better on already stretched out hair. If you have a blow dryer, use it to dry and comb out all of your hair in small sections.
Step 3: Apply a heat protectant serum or spray before you begin. If you don't have either, you can apply a thin layer of sunflower oil as well.
Step 4: Using a comb, separate all the knots and tangles.
Step 5: Separate your hair into small sections. Each section should be about 2 inches wide. You can keep it separated using hair clips or rubber bands.
Step 6: Start combing each section with the hot comb.
If you are eager to try a hot comb for yourself, you can take your pick from this list of the 7 best hot combs for African American hair.
 7 Best Hot Combs For African-American Hair
The makers of this press comb know that time is of the essence, and created a hair comb that heats up to 450°F in 30 seconds. It comes with 20 adjustable heat settings, making it ideal for not just natural hair but for all hair types and textures. The golden ceramic comb retains heat for long periods while providing an even consistent heat flow for smooth and frizz-free hair. As it is a dual-voltage comb, it can be used anywhere in the world. It also cares for your safety and turns off automatically if it hasn't been in use for an hour.
Pros
Reaches 450°F in 30 seconds
20 heat settings
Dual-voltage
Automatic switch-off
Swivel cord
Cons
As the ON/OFF buttons are on the handle, one can easily switch it off without being aware of it
Similar Products:
If you are a perfectionist in all aspects of your life, especially when it comes to styling your hair, this electric hot comb will not disappoint you. The comb features wedge-shaped teeth, which will help you achieve super straight and silky hair with precision-pressing. It retains consistent heat as it comes with a 24K gold-plated finish. The temperature settings allow you to go from 200°F-500°F. If you have fine hair, it is recommended that you use the comb in low heat. So, whether you want to straighten your hair or give it a little lift, you can trust this comb to do the job.
Pros
Good for precision-pressing
24K gold-plated finish
Adjustable temperature settings
8-ft swivel cord
Ideal for all types of hair
Cons
It takes some time to heat up
Similar Products:
A treat for those who like the old-school way of life, this pressing comb doesn't require any electricity to be heated. You can simply heat it on a stove and start combing your hair. As the teeth are placed extremely close to each other, it does a fine job of straightening all of your hair strands while keeping it neat and frizz-free. The comb comes with brass teeth and copper spacers. To heat the comb, place it over the stove in low-medium flame for 5 minutes on each side. Once the comb turns into an orange or purple color, you can flip it over and heat it again.
Pros
Doesn't need electricity
Teeth are in placed close to each other
Comes with brass teeth and copper spacers
Easy to use
Can be used on wigs as well
Cons
Similar Products:
The Sorlakar Hot Comb Hair Straightener is equipped with ceramic technology that distributes the heat evenly, reduces frizz, and makes your hair shiny without any damage. It features soft teeth head that protects the scalp from tearing and hair pulling. This hot comb takes about 20-30 seconds to heat up and provides long-lasting results. You can adjust the temperature settings as per your hair type – 80-160°C is ideal for soft hair, 160-180°C for normal hair, and 180-210°C for thick and coarse hair. The 360° rotating power cord enables convenient usage even with one hand.
Pros
Heats up within 20-30 seconds
Lightweight
Adjustable heat settings
Easy to use
Compact design
Cons
None
Similar Products:
This electric pressing comb lives up to all the hype that has been created around it. You never have to worry about heat damage as it comes with 30 heat settings, in which 15 settings specifically target coarse and curly hair. If time management is a problem you struggle with, this comb will come in handy as it heats up in 30 seconds. The comb itself is gold anodized, which provides long-lasting results and gives your hair a polished look. It uses turbo heat technology for precise styling and maximum holding power.
Pros
30 heat settings
Heats up in 30 seconds
Gold anodized
Turbo heat technology for uniform heat
Automatic shut-off
Cons
Some may feel like the controls aren't placed strategically
Similar Products:
Ideal for getting salon-like sleek and hydrated hair strands, this hot hair straightener comb comes with keratin and argan oil-infused teeth. It features a unique anti-scald shield that protects the skin from burns and the hair from damage. It comes with five temperature settings ranging from 280 °F to 450 °F to style different hair types, including hair roots, mustaches, and wigs. The versatile comb smoothes out frizz, adds a moisturizing gloss while releasing negative ions. The lightweight, 360-degree swivel cord and the 60 minutes auto shut-off add to the ease of tangle-free styling just at home.
Pros
Lightweight
Keratin and Argan Oil in comb teeth
Anti-scald shield
360 degrees swivel cord
Cons
None
This ceramic comb is designed to shape your African-American hair in your favorite hairstyle in minutes, while leaving it silky and shiny. The wide-toothed comb makes it easy to detangle the most unruly knots while eliminating frizz and keeping the tangles at bay. The comb is easy to use as it comes with an on/off button and offers an adjustable temperature to style all hair types easily.
Pros
Ceramic coated electric comb
Lightweight
Easy to use
Dual-voltage
Cons
You may have noticed that tiny hair comb that your grandmother used to straighten her hair. You must have also wondered why she was heating her comb over the stove. She was simply using a manual pressing comb, which is still available to this day if you're willing to give it a shot. However, for ease of use, you can simply try the electric version. If you have tried any of the hot combs from this list of the 7 best hot combs for African-American hair, let us know in the comments. Tell us why you like it and how you like to style your hair with it.
Recommended Articles