9 Best Hot Combs For African American Hair
Use these hot combs to eliminate frizz, prevent tangles, and get a polished look.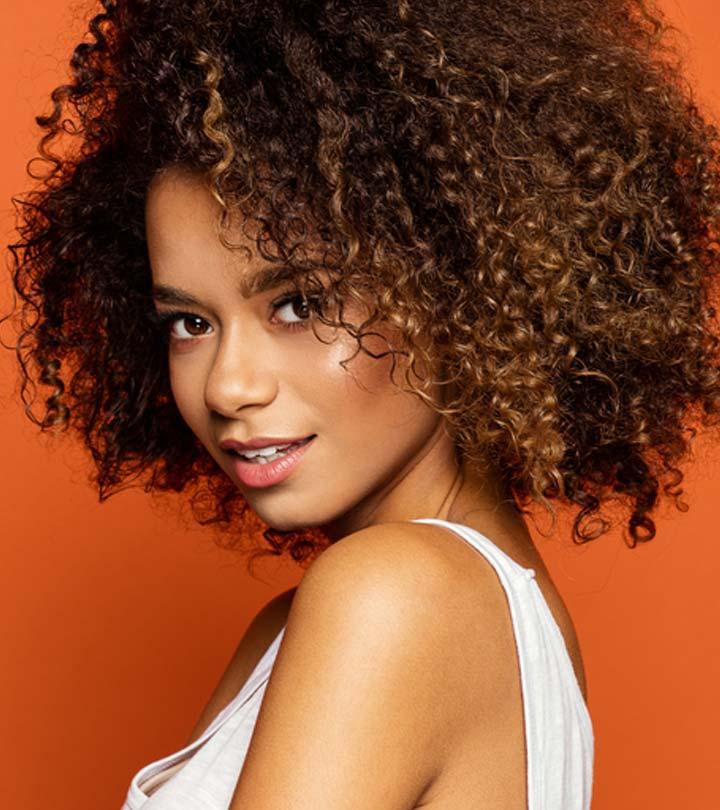 Curly or not, a hot comb is a must-have accessory in your beauty arsenal. With so many hot combs out there, it's natural to get confused. Don't worry, we have combined a list of the best hot combs for natural hair to help you out. Made of metal and easy to use, these tested hot combs not only help you straighten out your beautiful curls but also give your hair a silky and smooth finish. If you think using a hot comb is difficult, rest assured it's not. You can either heat it directly on a stove or buy an electrically heated comb to save you all that trouble. Let's scroll down to get a better look at the different types of hot combs available out there!
Types Of Hot Combs For Natural Hair
There are two types of hot hair combs:
1. Manual Pressing Comb
Also known as a stove-iron pressing comb, these combs were popular back in the day. As the name suggests, these combs are heated in a thermal stove and take a lot of time to heat. It causes more heat damage than an electric pressing comb.
2. Electric Pressing Comb
One of the most sought after ways of straightening natural or 4c type hair these days, these combs use electricity to heat up fairly quickly. They cause less heat damage as most of them feature a heat recovery system.
Now, let's look at a step-by-step guide to use a hot comb.
How To Use A Hot Comb
Step 1: As a hot comb works best on natural hair, ensure that it is at least an inch long starting from the scalp. If you have chemically-treated hair, it is best to grow it out and only then straighten your hair using a hot comb.
Step 2: Wash your hair properly before you begin. A hot comb works better on already stretched out hair. If you have a blow dryer, use it to dry and comb out all of your hair in small sections.
Step 3: Apply a heat protectant serum or spray before you begin. If you don't have either, you can apply a thin layer of sunflower oil as well.
Step 4: Using a comb, separate all the unruly knots and tangles.
Step 5: Separate your hair into small sections. Each section should be about 2 inches wide. You can keep it separated using hair clips or rubber bands.
Step 6: Start combing each section with the hot comb.
If you are eager to try a hot comb for yourself, you can take your pick from this list of the 7 best hot combs for African American hair.
9 Best Hot Combs For African-American Hair
The makers of this press comb know that time is of the essence, and created a hair comb that heats up to 450°F in 30 seconds. It comes with 20 adjustable heat settings, making it ideal for not just natural hair but for all hair types and textures. The golden ceramic comb retains heat for long periods while providing an even consistent heat flow for smooth and frizz-free hair. As it is a dual-voltage comb, it can be used anywhere in the world. It also cares for your safety and turns off automatically if it hasn't been in use for an hour. If you need more convincing, feel free to take a look at this reviewer's experience video on the merits and demerits of the professional-grade product.
Pros
Reaches 450°F in 30 seconds
20 heat settings
Dual-voltage
Automatic switch-off
Swivel cord
Cons
As the ON/OFF buttons are on the handle, one can easily switch it off without being aware of it
Price at the time of publication: $14.69
If you are a perfectionist in all aspects of your life, especially when it comes to styling your hair, this electric hot comb will not disappoint you. The comb features wedge-shaped teeth, which will help you achieve super straight and silky hair with precision-pressing. It retains consistent heat as it comes with a 24K gold-plated finish. The temperature settings allow you to go from 200°F-500°F. If you have fine hair, it is recommended that you use the comb in low heat. So, whether you want to straighten your hair or give it a little lift, you can trust this comb to do the job. If you want a detailed review of the product, make sure to take a look at this video.
Pros
Good for precision-pressing
24K gold-plated finish
Adjustable temperature settings
8-ft swivel cord
Ideal for all types of hair
Cons
It takes some time to heat up
Price at the time of publication: $19.7
No time to rush to the salon to fix your hair? Well, the Karma Beauty Serenity Pro brings you a hair straightening comb that is quick and easy to use. This hot comb works best for curly, frizzy, or straight hair. The ceramic electric comb massages the scalp, detangle hair, straightens as well as adds waves to the locks. Massaging bristles encourages blood flow and circulation. As a result, the surface heats evenly, minimizing the risks of burns and scalding.
Designed with negative ion technology, the comb gives your hair a smooth and silky finish. Negative ions seal the cuticles and lock in the hair's natural moisture content. This gives the hair a shine and protects hair color. The hair is left frizz-free and anti-static. It has a unique triangular shape, which makes it suitable for all hair lengths. Its ergonomic design allows a comfortable grip and the rounded edges create beautiful loose curls and beach waves.
Pros
Dual voltage
360 swivel cord
Built in temperature control
Auto shut off
Rapid heat up
Travel-friendly
Lightweight
Easy to use
Cons
May not be suitable for very coarse hair
Price at the time of publication: $49.95
Looking for a delicate comb on your hair that does not tear out the strands? The Annie Straightening Comb, designed with fine copper teeth, is suitable for textured, relaxed hair. The copper eliminates static and flyaways. The heat settings are formulated according to hair type. Low heat if you have fine hair and moderate heat for coarser hair. This comb detangles the hair easily and minimizes breaks and split ends. In addition, it gives the hair a soft texture and a smooth, straight appearance. Create a salon-like hairstyle with this simple tool at home.
Pros
Copper plates
Adjustable heat temperatures
Suits all hair types
Frizz-free hair
Cons
May burn the skin if accidentally touches scalp
Price at the time of publication: $8.6
A treat for those who like the old-school way of life, this pressing comb, has received multiple positive reviews and doesn't require any electricity to be heated. You can simply heat it on a stove and start combing your hair. As the teeth are placed extremely close to each other, it does a fine job of straightening all of your hair strands while keeping it neat and frizz-free. The comb comes with brass teeth and copper spacers. To heat the comb, place it over the stove in low-medium flame for 5 minutes on each side. Once the comb turns into an orange or purple color, you can flip it over and heat it again.
Pros
Doesn't need electricity
Teeth are in placed close to each other
Comes with brass teeth and copper spacers
Easy to use
Can be used on wigs as well
Cons
Price at the time of publication: $13.97
The Sorlakar Hot Comb Hair Straightener is equipped with ceramic technology that distributes the heat evenly, reduces frizz, and makes your hair shiny without any damage. It features soft teeth head that protects the scalp from tearing and hair pulling. This hot comb takes about 20-30 seconds to heat up and provides long-lasting results. You can adjust the temperature settings as per your hair type – 80-160°C is ideal for soft hair, 160-180°C for normal hair, and 180-210°C for thick and coarse hair. The 360° rotating power cord enables convenient usage even with one hand.
Pros
Heats up within 20-30 seconds
Lightweight
Adjustable heat settings
Easy to use
Compact design
Cons
None
Price at the time of publication: $15.99
This electric pressing comb lives up to all the hype that has been created around it. You never have to worry about heat damage as it comes with 30 heat settings, in which 15 settings specifically target coarse and curly hair. If time management is a problem you struggle with, this comb will come in handy as it heats up in 30 seconds. The comb itself is gold anodized, which provides long-lasting results and gives your hair a polished look. It uses turbo heat technology for precise styling and maximum holding power.
Pros
30 heat settings
Heats up in 30 seconds
Gold anodized
Turbo heat technology for uniform heat
Automatic shut-off
Cons
Some may feel like the controls aren't placed strategically
Price at the time of publication: $28.09
Ideal for getting salon-like sleek and hydrated hair strands, this hot hair straightener comb comes with keratin and argan oil-infused teeth. It features a unique anti-scald shield that protects the skin from burns and the hair from damage. It comes with five temperature settings ranging from 280 °F to 450 °F to style all hair types easily, including hair roots, mustaches, and wigs. The versatile comb smoothes out frizz, adds a moisturizing gloss while releasing negative ions. The lightweight, 360-degree swivel cord and the 60 minutes auto shut-off add to the ease of tangle-free styling just at home. You can also check this YouTuber's detailed review to know more about the results after using this product.
Pros
Lightweight
Keratin and Argan Oil in comb teeth
Anti-scald shield
360 degrees swivel cord
Cons
None
Price at the time of publication: $29.99
If the thought of heat damage keeps you away from using hot tools, then the DAN Technology Hot Electric Comb is just for you! It features ceramic technology which helps distribute heat evenly on your tresses and hence helps reduce hair damage to a considerable level. It heats up pretty quickly, just in 30 seconds, to give you lustrous, straight hair. This electric comb is lightweight and features a high and low switch and comes with gear adjustment temperatures for an effortless styling experience. Its dual voltage technology allows you to try your favorite hairstyles, without breaking the bank.
Pros
Lightweight
Ceramic technology
PTC heating
360 ° swivel cord
Quick heating option
Universal voltage
Adjustable temperature
Cons
None
Price at the time of publication: $19.99
Hot combs are quite handy tools for African American hair. Curly, frizzy, thick, whatever your hair type, hot combs are here to straighten out those beautiful locks with utmost ease. However, hair stylist Alicia Igess Jones asks people to remain cautious while using one. "If a hot comb is heated up too hot, it will burn your hair out. Avoid oil on your scalp when using a hot comb because it can burn you," she adds.
Of course, the variety of hot combs available is daunting to go through. But, we have put together some points to consider when buying the best hot comb to shape your African-American hair.
Things To Consider While Choosing The Best Hot Combs For African American Hair
1. Temperature Settings
Pick a hot comb with multiple heat settings. This makes it easy to control the temperature according to your hair type and comfort. Thicker, frizzy hair may need more heat than fine, thin hair. Also, check how fast the comb heats up and how long it takes to reach and stay at the desired temperature.
2. Design
A long swivel cord helps you to maneuver the comb around all sides of your head with utmost ease. A short straight cord will require you to bend and move around yourself, making the whole procedure strenuous and stressful.
Combing small strands of hair may take a while. Pick a hot comb which is lightweight as your hand can start paining soon if the tool is heavy.
3. Construction
Ceramic: The ceramic combs distribute heat evenly avoiding hot spots and burning. These combs are good for frizzy hair.
24K Gold-Plated Finish: These combs retain the heat consistently.
Brass And Copper: Some manual combs are constructed with copper spacers and brass teeth which work well on fine hair and do not cause static.
4. Additional Features
Automatic switch-off is a good feature to have as the heating switches off as soon as the comb reaches the desired temperature. This protects the tool from overheating and also protects the hair and scalp from burning and scalding.
If you travel frequently, it is wise to pick a hair comb with dual voltage so it can work anywhere in the world.
Why Trust Stylecraze?
The author of this post, Krati Darak, is a haircare enthusiast with a knack for searching for the best products for hair care. She has scoured multiple websites to come up with this list of the best hot combs for natural African American hair. In addition, she has reviewed user feedback and ratings to handpick these combs. A detailed description of the features of these combs, along with their pros and cons, will help you choose a comb that will suit your hair the most.
Frequently Asked Questions
Is a hot comb good for natural hair?
Yes. Hot combs are better than other straightening methods for natural hair.
What's the difference between a flat iron and a hot comb?
You cannot reach the roots with a flat iron. However, you can straighten the hair from the roots with a hot comb.
Can you hot comb wet hair?
It is always advised to use heat on dry hair as wet hair is more likely to be damaged easily.
Do hot combs hurt on natural hair?
No. Hot combs do not hurt natural hair.
How long do you heat a hot comb?
It takes 30 seconds for the hot comb to heat up.
Can you curl your hair with a hot comb?
Yes, you can curl your hair with a hot comb.
Recommended Articles