9 Best Korean CC Creams To Check Out In 2023
Multipurpose, lightweight, and formulated to give you flawless-looking skin every day.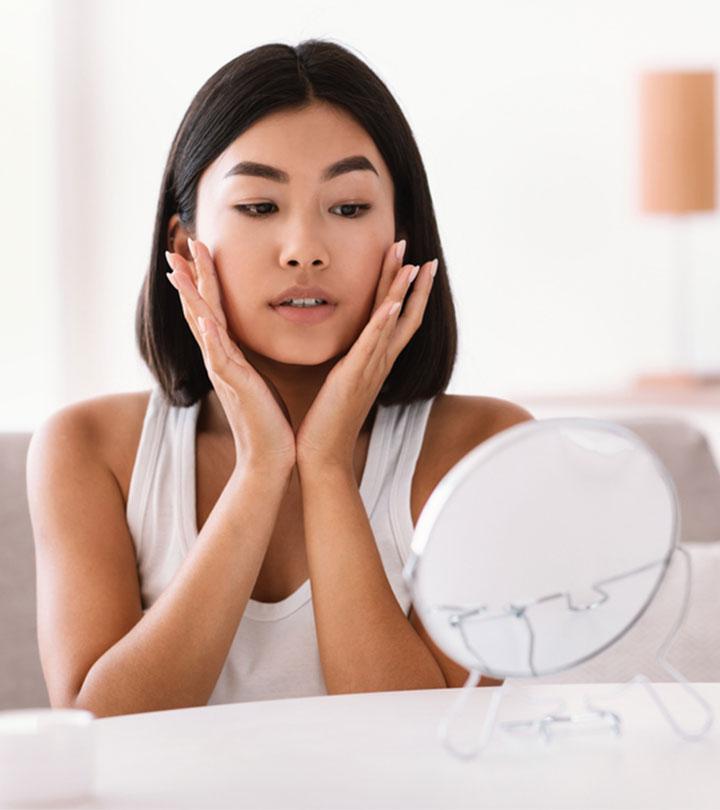 You do not have to be a K-pop fan to know the importance of the best Korean CC creams.
The color correction creams, otherwise known as CC creams, offer you the best of both worlds. They cover the imperfections of your skin while keeping it moisturized. In addition, Korean brands offer a wide range of choices in colors and shades that cater to specific skin tones.
Their CC creams can help blur dull skin and make it look picture-perfect easily! Our list features the 11 best-rated products that customers love.
Swipe up to explore!
9 Best Korean CC Creams To Check Out In 2023
Pros
Multipurpose
SPF 20
Neutralizes redness
Corrects blemishes
Cons
Price at the time of publication: $19.99
Supergoop! Daily Correct CC Cream is an all-in-one product for your delicate skin. It works as a foundation and a concealer to soften your fine lines, wrinkles, and pores. It has SPF 35 to protect your skin from harmful UV rays. It provides lightweight color correction to make your skin look flawless. It is also rich in mineral actives like zinc oxide. Just apply a dime-sized amount on your face, chin, or nose, and you are all set. This Korean CC cream is suitable for both oily and dry skin. If you need further convincing, check out this YouTuber's review.
Pros
Multipurpose
SPF 35
Contains mineral actives
Conceals wrinkles and pores
Cons
None

Price at the time of publication: $39.99
Lioele Dollish Cera-V CC Cream gives your skin excellent coverage by hiding all imperfections like blemishes, marks, and dullness. It brightens your skin, making you look fresher and younger. It also moisturizes your skin. Its SPF 34 ensures that your skin is protected from UV rays. This is the perfect Korean CC cream for oily skin as well as dry skin. You can check this video out if you need to know more about the product.
Pros
High coverage
Moisturizes skin
Brightens skin
SPF 34
Cons
None
The lightweight formula of Etude House Correct And Care CC Cream provides skin tone correction, making your skin look even and flawless. It is an eight-in-one multifunctional cream that keeps your skin look radiant. It is the perfect fix for your wrinkles, blemishes, and redness. This cream also protects your skin from the harmful UV rays with its SPF 30. This is a water-based cream that hydrates your skin with the perfect amount of moisture. It is one of the best CC creams for dry skin.
Pros
Multipurpose
Covers wrinkles
SPF 30
Reduces dullness
Hydrates skin
Cons
None

Price at the time of publication: $20.0
Pros
SPF 50
Moisturizes skin
Minimizes the appearance of pores
Cons
None
Price at the time of publication: $15.52
Erborian CC Crème blends into all skin tones to provide precise color correction. It keeps your skin hydrated and protects it from damage. It hides all wrinkles and fine lines to give your skin a beautiful texture. It delivers a flawless finish to uneven skin tones and protection from the dust and dirt of city life. It is one of the best Korean CC creams for dry skin.
Pros
Hides fine lines and wrinkles
Flawless finish
Blends into all skin tones
Refines skin texture
Moisturizes skin
Cons
None
Price at the time of publication: $22.79
The Myconos Magic CC Foundation works as a moisturizer, a foundation, a BB cream, a CC cream, and sunscreen. It provides good coverage and hides all blemishes.  It blends into your skin tone naturally. You can also layer it on to build coverage. Myconos Magic CC Foundation is cruelty-free. Its ingredients are carefully chosen to give you long-lasting moisturization and brightening. It has SPF 50 and non-comedogenic properties.
Pros
SPF 50
Hides blemishes
Comes with a sponge applicator
Long-lasting coverage
Non-comedogenic
Cons
Only available in three shades
Pros
Long-lasting
Contains SPF 30 PA++
Sulfate-free
Paraben-free
Phthalate-free
No animal-derived ingredients
Can be used as a makeup base
Cons
None

Price at the time of publication: $24.0
The Face Shop Face It Aura CC Cream is a fantastic color-controlling cream that lasts up to 12 hours. It also keeps your makeup intact and makes you look fresh and bright. It keeps your skin hydrated all day long with its innovative darkening-proof formula. Face It Aura CC Cream is blendable and buildable.
Pros
Brightens complexion
Lasts up to 12 hours
Moisturizes skin
Cons
There is a reason everyone, from beauty influencers to makeup enthusiasts, is going crazy over Korean skincare ranges. They are pretty affordable and result-oriented. So, if you have been thinking of getting a Korean CC cream, go right ahead. However, you should consider these guidelines before purchasing any skincare item, especially a CC cream.
What To Look For When Buying A Korean CC Cream
Your skin type should be your primary consideration when selecting a CC cream. If your skin is prone to getting red or irritated, opt for a cream that neutralizes the redness and offers an even tone. One must exercise extra caution if their skin is prone to acne or is too sensitive. Only choose a non-comedogenic product if you have oily or sensitive skin, or you may experience breakouts. Those with oily skin can pick lightweight CC creams with matte textures. Choose oil-free formulations that do not trigger your pores or block them.
On the other hand, people with dry skin should choose CC creams with hydrating and emollient-rich formulations. There are specific CC creams available for mature skin. If you have fine lines and wrinkles, consider investing in a cream especially formulated for aging skin.
If you are not sure what your skin type is, a visit to the dermatologist could help. By identifying your skin type, you may then begin purchasing items that are more suited to your skin's needs.
It is best to stay away from anything that contains paraben, sulfates, phthalates or any other potentially dangerous compounds. Try to opt for skin-friendly ingredients like vitamin C, salicylic acid, hyaluronic acid, or tea tree extract.
Choose a product that is formulated to treat your specific skin problems, which may include concerns like large pores, dullness, dark circles, or uneven skin tone. Get a full coverage cream if you need to cover blemishes.
Get a deep moisturizing, anti-aging CC cream that provides decent coverage if fine lines and wrinkles have started developing on your face.
If you will be wearing the CC cream all day while outdoors, opt for one that provides sun-protection, and be prepared to reapply it if you are not wearing sunscreen. If you want to put more makeup over the CC cream, opt for one that can act as a base and is long-lasting.
Why Trust StyleCraze?
Shiboli Chakraborti is a certified skin care coach who writes and reviews products related to this niche after considering skin type and preference. She uses her expertise to list the best Korean CC creams so her readers can look and feel good. She compiled this list after thorough research and review of user feedback. These products will help even out skin tone and moisturize the skin.
Frequently Asked Questions
How do Korean CC creams work?
Korean CC creams offer a youthful radiance without being too heavy on your skin. They cover acne marks, blemishes, and spots, and work wonders against skin discoloration. Korean CC creams are great at reducing the appearance of anti-aging signs.
What kind of CC cream is the best for my skin type?
Most CC creams are ideal for sensitive and acne-prone skin. You can also check the consistency of the cream to know if they are suitable for your skin.
What kind of skin prep should I follow before using a CC cream?
Before using a CC cream, make sure you follow your normal skin care regime of cleansing, toning, and moisturizing. Wash your face with a good cleanser, make sure you cater to your pores with the help of a toner, and apply a nourishing cream to prepare your skin for the CC cream.
Is there any difference between a Korean BB cream and a CC cream?
BB creams are usually more hydrating than CC creams and ideal for dry skin types They offer sheer coverage and look more natural. CC creams offer more coverage than BB creams. Their lightweight formulas make them ideal for acne-prone and oily skin. They give you a more flawless look.
How can I apply a Korean CC cream?
Applying a CC cream is fairly easy due to its lightweight texture. Take some CC cream on your fingers and apply it like a moisturizer. Make sure you blend it well to receive a youthful glow on your skin. You can also use a brush and makeup sponge to dab the CC cream on your cheeks.
Do Korean CC creams clog pores?
No. In fact, many beauty enthusiasts use CC creams instead of heavy foundations because the latter clogs pores. The lightweight texture in CC creams sits gently on pores without clogging them or suffocating your skin.