10 Best Korean CC Creams To Check Out In 2020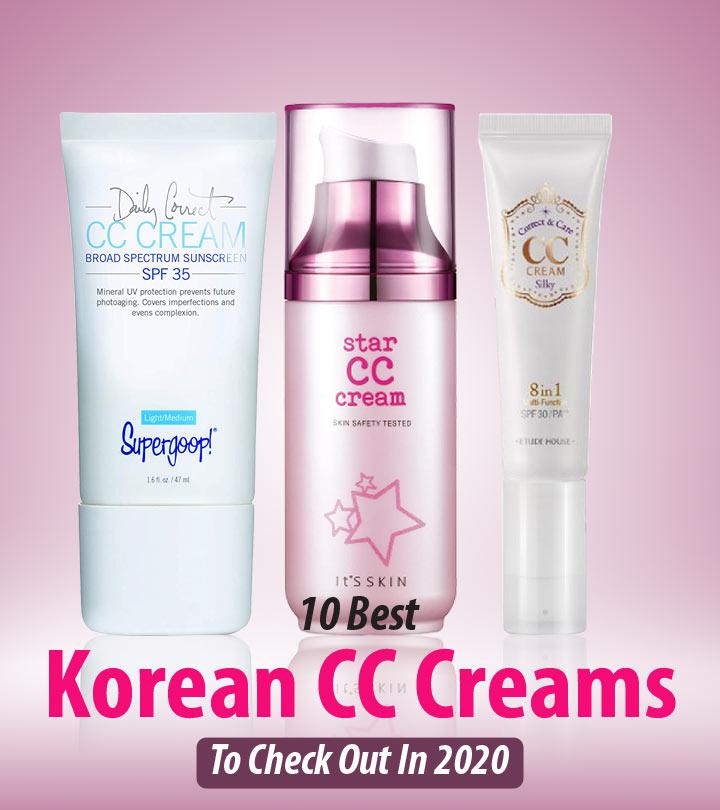 It doesn't take a K-Pop army to know that Korean makeup products are amazing.
Today, let's look at some Korean color correction creams, otherwise known as CC creams, that can help you cover up any imperfections on your skin. Korean CC creams come in many shades that match your skin tone and blend seamlessly tocover redness and dullness.
To help you out, we have curated a list of the 11 best Korean CC creams that can make you look picture-perfect!
Let's begin.
10 Best Korean CC Creams To Check Out In 2020
Lumene Color Correcting Cream keeps your skin protected and flawless. It is a six-in-one product that works as a foundation, concealer, primer, and illuminator. It corrects blemishes, neutralized redness, and makes your skin look younger. Its long-lasting properties keep you looking radiant and lively all day long. Lumene offers SPF 20, thereby aiding in skin protection against UV rays. It is the perfect Korean CC cream for dry skin.
Pros
Multipurpose
SPF 20
Neutralizes redness
Corrects blemishes
Cons
Supergoop! Daily Correct CC Cream is an all-in-one product for your delicate skin. It works as a foundation and a concealer to soften your fine lines, wrinkles, and pores. It has SPF 35 to protect your skin from the harmful UV rays. It provides lightweight color correction to make your skin look flawless. It is also rich in mineral actives like zinc oxide. Just apply a dime-sized amount on your face, chin, or nose, and you are all set. This Korean CC cream is suitable for both oily and dry skin.
Pros
Multipurpose
SPF 35
Contains mineral actives
Conceals wrinkles and pores
Cons
None
Lioele Dollish Cera-V CC Cream gives your skin excellent coverage by hiding all imperfections like blemishes, marks, and dullness. It brightens your skin, making you look fresher and younger. It also moisturizes your skin. Its SPF 34 ensures that your skin is protected from UV rays. This is the perfect Korean CC cream for oily skin as well as dry skin.
Pros
High coverage
Moisturizes skin
Brightens skin
SPF 34
Cons
None
The lightweight formula of Etude House Correct And Care CC Cream provides skin tone correction, making your skin look even and flawless. It is an eight-in-one multifunctional cream that keeps your skin look radiant. It is the perfect fix for your wrinkles, blemishes, and redness. This cream also protects your skin from the harmful UV rays with its SPF 30. This is a water-based cream that hydrates your skin with the perfect amount of moisture. It is one of the best CC creams for dry skin.
Pros
Multipurpose
Covers wrinkles
SPF 30
Reduces dullness
Hydrates skin
Cons
None
It Cosmetics Your Skin But Better CC+ Cream is perfect for concealing imperfections. It gives your skin a flawless finish with its skin-nourishing benefits. The brightening and color-correcting pigments in this cream make your skin look naturally glowing. They alsohide your pores completely. This creams hydrates your skin and prevents damage. Its non-greasy texture makes it good for both dry and oily skin. The best thing about it is that it has SPF 50.
Pros
SPF 50
Moisturizes skin
Minimizes the appearance of pores
Cons
None
Erborian CC Crème blends into all skin tones to provide precise color correction. It keeps your skin hydrated and protects it from damage. It hides all wrinkles and fine lines to give your skin a beautiful texture. It delivers flawless finish to uneven skin tones and protection from the dust and dirt of the city life. It is one of the best Korean CC creams for dry skin.
Pros
Hides fine lines and wrinkles
Flawless finish
Blends into all skin tones
Refines skin texture
Moisturizes skin
Cons
None
This is Banila Co's 3-in-1 CC cream. It is blended with the Eco Herb Water complex that hydrates your skin and keeps it moisturized. Its infusion of White Flower Water also provides the perfect balance to your skin texture. This is a vegan and cruelty-free product with no parabens, sulfates, and phthalates. It can be used as a sunscreen or a foundation, as per your needs. It provides ultimate UVA and UVB protection.
Pros
UVA and UVB protection
Hydrates skin
Paraben-, sulfate-, and phthalate-free
Cons
The Myconos Magic CC Foundation works as a moisturizer, a foundation, a BB cream, a CC cream, and a sunscreen. It provides good coverage and hides all blemishes.  It blends into your skin tone naturally. You can also layer it on to build coverage. Myconos Magic CC Foundation is cruelty-free. Its ingredients are carefully chosen to give you long-lasting moisturization and brightening. It has SPF 50 and non-comedogenic properties.
Pros
SPF 50
Hides blemishes
Comes with a sponge applicator
Long-lasting coverage
Non-comedogenic
Cons
Only available in three shades
No products found.
It's Skin Radiant Star CC Cream is a makeup essential. It works as a moisturizer and a skin brightener. It not only helps you get wrinkle-free skin but also illuminates it. You also get the benefits of a serum, a BB cream, a sunscreen, and a primer with this product.It covers blemishes and spots and eliminates the need to put on concealer. It protects your skin from UVA and UVB rays and keeps your makeup intact even after a workout.
Pros
Multipurpose
SPF 36
Long-lasting
Cons
None
The Face Shop Face It Aura CC Cream is a fantastic color-controlling cream that lasts up to 12 hours. It also keeps your makeup intact and makes you look fresh and bright. It keeps your skin hydrated all day long with its innovative darkening-proof formula. Face It Aura CC Cream is blendable and buildable.
Pros
Brightens complexion
Lasts up to 12 hours
Moisturizes skin
Cons
Get yourself one of these Korean CC creams, and you will always be ready for a last-minute plan. Which one do you want to try out? Comment below to let us know!
Recommended Articles