9 Best Oils For Hair Growth You Can Add To Your Hair Care Routine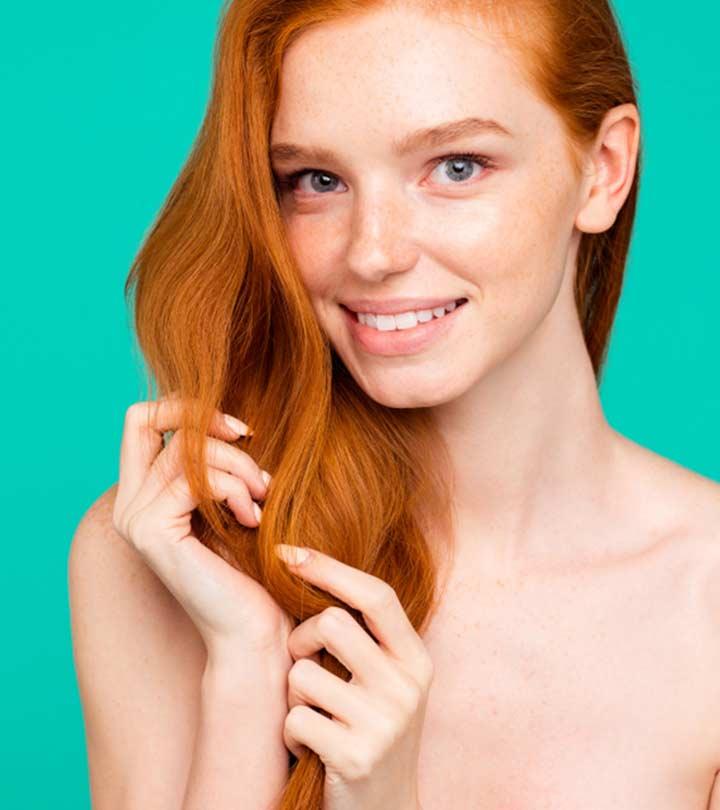 Having the best oil for hair growth in your kit of essentials is always a good idea. It not only ensures that your scalp is well-nourished with antioxidants, minerals, but it also protects your hair from pollution and lifestyle stressors. Within no time, you will flaunt a full head of hair that is voluminous as well as smooth. Many assume that oiling is an age-old practice that has no actual use in today's times. This cannot be further from the truth. Oiling your hair has tangible benefits that transform your lackluster hair from dry, brittle strands to luscious locks full of life and vigor. If you, too, wish for hair that has everyone going 'wow', you must look at our compilation of the 9 best oils and the benefits they offer for you to fulfill your hair goals for this year.
9 Best Oils For Hair Growth And Thickness – Our Top Picks
If you experience persistent hair fall that reveals your scalp, castor oil can help. Castor oil in its natural form is known to promote hair growth and thickening. This unrefined castor oil is enriched with fatty acids that condition the hair and promote a fuller-looking, beautiful mane by hydrating and rejuvenating it. It is 100% pure and organic and can be used as a pre-shampoo oil for improved results. You can also use it as a body moisturizer during the winters. It doubles as an eyelash and eyebrow serum for fuller lashes and brows. This cold-pressed castor oil is ideal if you're looking for a single oil that can be used for multiple purposes.
Pros
Hexane-free
Conditions lashes and brows
Cold-pressed
No added preservatives
Cruelty-free
Vegan
Cons
Some may find the consistency too thick.
With a sky-high air pollution index, stepping out essentially means exposing the hair to toxins and signing up for hair fall. However, you can depend on an argan oil to counter the harmful effects of such toxins. The antioxidants in this hair growth and thickening oil protect your hair and skin from damage caused by pollutants and UV radiation. It helps fight frizz and balances hair oil production by locking moisture in the hair from the roots to the ends. Rich in vitamin E, its anti-inflammatory properties help treat redness and scalp irritation. Since argan oil offers anti-aging benefits, you can also use this organic oil  to reduce wrinkles, fine lines, and use it as a moisturizer.
Pros
Soothes the scalp
Has anti-aging properties
Non-comedogenic
Reduces redness and skin irritation
Can be used as a moisturizer
Cons
May take time to absorb into the scalp
If taming curly hair while also caring for them seems impossible, let us introduce you to your new hero to address all your hair concerns. This cold-pressed oil helps to increase hair growth and hair strand thickness with its unrefined castor seed oil formulation. It prevents hair breakage and hair fall and is suitable for kinky and curly hair too. The castor oil treats dry and brittle hair while detangling and preventing dandruff. You can also add this product to your skincare routine for its excellent moisturizing benefits. It can help fight acne, rashes, pigmentation and reduce wrinkles and dark circles to give you healthy-looking skin.
Pros
Hexane-free
Fights acne
Prevents hair fall
Fights dandruff
Reduces scalp dryness
Cons
Some may find the scent overpowering.
This pale-pressed, all-natural castor oil is an ideal solution if your hair is prone to extreme dryness during the winters. This multipurpose essential oil for hair thickening moisturizes the hair and skin as it is a natural humectant that locks moisture in the hair shaft and keeps the hands and feet from feeling dry. It contains vitamins, fatty acids, antioxidants, and proteins that boost hair growth and increase hair thickness. It also remediates dull and lackluster hair by making each strand darker and thicker. Take time off your busy routine and massage this oil onto your hair for improved blood circulation while you get to unwind.
Pros
Free of additives
Potent formula
Offers deep hydration
Relieves muscle soreness
Cons
Some may find it slightly sticky.
This nourishing oil offers the benefits of a professional salon treatment right at home. It is a rich infusion of grapeseed, sweet almond, coconut, olive, jojoba, moringa, and apricot oil. With a host of other ingredients like collagen and vitamin E, it offers healing and anti-inflammatory properties. The oil increases hair thickness, reduces hair breakage by upto 95%, improves elasticity, and restores shine. It is suitable for all hair types— curly, straight, wavy, or fine hair. Couple it with a biotin treatment for quick and impressive results.
Pros
Restores hair elasticity
Remediates brittleness
Prevent hair breakage
No additives
Cons
If you're gluten-intolerant, we know you'd go to any lengths to avoid gluten, and it is justified. This gluten-free castor oil that increases hair growth and thickness allows you to enjoy the benefits of castor oil without worrying about gluten-related side effects. It moisturizes the cuticles and protects them from drying and dandruff. Made with fire-roasted castor beans that are slow-boiled, this castor oil is unrefined, natural, and nutrient-rich. More reasons to buy this organic castor oil include ingredients like ricinoleic acid and omega-6 fatty acids.
Pros
Nourishes the scalp
Pure and unrefined
Strengthens hair follicles
Gluten-free
Fragrance-free
Free of chemicals
Cons
Some may find the consistency too thick.
This castor oil can serve as a single solution for your mane and eyelashes. Enriched with fatty acids, vitamin E, and minerals, it not only boosts hair growth but also reduces split ends and dandruff. It penetrates deep into the hair follicles and fortifies hair from the roots. You can use this wonder oil along with serums, shampoos, conditioners, creams, and other products both for hair and skin, respectively. If you're dealing with skin problems like wrinkles, fine lines, and cellulite, this oil can help. It is effective for all hair and skin types and can also be used for removing makeup before you hit the hay.
Pros
Prevents hair loss
Helps fight dandruff
Prevents hair thinning
Hexane-free
Alcohol-free
Cons
May take multiple rinses to wash away
Longer, stronger, and healthier hair is every girl's dream. It takes a good oil to turn it into a reality, and that is exactly why we have the DOO GRO Mega Thick oil on our list. This oil is concocted with soybean oil, sweet almond oil, hops flower, matricaria extract, shea butter extract, tea tree oil, and safflower oil. With the help of all these natural ingredients, this oil fights hair damage, tame frizz, and adds shine to your tresses. All you need to do is apply it to damp or dry hair and scalp and massage gently before you style your hair.
Pros
Controls frizz
Repairs hair damage
Suitable for children
Can be used on braided and weaved hair
Cons
If you're looking for a blend of oils loaded with multiple benefits, we recommend this potent easy-rinse hair oil. It combines the benefits of 10 oils— sweet almond, burdock root, castor, olive, gooseberry, tangerine peel, bay leaf, cinnamon, rosemary leaf extract, and clove flower oil. This blissful blend helps restore the strength of your hair and promotes hair growth and thickness. The oil prevents and repairs hair damage from environmental pollution and UV radiation. It also provides deep nourishment that your follicles crave and locks in moisture so you can flaunt your flowy tresses minus the frizz.
Pros
Lightweight
Easy-to-rinse formula
Improves hair texture
Cruelty-free
Vegan
Cons
It may take a while to show results.
While this list offers you a good number of options of oils for hair growth and thickness, it is important to understand the benefits of each type to determine the best oil for your hair type. Here's a guide to help you pick the right one.
How To Choose The Right Oil For Hair Thickness?
Coconut oil for hair thickening treatment is ideal for dry and frizzy hair specifically, and any hair type in general. It is proven to minimize loss of proteins from the hair shaft, which helps keep frizz away. It contains fatty acids and lauric acid that penetrate deep into the follicles to provide moisturization and protect the hair from damage. It has antibacterial, antifungal, heat protecting properties and also prevents damage from UV radiation.
If you have buildup and dandruff-related hair issues, we recommend argan oil. Rich in vitamins A, C, E, linolenic acid, tocopherols, polyphenols, and antioxidants, argan oil helps reduce inflammation and an itchy scalp to treat dandruff and psoriasis. It is a great antioxidant that nourishes and conditions the hair and reduces split ends and hair breakage. It is used in hair sprays as well because it works well for controlling frizz.
Castor oil can help reduce hair fall and hair thinning and aids in hair growth. It is rich in mono-saturated acids that can help prevent dryness by locking moisture in your hair. When you apply it to your scalp, the ricinoleic acid present in castor oil not only stimulates blood circulation but also helps provide more oxygen and nutrients to your hair, further stimulating hair growth.
Dandruff can prevent your hair from growing as it does not allow the hair to get enough proteins. If dandruff is your major concern, you can try tea tree oil. It has anti-inflammatory, antibacterial, and antifungal properties, which help treat dandruff, infections, and seborrheic dermatitis.
When looking for the best oils for hair growth and thickness, it is best to assess your hair type, scalp, identify any hair and scalp conditions or infections, and weather conditions in your area before deciding which oil to buy. We recommend you do a patch test by applying the oil behind your ear before you apply it to your scalp. Just like our body needs proper nourishment to grow and stay healthy, our hair is at its best when the scalp gets the nutrients it needs to boost hair growth. Pick one of the best hair oils, and you'll see how impressive the transformation of your hair from dull, thin, and lifeless to thick, shiny, and full of life can be.
Why Trust StyleCraze?
Kirtana Divakar, the author, has a deep interest in everything hair care. She knows that one of the best ways to rejuvenate your tresses is by oiling them regularly. But if you're wondering which are the best oils to use for your hair, she's got your back. She perused far and wide on the internet, researching and studying many oils and their reviews. She settled on these products based on their hair care benefits like moisturizing and smoothing effects, ingredients, and more.
Frequently Asked Questions
Does oil help grow hair?
Yes, it does. It increases blood flow to the follicles when you massage it onto your scalp, which stimulates hair growth.
Does oil make your hair stronger?
Yes. Oil can nourish your hair follicles, give them the nutrients they need, and strengthen them.
Does oil help in improving hair thickness?
Yes, as per several scientific studies, it restores the lost proteins in your hair to combat the thinning of the hair.
Is overnight oiling good for hair?
Overnight oiling is just as effective as oiling the hair several minutes before washing it. However, it may sometimes cause some skin issues if you have sensitive skin.
Is castor oil really good for hair growth?
Castor oil is proven to be one of the best oils for promoting hair growth. It does so by moisturizing the hair and improving blood circulation to the scalp.
Can castor oil be used on your hair every day?
It is recommended to apply and massage castor oil on the scalp once or twice a week. If used daily, it may cause buildup.
Recommended Articles