15 Best Onion Oils For Hair Growth In India We are all aware of the effective results of a regular oiling and massaging hair routine. Olive oil and coconut oil are popular alternatives we have been using for ages. But how about onion oil? Have you ever tried it for your hair? Many claim it is effective for boosting hair health.
Onion is rich in sulfur, which is found in the amino acids of onion extracts or oil. Sulfur is a part of keratin (the hair protein) that helps regenerate scalp cells and promote hair growth. So, scroll through our list of the 15 best onion oils for hair growth available in India and find out what suits you the best.
15 Best Onion Oils For Hair Growth Available In India
The WOW Skin Science onion oil is formulated with 100% cold-pressed botanical oils that control hair fall, tame frizz, and promote hair growth. It makes the hair silky and strong while vitamins A, B, and E nourish the scalp. The oil is rich in antioxidants, essential fatty acids, and omega-6 that protect the hair. Minerals like zinc and copper improve hair vitality. Olive oil and coconut oil provide the hair with hydration and reverse heat damage. This fast-absorbing oil keeps the scalp moisturized and maximizes hair health.
Key Ingredients: Onion black seed oil, jojoba, olive oil, coconut oil, almond and castor oils
Pros
Mineral oil-free
Silicone-free
Synthetic fragrance-free
Cons
None
The Mamaearth Onion Hair Oil Contains redensyl that helps reduce hair fall and boosts hair growth. The goodness of nourishing oils like sunflower, amla, hibiscus etc. strengthens the roots. Bhringraj is rich in vitamin D and provides nutrition to the hair. This onion hair oil increases hair density and boosts overall hair health. It is hypoallergenic oil and contains natural bioactives that make the hair shiny and silky.
Key Ingredients: Onion seed oil, sunflower oil, amla, hibiscus oil, almond oil, and bhringraj oil
Pros
Hypoallergenic
Sulfate-free
Paraben-free
SLS-free
Mineral oil-free
Petroleum-free
Synthetic color-free
Cons
Luxura Sciences brings you an organic onion oil infused with the good properties of 14 essential oils. The oil is a complete hair treatment with argan, bhringraj, sesame, castor, hibiscus, amla, olive, and almond oils, and other 100% cold-pressed oils. This onion oil boosts hair growth and vitality and gives your mane a refreshed shine. It is also rich in vitamins, minerals, proteins, and antioxidants that bring strength and silkiness to the hair and nourish and protect it from damage. This oil is suitable for all hair types. It tames uncontrollable hair and reduces dandruff and breakage. It provides the roots and scalp with nourishment and revitalizes new life into the hair. The hair remains moisturized and hydrated with this hair oil.
Key Ingredients: Onion oil, hibiscus oil, Moroccan argan oil, Jamaican castor oil, amla, coconut oil, tea tree oil, and neem oil
Pros
Artificial fragrance-free
Chemical-free
Cons
The Soulflower Herbal Onion Hair Oil is a blend of 20 essential oils and extracts. The oil is enriched with natural ratanjot extract and henna oil that act as nourishing agents and conditioners for the hair. The natural onion extracts, moringa, neem oil, hibiscus, and tamanu seed oil provide smoothness and shine to the hair. The vitamin E and castor oil create a protective cover on each hair strand. The blend of these ingredients provide fatty acids to the scalp and impart fresh strength to the hair follicles. The oil is easy to absorb and offers a sulfur keratin treatment rich in amino acids and cysteine. It helps curb hair fall, dandruff, and premature hair graying.
Key Ingredients: Amla oil, almond oil, sesame oil, castor and olive, and sulfur-keratin
Pros
Cons
Effective for a short time
The Indie Earth brings you a hair loss treatment in their Red Onion Hair Growth Oil. The oil is infused with the goodness of rosemary, argan, jojoba, and black onion seed oils. The sulfur-rich ingredients provide keratin treatment to the hair and make the hair stronger and healthier. This oil also promotes collagen production that helps reduce split ends and breakage by binding the hair follicles. It does not contain any harsh chemicals that may cause dryness and dandruff. The oil is safe for color-treated hair.
Key Ingredients: Red onion extract, Arabian oud extract oil, sunflower oil, vitamin e, argan oil, jojoba oil, amla extracts, hibiscus extract, neem oil, bhringraj, jatamansi, and shea butter
Pros
Mineral oil-free
Paraben-free
Vegan
SLS-free
Cruelty-free
Cons
The Trycone Onion Oil is formulated with a blend of oils that promote hair growth, strengthen the roots, and make it voluminous and shiny. This oil is enriched with antibacterial, anti-inflammatory, and antiseptic properties that fights dandruff, nourishes hair follicles, and restores nutrients. Red onion infused in this hair oil prevents premature graying, controls hair fall, and stimulates new growth. Bhringraj increases blood circulation and treats scalp infection, while rose oil cleans the follicles and eases stress, and anxiety.
Key Ingredients: Red onion oil, Bhringraj, and Rose oil
Pros
Paraben-free
Mineral oil-free
Sulfate-free
Cruelty-free
Vegan
Cons
May not work for everyone
Honest Choice Onion Hair Oil helps repair and nourish the hair. It promotes hair growth by activating the dormant hair cells and tissues. The nourishing ingredients of this oil blend helps control hair fall and breakage while making hair stronger, healthier, and more lustrous. It revives dull scalp and reduces dryness, dandruff, and other scalp infections. The leave-in formula strengthens the roots and prevents early hair graying. The sulfur in the onion extracts promotes keratin production that adds volume and growth to hair. It is a gentle formula that tackles scalp issues like inflammation, flaking, and skin sensitivity.
Key Ingredients: Red onion oil, argan oil, castor oil, tea tree oil, and vitamin E
Pros
Sulfate-free
Paraben-free
Mineral oil-free
Petroleum-free
Synthetic color-free
Gluten-free
Cruelty-free
Cons
None
The Aegte Organic Onion Hair Oil is a rare combination of red onion extract with essential oils along with shea butter and fenugreek seeds. The large array of ingredients work together to provide improved hair elasticity, softness, and hydration to the scalp. Fenugreek seeds in the formula contain mucilage that allows easy detangling of the hair. Bhringraj is an anti-inflammatory ingredient that reduces dandruff and scalp irritation, promoting hair growth. Onion oil and camphor nourish the scalp with improved blood circulation while the vitamins and minerals in jojoba, rose, and sandalwood oils nourish the hair and prevent hair fall and split ends. This organic, therapeutic oil helps volumize hair and stimulates better hair growth. It is also suitable for all hair types.
Key Ingredients: Red onion extract, fenugreek seeds, rosemary, camphor, argan oil, bhringraj, castor oil, coconut oil, and vitamin E
Pros
Non-sticky
Fragrance-free
Vegan
Chemical-free
Cruelty-free
Cons
Himalayan Organics presents the onion hair oil that is a potent combination of essential oils and botanical extracts. It controls hair fall and thinning and improves hair growth. The 30 rich essential ingredients nourish the scalp, increase blood circulation, and stimulate the hair follicles. The oil blend provides intense nourishment to the scalp and makes the hair healthy and lustrous while it keeps the scalp free of infections.
Key Ingredients: Flaxseed oil, onion extract, olive oil, aloe vera, bhringraj oil, ginger oil, grapeseed oil, and almond oil
Pros
Chemical-free
Sulfate-free
Hypoallergenic
Silicone-free
Mineral oil-free
Cons
The Aadidev Onion Hair Oil is an Ayurvedic formula for good hair health. It is enriched with 15 essential herbal oils, peppermint, flax seeds, and pure onion oil. It replenishes the natural moisture and hydration content of the hair, repairing hair damage and breakage. The natural vitamins and omega-3 fatty acids in these ingredients provide nourishment to the hair follicles and add strength to the hair. The proteins and antioxidants in this formula add volume and shine while the anti-bacterial properties keep the scalp free of infections. This Ayurvedic, non-sticky, natural formula offers you healthy, shiny, and lustrous hair.
Key Ingredients: Onion, flax seeds, peppermint, neem, lavender, brahmi, bhringraj, ginseng, reetha, shikakai, castor, and thyme
Pros
Paraben-free
Silicone-free
Gluten-free
DEA/MEA-free
SLS-free
Cons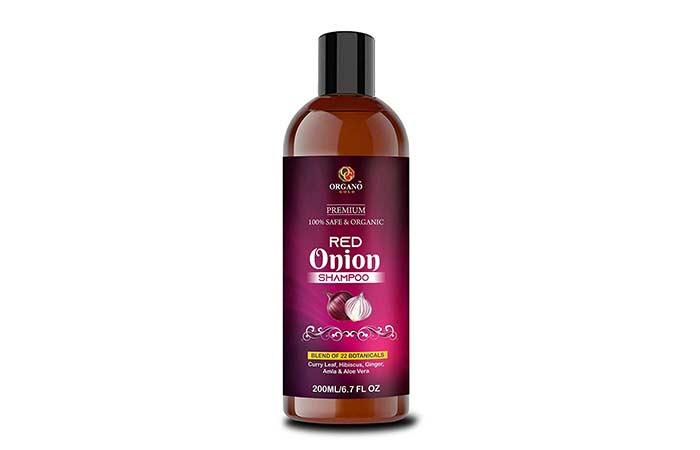 The Organo Oil Red Onion Oil is a sulfur-rich formula that promotes healthy hair growth. It is infused with red onion, keratin, collagen that produces healthy skin cells, aids in hair growth, and makes hair thick and strong. As onion oil is rich in sulfur, it minimizes breakage, split ends, and hair thinning. It fights dandruff, treats infections, and reduces hair fall, making hair healthy.
Key Ingredients: Onion Oil, Keratin, Black Seed Oil, Argan Oil, Sandalwood Oil, Rose Oil, Collagen
Pros
Suitable for all hair types
Paraben-free
Sulfate-free
Unisex
Grease-free
Non-sticky
Cons
The Red Onion Hair Oil from Khadi Herbal helps control hair fall and increases hair vitality. This oil is carefully crafted with high-quality ingredients and offers optimum nourishment to the scalp. The anti-dandruff oil is a lightweight, non-greasy formula that tames flyaways and makes the hair silky smooth. With regular use, this oil makes hair strong and dense in just three weeks. The blend of essential oils provides the ultimate nutrition to the scalp and hair.
Key Ingredients: Moroccan argan oil, jamaican castor oil, jojoba oil, olive oil, sweet almond oil, black seed oil, coconut oil, and rosemary essential oil
Pros
Color-safe
Sulfate-free
Phosphate-free
Silicone-free
Paraben-free
Cons
The Bella Vita Onion Hair Oil is an organic formula enriched with herbs, vitamins, and real coffee beans. It contains onion, argan, hibiscus, and bhringraj that help curb hair graying, hair fall, and dandruff. They also provide hair nourishment. The oil helps volumize the hair and reduce breakage. The natural sulfur content in this blend strengthens and balances the scalp, optimizing hair growth. The blend of natural ingredients makes hair silky, shiny, and smooth. The oil controls frizz and flyaways and acts as a leave-in conditioner for the hair.
Key ingredients: Coffee, almond oil, onion oil, and argan oil
Pros
Chemical-free
Cruelty-free
Cons
None
Saan Life Science brings you onion hair oil enriched with botanical ingredients like onion oil, hibiscus oil, Moroccan argan oil, Jamaican castor oil, almond oil, etc. that strengthen hair from within. This hair oil promotes fresh hair growth. This oil has an anti-dandruff, anti-inflammatory, and antiseptic formula. It nurtures each follicle and stops hair breakage and thinning, restoring hair health. This leave-in formula keeps the hair moisturized and non-greasy, protecting it from heat and pollution. Vitamins A, B2, B6, and E improve nutrient absorption while copper and zinc improve hair vitality.
Key Ingredients: Almond oil, jojoba oil, castor oil, coconut oil, olive oil, and onion oil
Pros
Chemical-free
Anti-bacterial
Silicone-free
Mineral oil-free
Paraben-free
Cons
The Khadi Natural Red Onion Oil utilizes the goodness of sulfur in the onion amino acids. It is a component of keratin that helps in making hair stronger. It reduces hair loss and enhances healthy hair growth. The oil promotes collagen synthesis that promotes cell health. This 100% pure hair oil reduces scalp issues like dandruff and scalp infections. It also minimizes hair fall, thinning, and breakage.
Key Ingredients: Red onion oil
Pros
100% natural
Paraben-free
Anti-bacterial
Antiseptic
Cons
None
These are the top onion oils for hair. But how exactly do these oils promote hair growth? The following section can give you some idea.
Benefits Of Onion Oil For Hair
Anecdotal evidence suggests that onion oil may help treat patchy baldness with regular use. It could also offer the following benefits:
Onion oil contains antioxidants that help optimize the hair growth cycle and prevent hair fall.
The oil nourishes the hair follicles and helps restore lost scalp nutrients.
It is rich in sulfur, which effectively fights hair breakage, split ends, and hair thinning.
It is packed with potent anti-bacterial properties that help fight scalp infections.
It reverses the effects of premature graying.
It maintains the pH levels of your hair and scalp.
It improves the blood circulation in your scalp, ensuring thicker and stronger hair growth.
It can be used as a hair moisturizer as it acts as a natural conditioner that prevents dryness and frizz.
It adds intense shine to each hair strand, making your hair look glossy.
It strengthens the roots and adds volume to your hair.
Now that you know about the many benefits of using onion oil, here are a few factors to keep in mind before making a purchase.
Onion Oils For Hair Growth – A Buying Guide
Hair Type: Choosing a hair oil that is suitable for your hair type is very important. Your hair could be dry, oily, frizzy, curly, or straight. Hence, check the ingredients list and buy a hair oil that is suitable for your hair. For dry hair, you may choose onion oil that also contains avocado oil, almond oil, and olive oil. For dandruff, choose onion oil that also contains coconut, almond, and sunflower oils.
Your Hair Regime: It is best to figure out your hair regime and buy a hair oil that fits into it without causing any side effects. Certain hair oils can cause allergic reactions if they do not suit your skin type. Do a small patch test or check the ingredients before investing in onion oil.
Your Scalp Needs: Your main motive should be to provide nourishment to your scalp. Choosing the wrong oil can cause scalp issues, including dandruff and itching. Keep your scalp health in mind before choosing your hair oil.
Your Hair Texture: This factor plays an essential part in determining what type of hair oil you must buy. If you have a thin hair texture, oil that can add volume to your hair could be ideal. Thick hair texture means you should go for oil that helps maintain the thickness.
There is no doubt that onion oil is highly beneficial for your hair. However, you can boost its results by applying it in a proper manner. Check the step-by-step guide to applying onion oil in the next section.
How To Apply Onion Oil
Step 1: Prepare Your Hair
Comb your hair thoroughly to remove all knots and tangles. You can apply oil both to dirty and clean hair.
Step 2: Section Your Hair
Divide your hair right down to the middle of your scalp and again from left to right. This will make it easier for you to apply the oil.
Step 3: Treat Your Roots And Hair
Take one tablespoon of the oil in your palm, rub it between your hands, and run your fingers through the length of your hair. Leave the oil in for a couple of hours before washing it out with a mild shampoo.
Though onion oil is great for your hair, you also need to be aware of its potential side effects. Check them out below.
Side Effects Of Onion Oil
Anecdotal evidence suggests that onions add tamas (low energy) to your body. This is why many people avoid using onion daily, be it in food or for other purposes. Another major downside to onions is their pungent smell, which does not fade even hours after application. After applying onion hair oil, you need to wash your hair and scalp at least two times to get rid of the smell. However, if the oil sits well with you, proceed to use it as instructed.
Long and lustrous hair looks attractive, and it transforms your overall look. But pollution, hair styling tools, and artificial hair colors may sometimes make the hair thinner or reduce hair growth. To remedy that, you need oils formulated with magical ingredients. One such magical hair oil is onion oil. Onion oil is widely used to boost hair growth. The best onion oils regenerate the scalp cells, boost hair growth, and improve hair vitality. In addition, they give all these benefits without the pungent onion scent. Read the reviews above well to find your best onion hair oil.
Frequently Asked Questions
Can I use onion hair oil every day?
Yes. But be aware of the pungent smell it leaves behind. Usually, applying it three times a week should suffice.
Can I leave onion oil on my hair overnight?
Yes, but make sure to do so just three times a week in the recommended quantity.
How can I get rid of the odor after applying onion oil to my hair?
Use the oil in the recommended quantity and for the suggested time period. If the smell still persists, wash your hair with a clarifying shampoo.
Recommended Articles
The following two tabs change content below.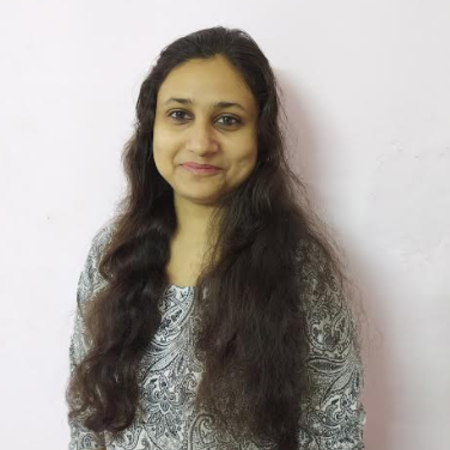 Shiboli has a master's degree in English literature from The English and Foreign Languages University, Hyderabad, and is a certified...
more