10 Best Remington Hair Straighteners Available in India 2023
No more bad hair days with budget-friendly flat irons that work on every hair type.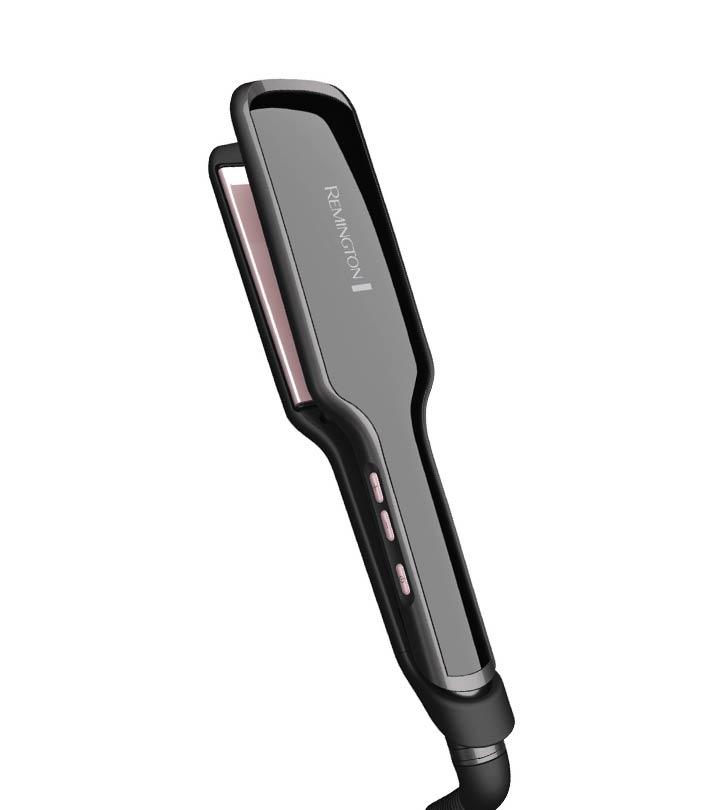 Straightening hair is not just a hair styling process for us girls. It's almost a religious ritual that needs to be followed meticulously and only with the best of tools. And since it requires heat application that could potentially damage your hair, the straightener you use cannot be picked out casually. Only the flat iron should be touching your hair and, in India, that has to be Remington hair products. Remington creates top-of-the-line hair straighteners that not only give you the sleekest, straightest hair but are also reasonably priced. So, here we have compiled a list of the top 15 Remington hair straighteners that you can order right away!

Best Remington Hair Straighteners
If you're looking for a straightener that you can use when you are in a hurry in the morning, then Remington S1005 Hair Straightener will be perfect for you as it takes just 30 seconds to heat up. Its plates are coated with ceramic and Teflon that heats up evenly and glide smoothly down your hair. It also has an LED display that indicates the temperature that goes from 150 to 230 degrees.
Pros
Plate lock design that makes it easy to store and travel-friendly.
Lightweight
Automatic shut off
Hair remains straight until next wash
Cons
Emits burnt hair smell when used on high heat setting
2. Remington S3500 Hair Straightener
Remington S3500 Hair Straightener is for anyone who is looking for an ergonomically designed tool that is easy to use. Its anti-static ceramic coated plates give you sleek smooth hair without damaging it too much. This straightener reaches a top heat of 230 degrees in flat 15 seconds.
Pros
Heats up quickly
Auto shut off in 1 minute
Plate lock design that makes it easy to store and travel-friendly
Adds shine to your hair
Heat-resistant pouch included in the box
Cons
Does not reduce frizz effectively
Treat your hair to the most luxurious flat iron with the Remington S9500 Hair Straightener ceramic plates infused with pearl. This Remington pearl straightener gives it eight times smoother glide than the other straighteners. But what puts this Remington hair iron above the curve is that it heats up to a whopping 450 degrees Celsius in just 10 seconds.
Pros
Does not dry out hair
Easy to control temperature settings
Comes with a heat resistant pouch
Heats up in 10 seconds
Cons
Can make your hair greasy
The lowest temperature is 300 degrees
Price at the time of publication: ₹24.99
This is the best among the Remington hair straighteners as it suits people with delicate hair as it is a lightweight straightener. The Remington S1450 Hair Straightener has super slim floating plates that are gentle on your hair. But, more importantly, it only goes up to a maximum heat of 215 degrees.
Pros
Heats up quickly
Stays hot for a long time
Swivel cord that does not hinder your movement
The outer body does not heat up too much
Cons
Does not have any temperature control
The Remington S8590 E51 Keratin Therapy Pro Hair Straightener is a top-notch flat iron that has some amazing built-in features. Designed with Keratin Protective Technology, this Remington pro straightener has keratin ceramic-coated plates that prevent hair breakage and damage. It also comes with a heat protection sensor that adjusts the temperature of the iron according to your hair's moisture levels.
Pros
Heats up in 15 seconds
Lightweight
Does not dry out or damage hair
Cons
Emits burnt hair smell when used on high heat
If your primary aim in straightening your hair is to control your frizz, then the Remington S8500 E51 Shine Therapy Hair Straightener is the perfect choice for you. Its plates are infused with Frizz Resistant Micro Conditioners that tame your frizz while making your hair silky and shiny.
Pros
9 temperature settings
Controls frizz
Adds shine to your hair
Cons
Auto shut off time is 60 minutes, which is too long
Now this one is for all the thick or kinky curly-haired ladies out there. The Remington S5500 Digital Anti Static 1 Inch Ceramic Hair Straightener is a super high heat iron that can heat up to 410 degrees in just 30 seconds. Its 1 inch long ceramic plates are also infused with anti-static technology that ensures you get the straightest, most frizz-free hair.
Pros
Heats up quickly
Great anti-static technology
Auto shut off system
Cons
Can get too hot too quickly
Can leave dents in your hair
Price at the time of publication: ₹19.84
If a budget-friendly option is what you are looking for, then that is exactly what you will get with the Remington S2002 Hair Straightener. As with many Remington straighteners, this one too has ceramic plates coated with Teflon that get evenly heated and prevent your hair from getting burnt.
Pros
Reasonably priced
Fully rotating swivel cord that provides ease of movement
Heat stand
Customizable temperature setting
Cons
No display for temperature setting
The Remington S9620 Hair Straightener gives nothing but the sleekest and straightest of hair. And why wouldn't it? Its 2-inch wide ceramic coated plates are infused with SILK proteins that work to glide down your hair effortlessly and give you salon-style silky straight hair. It also owes its professional performance to the fact that it heats up to 455 degrees.
Pros
Heats up in 20 seconds
2 inch wide plates mean you can straighten your hair faster
Digital temperature display
Eliminates frizz
Cons
The paddles don't clasp together tightly
The Remington S9600 is another silk press straightener that heats up to a mind-boggling 455 degrees. It heats up in 20 seconds and has a temperature control lock mechanism that prevents it from getting overheated.
Pros
Heats up quickly
Safe to be used on fine hair
Wide range of temperature settings
Memory setting feature that remembers your last setting
Cons
Auto shut off time is 60 minutes, which is too long
How To Use Hair Straighteners
Learning how to use hair straighteners is quite simple actually. All you require is some practice and a little bit of patience to get the silky straight hair of your dreams.
What You Need
Hairbrush
Heat protectant
Straightening iron
Smoothening serum
What To Do
Brush out all the knots and tangles from your washed, dried hair.
Apply some heat protectant all over your hair.
Picking up 2-inch sections of hair at a time, glide the straightening iron from the roots right till the ends. Straighten all your hair in this manner.
Finish off by applying some smoothening serum to your hair to remove any frizz.
So there you have it, ladies! Our rundown of the best Remington hair straighteners wet 2 Straight that you can get your hands on in India! Comment below to let us know which one you've picked out for yourself.
Recommended: