10 Best Silk Pillowcases For Hair And Skin: Our Top Picks Of 2022
Protect your delicate hair strands even while you sleep with the right bedding essentials.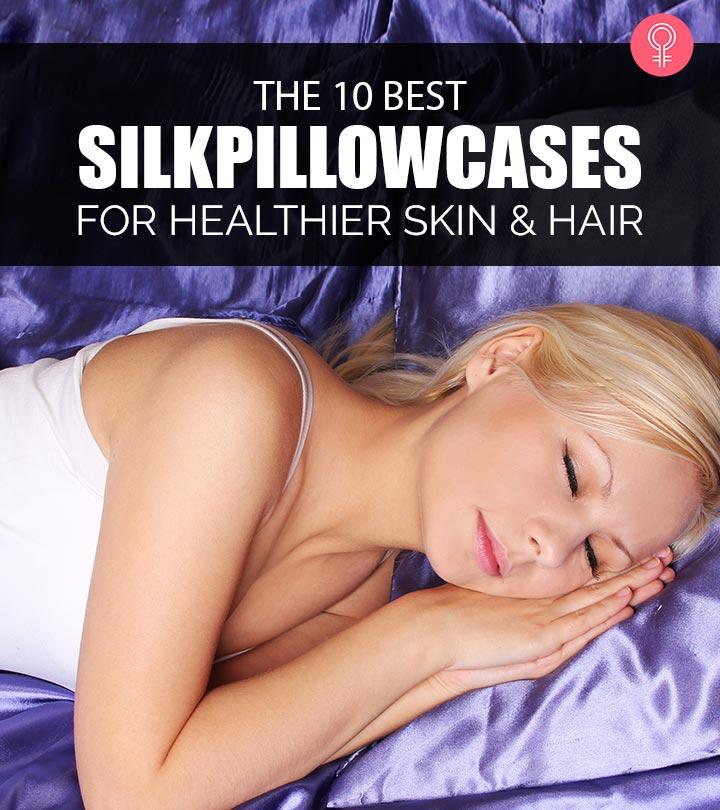 If you have long, fine hair that gets tangled up and knotted in your sleep, you need to throw out your old pillowcase and get the best silk pillowcase for hair that you can afford. That's because the friction from cotton or other similar fabrics can ruffle up your hair (and skin), giving you frizzy and knotty morning hair. Silk can also help to retain the natural oils and moisture in your hair and skin, unlike rougher fabrics.
Yes, even we were surprised to find that pillowcases can influence how your hair looks and feels every day.
Most importantly, your hair and skin cells get rejuvenated every night, so it is essential to give them the best and uninterrupted recovery time instead of causing more damage. So, if you are ready to pick the perfect silk pillowcase for hair, check out our list of the top 10 options available online.
Top 10 Silk Pillowcases To Protect Your Skin And Hair
Bedsure Satin Pillowcase is perfect for both hair and skin. It minimizes hair breakage and prevents facial sleep lines. This non-absorbent satin pillowcase does not create friction and helps maintain the natural moisture levels of your hair and skin. This luxury pillowcase will protect your skin and hair in every season.
Bedsure Satin Pillowcase is made of 100% polyester satin that is sturdy and durable. It is perfect for curly hair as it keeps tangles and frizz away.
This pillowcase has a smooth texture that protects your skin from creasing. It helps keep your skin soft and moisturized and prevents your eyelashes from creasing by reducing friction.
Its envelope closure design prevents your pillow from falling out. The zipper-free design makes it easy for you to maintain the pillowcase. Here's a video featuring a detailed review of the product.
Pros
Premium quality material
Breathable fabric
Machine-washable
Stain-resistant
Available in multiple colors
Cons
None
SLPBaby Silk Pillowcase is made of top-grade pure silk that creates a blissful sleeping environment for you. It reduces friction between your hair and skin and the pillowcase, which is helpful for people with curly hair and sensitive skin. This pillowcase is made of the finest 100% pure silk fabric without any chemical additives. Each pillowcase is homemade with top-quality craftsmanship.
Pros
Hypoallergenic
Natural and breathable fabric
Machine-washable
Suitable for fragile hair
Cons
None
Ravmix Silk Pillowcase feels incredibly soft against your skin. It is super smooth and protects all hair types from breakage, friction, and frizz. It helps your skin maintain its natural moisture while preventing dryness and wrinkles. This pillowcase is a great choice for warmer seasons or for anyone who sweats a lot. Overall, it is the perfect product to end your day. This video will help you understand the product better.
Pros
Sturdy and durable material
Machine-washable
Available in multiple colors
Great gifting option
Cons
None
Zimasilk 100% Mulberry Silk Pillowcase is crafted from 19 momme pure mulberry silk. It is organic, hypoallergenic, and lightweight. It is designed with a hidden zipper closure. It is available in different sizes in multiple colors. The exquisite craftsmanship and the neat stitches make this pillowcase elegant and durable. It prevents sleep lines and preserves the definition of curls. It allows you to sleep comfortably daily. Check out the detailed review of the product in this video.
Pros
Easy to wash and dry
Hygroscopicity heat resistance
Anti-static and anti-wrinkle material
Ideal for gifting
Cons
None
Yanibest Silk Pillowcase is made from natural mulberry silk. It contains amino acids that help nourish your skin while you sleep comfortably. It does not absorb moisture from your skin, thus preventing it from drying out. That is why your skin is hydrated and plump when you wake up. The rejuvenated skin cells reduce the appearance of fine lines and wrinkles.
This pillow also helps rejuvenate hair follicles, keeping them soft and tangle-free. It also reduces hair breakage. It works exceptionally well for people with frizzy, wavy, curly, and dry hair.
Pros
Durable craftsmanship
Invisible zipper with neat snitches
Wrinkle-free
Easy to wash
Cons
None
Love's Cabin Silk Satin Pillowcase is made of environmentally-friendly fabric. It minimizes hair breakage and reduces frizz. It prevents facial sleep lines and protects sensitive skin from abrasive friction. It also protects your hair from tangling. Satin is suitable for all seasons as it stays cool in the summer and warm during the winter. This pillowcase is made with high-quality polyester fabric for optimal softness and easy maintenance. It is perfect for curly and dry hair.
Pros
Fade-resistant material
Envelope closure
Available in multiple colors
Suitable for extensive wash
Cons
None
Alaska Bear's all-natural, smooth, and cool-to-the-touch pillowcase contributes to your beauty sleep with its luxurious silk material. It is perfect for all skin and hair types. It is made of 100% organic, hypoallergenic, and breathable mulberry silk. It is a great bedhead-saver for healthy skin and hair. The pure mulberry silk contains natural protein fibers that help preserve the overall health of your hair and skin. This incredibly soft cloth reduces friction and prevents your hair from breaking. The hidden-zipper design provides comfort and a great fit.
Pros
Prevents skin creasing
Dermatologist-recommended
Suitable for all seasons
Perfect for gifting
Cons
None
Duerer Satin Pillowcase is made of high-quality polyester fabric. It is extremely soft and easy to maintain. If you have curly hair, this pillowcase will keep your mane less tangled by reducing frizz. It remains cool during the summer and warm in the winter. The no-zipper envelope design makes it simple and easy to use.
Pros
30-days satisfaction guarantee
Machine-washable
Durable
Available in multiple colors
Cons
None
Mulberry silk is also known as the "queen of silk." It is a special natural fiber that has moisture-absorption and moisture-release properties. It helps retain your skin's natural moisture levels. During the summer, this pillowcase dissipates sweat and heat quickly to make you feel cool. This pillowcase keeps its shape intact even after long use. Natural mulberry silk contains amino acids that help rejuvenate the molecules in your skin and hair to slow down the aging process. It also reduces static in your hair by reducing constant friction.
Pros
Made of non-toxic dyes
Highest-grade (6A) long-fiber mulberry silk
Stays cool, dry, and comfortable
Perfect for gifting
Cons
None
Colorado Home Co Silk Pillowcase is made from the highest grade of silk available out there. It is extremely comfortable and allows you to enjoy deep sleep. It comes in a gift box with rose detailing, making it a perfect gift for Mother's Day or Valentine's Day. It prevents hair breakage and allows your hair to glide effortlessly along the surface to reduce friction. If you have got a new haircut or a perm, this pillowcase will help preserve the styling.
This silk pillowcase helps retain the moisture in your skin. If you use any night serum or cream, it will not get rubbed off or absorbed by this pillowcase. It also helps prevent sleep lines and wrinkles. It allows your skin to rest and repair overnight. Besides these benefits, it also possesses natural temperature-regulating properties that improve your sleep.
Pros
Dermatologist-recommended
Hypoallergenic
Super soft texture
Suitable for people with permed hair
Cons
None
Why Trust StyleCraze?
The author, Pooja Karkala, is a hair care enthusiast who enjoys trying out new products, tools, and formulations. She has an in-depth knowledge of what product would benefit what hair types. She also knows which tools can help make your hair and skin look their best. That's why she has done her share of research and reviewed several customer feedbacks before curating this list of the best silk pillowcases for you. These help avoid friction and are gentle on your skin and hair while you load up on your beauty sleep.
Frequently Asked Questions
What type of pillowcase is best for skin and hair?
Silk pillowcases are the best for your skin. It is wrinkle-resistant, and its soft texture is gentle on dry and sensitive skin. It helps retain your skin's moisture and keeps it fresh and plump.
Silk and satin pillowcases are the best for your hair. They keep your tresses frizz-free and full of volume while you sleep. They allow the natural movement of your hair without creating knots. They also help reduce breakage and maintain the definition of your hair texture.
How often should you wash your silk pillowcase?
You should wash your silk pillowcase once every 3-7 days
Are cotton pillowcases bad for skin and hair?
Cotton pillowcases are good for acne-prone skin as they help absorb moisture and reduce sebum build-up. However, they can dry out combination and wrinkle-prone skin.
Similarly, if you have dry hair, cotton is not suitable for you as it absorbs the oils from your hair, turning it more dry and brittle.
How long do silk pillowcases last?
Your silk pillowcase can last for about 9-10 months.
Recommended Articles