19 Best Vitamin E Products For Hair
Revitalize and replenish your hair with these lightweight and safe vitamin E products.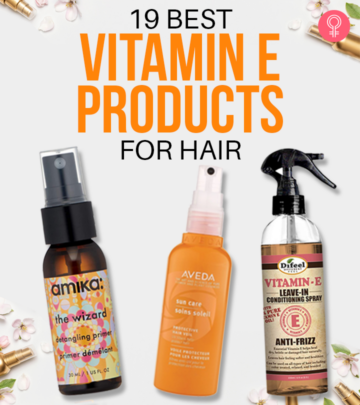 While vitamin E is probably one of the best nutrients for your hair, it only makes sense that you use the best vitamin E products for hair. This potent vitamin protects your hair from the sun's harmful radiation and protects it from damage and photoaging. It helps improve blood flow to your scalp and promotes rich hair growth. Available in a wide range of oils and serums, vitamin E hair products are easy to find. If you want to know which are the best ones for your hair, read our list now!
Vitamin E Benefits For Hair
Vitamin E is a fat-soluble antioxidant that has several hair care benefits. Although enough scientific evidence supporting the benefits of topical use of vitamin E for hair growth is lacking, anecdotal evidence claims that it:
Protects hair from damage and repairs damaged hair.
Improves blood circulation.
Regulates sebum production.
Maintains the scalp pH level.
Conditions the hair.
Reduces hair loss.
Now you know the benefits of vitamin E for hair, check out the 19 best vitamin E hair care products below.
Note: Check the dosage and concentration of vitamin E used in the products. Also, do a patch test to avoid allergic reactions or irritation.
19 Best Vitamin E Products For Hair
The Wizard Detangling Primer from amika is a weightless spray that improves hair manageability. It detangles the hair and reduces the blow drying time. This primer spray shields the hair from thermal and environmental damage while keeping it smooth, soft, and shiny.
It is formulated with sea buckthorn, avocado oil, and provitamin B5. Sea buckthorn is rich in vitamins A and C and essential fatty acids that nourish your hair. Avocado oil contains vitamin E that smoothens your hair and prevents free radical damage. Provitamin B5 improves hair resilience, prevents breakage, minimizes split ends, and fortifies and smoothens the hair. This spray also contains vitamins D and B6, amino acids, folic acid, and minerals for further nourishment.
Pros
Color-safe
Safe for chemically-treated hair
Cruelty-free
Vegetarian
Paraben-free
Artificial color-free
Petrochemical-free
Sodium chloride-free
Talc-free
Aluminum-free
Sulfate-free
Phthalate-free
Gluten-free
Mineral-oil
Triclosan-free
MIT/MCI-free
Coal tar-free
Hydroquinone-free
No formaldehyde-releasing agents
Cons
Contains added fragrance and coumarin (irritant)
The AVEDA Sun Care Protective Hair Veil minimizes hair color damage and dryness. It coats the hair with an invisible film, protecting it from UV rays for up to 16 hours.
This product is formulated with green tea extract, certified organic flower seed oils, vitamin E, shea butter, coconut, and palm oils. Vitamin E prevents free radical damage, coconut and palm oils condition the hair, and shea butter provides intense moisturization. The product has a delicate fragrance of neroli, ylang-ylang, and wildcrafted citrus.
Pros
16-hour UV protection
Certified organic ingredients
Paraben-free
Sulfate-free
Cons
Contains alcohol and added fragrance
The Botanical Green Care Hair Scalp Stimulating Hair Loss Treatment Oil contains clinically proven ingredients to minimize hair loss and stimulate dormant hair follicles. The product is formulated with saw palmetto that stimulates hair follicles and cayenne to improve blood circulation in the scalp, promoting hair growth.
It also contains a proprietary blend of advanced DHT blockers to prevent hair loss, organic extracts, essential nutrients, omega-3 oils, fatty acids, and vitamins. The vitamins A and E and provitamin B5 in the formula boost hair growth and improve hair thickness.
Pros
Contains organic extracts
Paraben-free
Silicone-free
Sulfate-free
Drug-free
Doctor-approved
Alcohol-free
Preservative-free
Cons
May cause allergic reactions
May not work for some hair types
The Myrtle Grow by Releaf Oils comes with a bottle of vitamin E oil. The combo is beneficial for treating hair loss caused by alopecia. Myrtle Grow is formulated with cooked myrtle leaves, natural essential oils, and potent flower extracts to stimulate hair growth and prevent hair thinning.
The vitamin E oil contains a blend of essential oils and flower extracts that promote hair growth, prevent oxidative damage, and reduce hair thinning and balding. This combination treatment revitalizes, replenishes, and strengthens the hair. It is suitable for adults and children.
Pros
Minimizes alopecia
Child-safe
Contain herbal extracts
Cons
None
The Difeel Vitamin E Leave-In Conditioning Spray contains 100% pure vitamin E oil that repairs dry, brittle, and damaged hair. It controls frizz to keep the hair soft and healthy. The spray is color-safe and can be used on relaxed and braided hair.
Pros
Frizz control
Color-safe
Safe for relaxed hair
Unisex
Cons
The Difeel 99% Natural Vitamin E Oil is an exclusive blend of herbs that replenish the hair and stimulate the scalp and skin. It contains vitamin E that improves oxygen intake and blood circulation to the scalp to stimulate hair growth. This oil prevents protein loss and makes the hair thicker and healthier. It can be used as a deep conditioning treatment and is ideal for thinning hair.
Pros
Petroleum-free
Alcohol-free
Mineral oil-free
Preservative-free
Cons
The Hairfinity Nourishing Botanical Oil is ideal for dry and normal hair types. It is formulated with 100% naturally derived ingredients like collagen, grapeseed, sweet almond, coconut, olive, jojoba, moringa, and apricot oils, and vitamin E. These ingredients increase hair shine, boost hair elasticity, reduce hair loss, and stimulate hair growth. It is safe for color-treated, keratin-treated, permed, natural, and curly hair. If you are an absolute beginner, this video review might be useful.
Note: The product contains cinnamon oil. Avoid it if you are allergic to cinnamon.
Pros
Color-safe
Safe for chemically treated hair
Paraben-free
Sulfate-free
Silicone-free
Phthalate-free
Mineral oil-free
Petroleum-free
Fragrance-free
100% naturally derived ingredients
Cons
The Bali Secret Hair Vitamin is formulated with argan oil, avocado, macadamia nut oils, vitamins A, C, E, and provitamin B5. The natural oils and vitamins repair, condition, and fortify the hair strands. This serum improves hair softness, manageability and provides long-lasting hydration to keep it nourished and healthy. It is an intensive moisturizing treatment and comes in small capsules that should be broken and applied on hair. The product is ideal for all hair types.
Pros
Silicone-free
Vegan
Cruelty-free
Travel-friendly
Cons
The Vitamin E Serum by Leven Rose is made of pure vitamin E extracted from natural wheat germ that helps fight free radical damage. It contains jojoba, sweet almond, argan, prickly pear cactus, sea buckthorn seed, avocado, apricot kernel, fractionated coconut, and rose essential oils. All these oils help manage issues like psoriasis, rosacea, dermatitis, and eczema on the skin and scalp. It provides deep conditioning and deep cleansing treatment to the scalp and also improves skin health.
Pros
Soy-free
Cruelty-free
Vegan-friendly
Chemical-free
Paraben-free
Alcohol-free
Filler-free
GMO-free
Cons
May cause allergic reactions
The tgin Miracle RepaiRx Strengthening Shampoo transforms the hair, making it soft, smooth, and manageable. It nourishes the hair cuticles, prevents split ends, and reduces hair breakage.
This shampoo has a lightweight formula containing rich black honey, tocopheryl acetate (a form of vitamin E), and moisturizing coconut oil to provide thorough cleaning without leaving any residue and drying the hair. The coconut oil in the formula softens and smoothes the hair cuticles, black honey repairs damaged hair and improves bounce and shine, while tocopheryl acetate prevents free radical damage.
Note: The product contains papaya extract that may cause latex allergy.
Pros
Paraben-free
Sulfate-free
Petroleum-free
Lanolin-free
Artificial color free
Lightweight formula
Non-greasy
No buildup
Cons
The Strengthen Daily Moisturizing Gro Oil from Dr. Miracles promotes hair growth. It is formulated with vitamins A, D, and E and avocado and aloe vera extracts. The vitamins strengthen and protect the scalp and hair, aloe vera soothes the scalp from dermatitis, and avocado deep-conditions the hair to enhance it and stimulate healthy hair growth.
Pros
Paraben-free
Sulfate-free
Reduces hair breakage
Cons
Contains mineral oil, added fragrance, and color
The Essy Naturals Hair Growth Oil is formulated with a nourishing formula that fortifies weakened or thinning hair. It makes the hair thicker, fuller, and healthier. This product contains castor oil, caffeine, rosemary oil, and biotin and helps reduce frizz and hair breakage.
Castor oil contains omega-6 fatty acids, minerals, proteins, and vitamin E. It has antibacterial and antifungal properties that improve scalp and hair health. Caffeine stimulates dormant hair follicles to induce hair growth. Rosemary cleanses the scalp and protects it from dandruff, and biotin promotes hair growth.
Pros
Paraben-free
Gluten-free
Sulfate-free
Parfum-free
Triclosan-free
Cruelty-free
Unisex
Frizz control
Ideal for weak or thinning hair
Cons
Might not work for some hair types
The OGX Healing + Vitamin E Conditioner is ideal for dry or damaged hair. It contains vitamin E that heals damaged hair, smooths it, and reduces split ends. The product reduces frizz and improves hair health without leaving any buildup on the scalp. It makes your hair appear full, smooth, curly, and bouncy. The gentle and lightweight formula is suitable for daily use.
Pros
Frizz control
Gentle formula
Lightweight
Unisex
Paraben-free
No buildup
Sulfate-free
Cons
Contains alcohol, added fragrance, and color
The OGX Healing + Vitamin E Shampoo cleanses the hair without any buildup. It is ideal for dry or damaged hair and is formulated with vitamin E that protects hair from oxidative damage. The shampoo smoothes the hair, prevents frizz, and reduces split ends. It leaves the scalp and hair fresh and clean without stripping it dry. This shampoo also improves hair strength, elasticity and enhances the structure of hair to define curls.
Pros
Frizz control
Unisex
Paraben-free
Sulfate-free
Cons
Contains EDTA, sodium chloride, and added fragrance and color
The Palmer's Coconut Oil Deep Conditioning Protein Pack is formulated with pure coconut oil, coconut milk, vitamin E, keratin, and silk protein. It is a concentrated conditioning treatment that penetrates deep into the hair to fortify, repair, and moisturize it. The product replenishes and repairs hair that has been damaged by styling, coloring, chemicals, or UV ray exposure. It strengthens hair follicles to stimulate hair growth and replenish protein loss.
Pros
Cruelty-free
Sulfate-free
Paraben-free
Eliminates protein loss
Cons
Contains alcohol and added fragrance
The Palmer's Conditioning Spray Oil is formulated with extra virgin olive oil, vitamins A, B, and E, Jamaican black castor oil, and antioxidants. These ingredients protect the hair from UV rays and environmental and free radical damage. The olive oil in the formula protects and moisturizes hair, while Jamaican black castor oil promotes hair growth and relieves dry and itchy scalp. Vitamin E protects hair from heat and photodamage and repairs hair damage.
Pros
Contain herbal ingredients
Paraben-free
Sulfate-free
Phthalate-free
Mineral oil-free
Dye-free
Gluten-free
Cons
Contains alcohol, coumarin, and added fragrance
The tgin Argan Replenishing Hair And Body Serum hydrates the hair and makes it smoother, softer, and healthier. It contains coconut oil that gently cleanses and fortifies hair, argan oil that reduces hair breakage, jojoba oil that moisturizes hair, and vitamin E that protects and repair hair damage. This serum contains hibiscus petal extracts for fragrance and can be used for twist outs, blow drying, curling, roller setting, hot oil, and overnight treatments.
Pros
Natural hibiscus fragrance
Lightweight
Non-greasy formula
Contain natural extracts
Cons
May not work on all hair types
The MyMiniJoy Vitamin E Oil contains 100% organic vitamin E extracted from natural plants. It is infused with cold-pressed argan and jojoba oils, grapeseed, and rose essential oils to boost scalp health and hair growth. This multipurpose oil rejuvenates and moisturizes the hair and scalp and can be used on the skin.
Pros
100% pesticide-free
GMO-free
Chemical-free
Additive-free
Preservative-free
Vegan
Organic ingredients
Cruelty-free
Gluten-free
Cons
May not work for all hair types
The Wet N Wavy Tangle-Free Vitamin E Leave-In Conditioner improves hair manageability and detangles even matted hair. It contains a special blend of emollients and conditioning agents fortified with vitamins A and E to improve elasticity, shine, and overall health and hair appearance.
The conditioner smoothes the hair for suitable weave and braid styling. It does not leave behind any buildup, enhances wave and curl definition, and eliminates split ends. This product soothes pulled roots and inflamed scalps caused by tight protective braid hairstyles and is suitable for synthetic hair.
Pros
Unisex
Detangling
Sulfate-free
Sodium-free
Petroleum-free
Cons
Hair loss and thinning are never easy to deal with. It takes time and constant care to repair. Apart from topically applying vitamin E, you can also try vitamin E supplementation, although it may take longer to show results. You can try any of the products from our list to improve your hair health.
Why Trust StyleCraze?
The author of this article, Shiboli Chakraborti, is a haircare enthusiast and a certified skincare coach. To help her readers purchase the best vitamin-E products for hair, she conducted extensive research and read many customer reviews. The insights helped her compile a list of them where you can find the products that provide the necessary nutrients to your hair. They also protect your mane from the harmful sun rays.
Recommended Articles