10 Best Wella Shampoos For Dry And Damaged Hair – 2020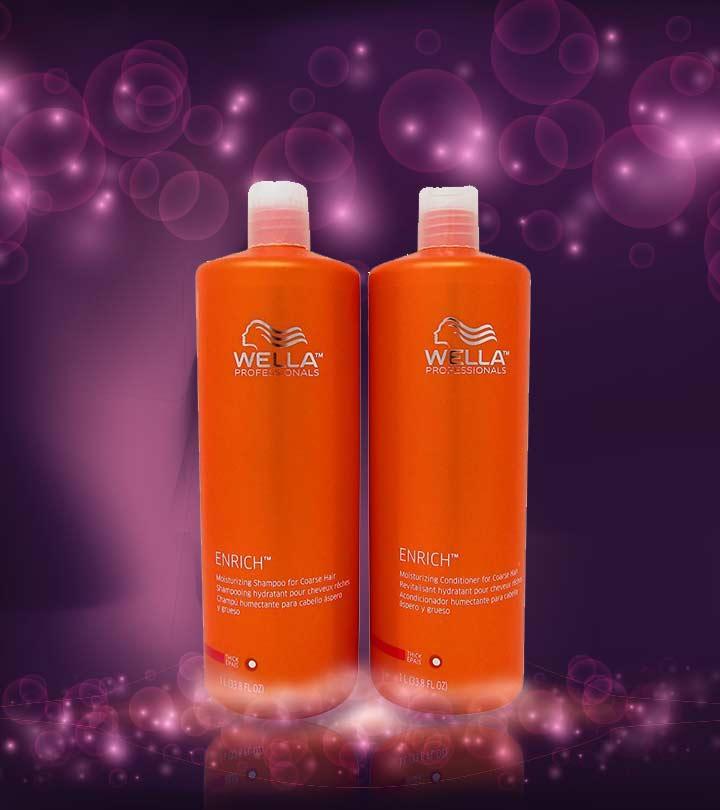 Dry and damaged hair can be the bane of anyone's existence. And anyone who has it is always on the quest for that one miracle shampoo that can infuse new life into their sad, limp tresses. And one company that gets it right with every product that it comes out with is Wella Professionals. Wella shampoos are trusted by women all over the world because they have been making quality hair products for over 130 years now. So if you're on the lookout for a Wella shampoo to pamper your hair with, look no further! Here, I have compiled a list of the top 10 Wella shampoos in the market right now that are aimed at a variety of hair issues. So, check them out!
Top Wella Shampoos For Dry And Damaged Hair
Wella Enrich Moisturizing shampoo is specially designed to combat dry and damaged hair. It is formulated with avocado oil, zein, and cashmere extracts that not only make your hair soft, silky and shiny but also smooth away tangles. Thus, it prevents your hair from breaking.
Pros
Delivers on its promise of making your hair soft and smooth
Smooth consistency that lathers well
Pleasant fragrance
Cons
A little more on the expensive side
Wella Elements Renewing Shampoo does exactly what it claims – renews your hair and infuses new life into it. This sulfate-free shampoo repairs damaged hair and nourishes it from within. It is also formulated with NuTREE complex and contains natural tree extracts that help provide maximum keratin protection.
Pros
Sulfate-free
Lathers well
Reduces frizz
Makes hair soft, shiny, and voluminous
Gives definition to curly hair
Cons
Wella Professionals Resist Strengthening Shampoo is formulated especially formulated for fine textured and vulnerable hair. It is enriched with Rooibos and Karite that protect the weakened surface of your hair but also prevent the signs of aging. Additionally, it energizes the scalp and refreshes your hair.
Pros
Leaves your hair feeling soft
Pleasant fragrance
Cleanses oily scalp
Good for dry hair
Cons
If you're on the lookout for a colour-safe shampoo then you definitely need to check out Wella Professional Brilliance Shampoo For Coloured Hair. It claims to be infused with diamond dust that enhances the radiance of your hair color and leave your hair looking super shiny. It also works well to smoothen down dry hair.
Pros
Protects your color
Good for dry, coarse hair
Lightweight
Small amount of shampoo goes a long way
Cons
Dandruff getting you down? Well, worry no more because Wella Professional Clean Anti Dandruff Shampoo is here to save the day. This professional anti-dandruff shampoo removes all visible dandruff flakes and refreshes and soothes your scalp with the help of the champagne extract that it is infused with.
Pros
Removes dandruff
Pleasant smell
Does not cause hair fall
Cons
Can make your hair dry and frizzy 
Repairing damaged hair and restoring it back to health has never been easier than with Wella Professional SP Repair Shampoo. It cleanses away daily impurities and repairs dry, damaged, and overprocessed hair. It also contains hydrolyzed keratin and wheat germ oil that smoothen the hair cuticles and reduce split ends.
Pros
Cleanses and moisturizes hair
Makes hair more manageable
Lathers well
A small amount of shampoo goes a long way
Cons
Does not cleanse oily scalps really well
Expensive
Wella Professionals Oil Reflections Luminous Shampoo is for anyone who wants super shiny and glossy hair. This light moisturizing shampoo contains camellia oil and white tea extract that deeply moisturize your hair and leave it looking luminous.
Pros
Cleanses hair without drying it out
Reduces frizz
Makes hair soft and smooth
Cons
Not effective on oily and fine textured hair
Contains sulfates
Wella SP Hydrate Shampoo is designed to provide intense moisture to normal and dry hair. Formulated with an Active Moisture Complex, this shampoo provides hydration to your hair while making it more manageable and easier to comb. Thus, you are left with softer and healthier hair.
Pros
Mild fragrance
Does not dry out your hair
Reduces frizz
A small amount of shampoo
Cons
Expensive, but a bottle lasts a long while
All you curly haired ladies, listen up because this one's especially for you. Formulated with an Active Cashmere Complex, Wella SP Smoothen Shampoo is the perfect shampoo to cleanse and control your unruly curly hair. Moreover, it smoothens coarse hair and calms down frizz.
Pros
Smoothens down rough, dry hair
Reduces frizz
Makes hair silky and soft
Cons
Wella Biotouch Nutri Care Shampoo comes in a range that caters to different hair colors. It is formulated with rich ingredients that add shine to your hair according to your natural hair color. It is also infused with vitamin E and cinnamon oil that make your hair look naturally healthy and beautiful.
Pros
Adds a luminous shine to your hair
Nourishes your hair and makes it soft
Cons
And that's that! Our round-up of the best Wella shampoos available on the market right now. Do check them out and comment below to let us know which ones you can't wait to try out!
Recommended Articles:
The following two tabs change content below.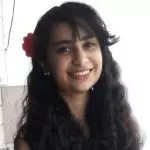 Latest posts by Arshiya Syeda (see all)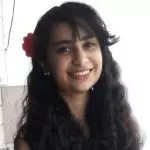 Arshiya Syeda
Arshiya Syeda is an editor and certified counselor. Ever the lover of the written word, she served on the editorial boards of her school and college newsletters. Writing articles on hairstyles, hair care, and nutrition helped her combine her love for reading, writing, and research. As an editor, she helps her team members deliver polished and meticulously researched content. Arshiya is fluent in English, Urdu, and Hindi and aims to become a multilinguist by learning German and teaching herself American Sign Language (ASL).