How To Dye Your Hair With Coffee: A Step-By-Step Guide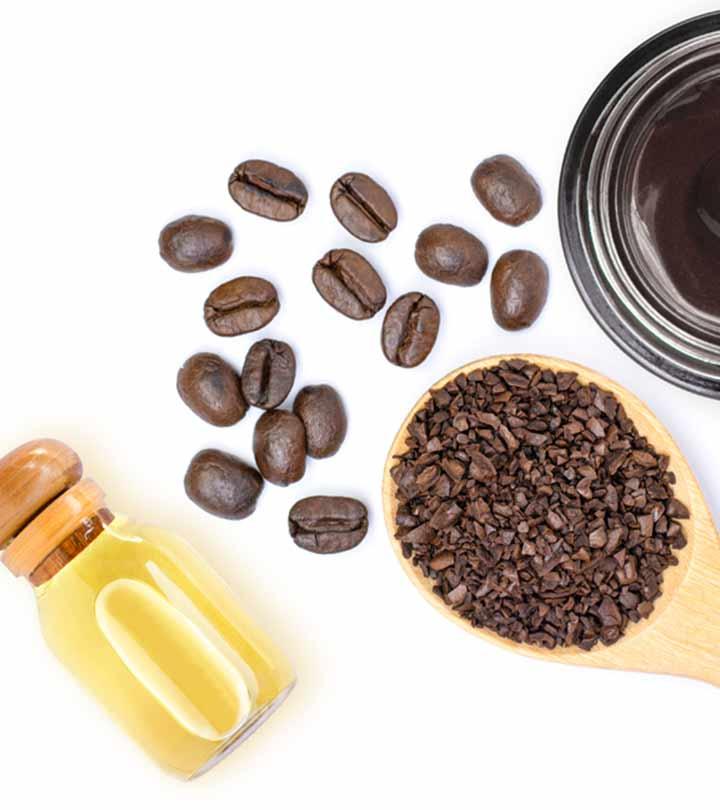 A hot cup of coffee is the perfect fix to fight the afternoon slump and get through the day. But did you know that coffee can do much more than just keeping you awake? Well, coffee is the all-new rage in skin and hair care practices. What's interesting is it can also double up as a natural hair colorant. So, the next time you want to cover up your grays or flaunt a dark brown mane, reach out for that jar of coffee.
A DIY coffee hair dye is a simple, safe, and non-toxic option to color your hair naturally. This article covers everything you need to know about this fun hair coloring trend. Let's get started!
Quick Facts About Coffee Hair Dye You Should Know
If you have recently colored your hair or underwent a post-color treatment, the coffee dye may not show any effects on your locks. Certain ingredients in synthetic hair dyes and post-color sealers, such as silicones, create an artificial film around the hair and inhibit color absorption.
The coffee hair dye works differently on different shades of hair. While it can play up brown and light-colored hair, the color may not pop on darker hair shades.
How well the coffee colors your hair will depend on the state of your hair. If you have thick hair, the color may not catch easily as this hair type lacks the essential porosity to absorb the dye. On the other hand, if your hair is thin, it is easier to absorb the color from the coffee dye.
The stronger the brew, the better the hair color. For a dark coffee shade, make sure to brew a very strong cup of dark roast coffee.
Still not sure whether you should try a natural coffee hair dye? Read on to find whether this hair coloring trend will suit you or not.
Should You Use Coffee Hair Dye?
Yes, but it all comes down to the base tone of your hair. If you have a light base tone, the coffee hair color will come out perfectly. But for dark base tone, you may not notice any difference after coloring your hair with coffee dye.
There are other reasons to use coffee hair dye:
You are not exposing yourself to toxic chemicals by using coffee grounds to dye your hair. Synthetic hair dyes contain harmful chemicals, such as APEs (alkylphenol ethoxylates) and PPD (phenylenediamine), which might irritate the scalp and damage your hair in the long run.
Studies show that hair dye products contain as many as 5,000 different chemicals, some of which are found to be carcinogenic in animal studies (1). Thus, coffee hair dye is a safe and natural alternative to these harmful ingredients.
Research has shown that caffeine may stimulate hair growth (2), (3), (4). The antioxidant properties of caffeine can help strengthen the hair and impart a natural sheen. So, even if your homemade coffee hair dye fails to perk up your hair color, the nourishing properties of caffeine will give you a healthier mane.
The next section outlines a step-by-step procedure to color your hair with DIY coffee dye.
How To Dye Your Hair With Coffee
You Will Need
1 cup of organic dark roast or espresso coffee powder
2 tablespoons of hair conditioner
2 cups of warm water
Old T-shirt or towel
Mixing bowl
Gloves
Hair dye brush
How To Prepare
Brew the dark roast or espresso coffee in the warm water. You can add more coffee for a stronger brew, which will make the hair dye more effective.
Let the brewed coffee cool completely.
Mix the hair conditioner with this coffee solution. Add another two tablespoons of ground organic coffee.
How To Apply
Step 1: Wear the old T-shirt or drape a towel over your shoulders to prevent coffee stains on your skin and clothes.
Step 2: Divide your hair into sections with the wide-toothed comb.
Step 3: Apply the coffee mixture to each section of your hair evenly with the hair dye brush.
Step 4: Leave it on for at least an hour and gently rinse your hair. Do not use shampoo, as this will dilute the hair color. Instead, you can rinse your hair with apple cider vinegar to prevent fading and make the coffee color last longer.
Another way to dye your hair with coffee is to dunk your hair into the brewed coffee solution after it has cooled. You can also rinse your hair with the coffee solution and leave it on for an hour before washing with lukewarm water.
Coffee Hair Dye: Does It Really Work?
The coffee hair dye trend has emerged as a fun hair color fix. But if you want a permanent or long-lasting color, dying your hair with coffee may not be ideal. Most people find that this dye imparts a very light brown tinge to your hair. However, with repeated application, the color may gradually get brighter.
Summing It Up
Coffee hair dye is a great way to color your hair naturally. But unlike synthetic dyes, natural hair dyes may not last long, and you cannot expect a dramatic change in your hair color. However, if you prefer dyeing your hair with natural ingredients, go ahead and try this homemade coffee hair dye.
Frequently Asked Questions
How long does coffee hair dye last?
A DIY coffee hair dye is a temporary hair color solution and will last not more than a week.
Recommended Articles
Sources
Articles on StyleCraze are backed by verified information from peer-reviewed and academic research papers, reputed organizations, research institutions, and medical associations to ensure accuracy and relevance. Read our editorial policy to learn more.
The following two tabs change content below.