9 Easy And Effective Homemade Hair Masks For Dry Hair
Nourish your hair with the goodness of homemade masks and make them shiny and healthy.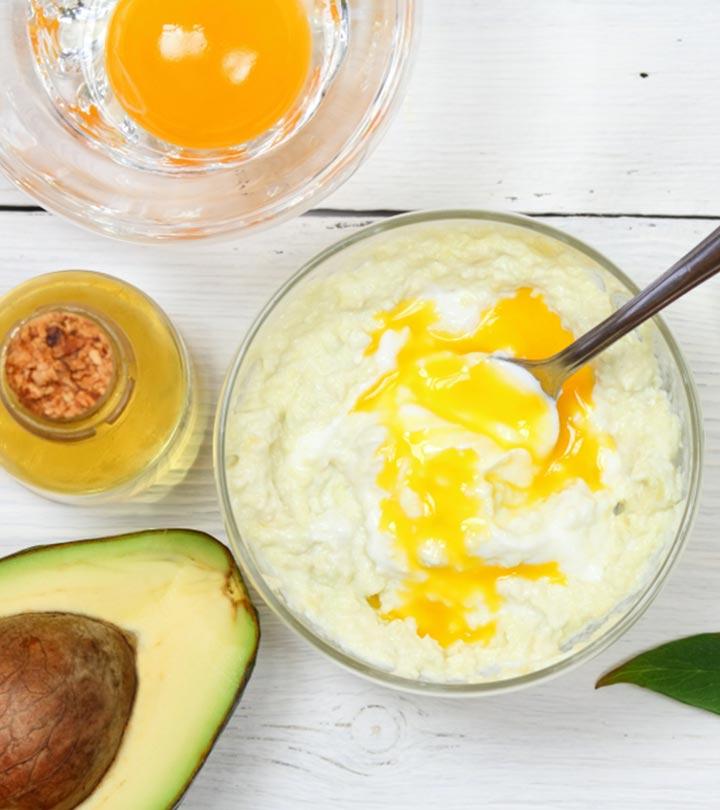 Many of us have faced the hassle of dry hair. We all know that hydration is the answer to this hair issue, but most of us don't know how to hydrate our dried-out locks. May we suggest homemade hair masks for dry hair? These DIY hair masks for damaged hair are made with natural ingredients enriched with important nutrients that replenish hair and make it healthy. Yes, commercial hair care products can hydrate your hair, but they may contain harsh ingredients that leave hair more damaged. Going to a hair spa frequently might mean spending a bomb. Hair masks prepared at home are budget-friendly and strengthen the hair without causing any damage. Scroll down and check out these 9 hydrating DIY hair masks to reduce hair dryness.
Prepping Your Hair
While the hydrating hair masks listed below might give your dry hair some much-needed moisture, it's crucial to prepare your hair first for optimal benefits.
Cindy Marcus, Hair Specialist, says, "I find deep conditioning hair masks work best applied on clean damp hair. You should always wash your hair before applying a deep conditioning treatment. Then, you want to towel dry your hair, you don't want it soaking wet, then apply your hair mask. Start at the ends and work your way to the roots, then use a wide-tooth comb and comb through to ensure even distribution."
A deep conditioning mask is one of the best methods to rejuvenate your dry hair. The current president of the European Society of Hair Restoration Surgeons, Dr. Michael May, MD, adds, "You can also try using a leave-in conditioner or oil to help add moisture back into your hair. Lastly, ensure you use a gentle shampoo and conditioner. Harsh products can do more harm than good to your hair and scalp."
Let's now take a look at the masks that will restore your dry hair to its former glory.
Note: The following remedies include natural ingredients that may cause allergic reactions in some people. Therefore, always do a patch test to avoid the potential adverse effects of using them.
9 Easy DIY Hair Masks For Dry Hair
1. Egg And Honey Hydrating Hair Mask
You Will Need
Process
Whisk the egg till it's frothy.
Mix all the honey and apple cider vinegar with the whisked egg.
Apply this mixture to your hair.
Leave it on for 30 to 40 minutes.
Wash it off with cool water and a mild shampoo.
Why It Works
Egg yolk is rich in fats, proteins, and nutrients that make it a natural hair conditioner (1). It provides intense hydration to dry strands and strengthens your hair. Honey, a natural humectant, helps seal in moisture, leading to healthy and shiny locks. ACV is a clarifying agent. It helps in restoring the natural pH balance of the scalp, leading to a healthy and clean scalp. Overall, this mask helps in adding moisture, oil, and shine to your dry and dull mane.
Cindy says, "After washing your hair, apply the mask. For really dry hair, there are a couple of options to intensify your results. One option is to wrap hair in a warm towel and leave it on for the recommended amount of time. Another option is to wrap hair in a bun or a hair wrap and sleep with the mask on."
She adds, "Whichever way you choose to go, always make sure to rinse the mask out very well. If you sleep with the mask on your hair, keep in mind your hair may feel a bit more oily the next day or until you wash it again. Therefore, I don't advise doing this if you have an event or any reason you don't want your hair looking its best the next day."
Note: Apple cider vinegar is a known irritant, and it may cause skin and eye irritation when used topically. Do a patch test before applying it to the scalp.

Quick Tip
If you are not careful while using apple cider vinegar on your hair, it can be overdone and worsen your hair or scalp issues. Hence, dilute it and use it in moderation to avoid its adverse reactions.
2. Banana And Olive Oil Nourishing Hair Mask
You Will Need
1 ripe banana
1 tablespoon olive oil
Process
Gently mash the banana into a paste.
Add olive oil to get a creamy mask.
Apply the mask all over your hair.
Leave it on for 10 -20 minutes.
Rinse it off with warm water.
Why It Works
Olive oil is a natural emollient. It is rich in oleic acid, palmitic acid, and squalene (2). Thus, it can soften and add shine to your dull skin. Traditionally, banana has been used in deep conditioning masks due to its hydrating and moisturizing properties. It is also said to nourish and strengthen your hair as it is rich in vitamins and minerals. Using this homemade mask once a week will transform your dry mane.
3. Coconut, Jojoba, And Castor Oil Nurturing Hair Mask
You Will Need
Process
Mix all the ingredients together.
Massage your scalp with this mask for 3-5 minutes.
Rinse off the hair mask and shampoo and condition your hair as usual.
Why It Works
This mask contains the goodness of different oils such as coconut oil, jojoba oil, sesame oil, and castor oil. Massaging your scalp and hair with this oil mixture will replenish the moisture and natural oils of your hair. The brown sugar gently sloughs off dead skin cells and helps stimulate blood circulation. This fatty acid-rich mask will make your locks soft, smooth, and shiny.
4. Avocado, Egg, And Olive Oil Restorative Hair Mask
You Will Need
Process
Blend all the ingredients till you get a thick paste.
Apply this mask to your hair using your fingertips. Make sure you apply it generously at the tips of your hair.
You can leave this mask on for 20 minutes.
Wash off the mask and shampoo your hair as usual.
Why It Works
Dr. May says, "Some of the best options include those made with natural ingredients such as coconut oil or avocado. These masks can help to hydrate and nourish the hair, making it softer and more manageable."
Avocado is a superfood. It is abundant in healthy fats such as omega-3 fatty acids and essential amino acids (3). These natural oils hydrate and condition your hair. Combined with the benefits of egg, olive oil, and honey, this mask will repair dry and damaged hair.
5. Banana, Honey, And Yogurt Rejuvenating Hair Mask
You Will Need
1 ripe banana
2 teaspoons honey
2 tablespoons yogurt
Process
Blend the banana, yogurt, and honey together.
Apply this mixture to your scalp and hair.
You can tie your hair up and cover it with a shower cap to prevent a mess.
Leave the mask on your hair for about 30 minutes.
Rinse it off with your regular shampoo and condition your hair.
Why This Works
Yogurt is hydrating in nature. It is also rich in lactic acid, which is a natural exfoliant (4). It helps in gently removing excess oil, dead cells, and dirt from the hair and scalp. Honey and banana add moisture and hydration to dry hair. This deep conditioning mask makes your hair glossy and frizz-free.

Quick Tip
If you are allergic to honey or bee pollen, avoid using honey and its related products on your hair and scalp.
6. Coconut Milk Repairing Hair Mask
You Will Need
1 cup coconut milk
2 tablespoons olive oil
Process
Mix the ingredients together.
Divide your hair into small sections.
Apply the mixture from the roots to tips.
Leave this mask on for 15-20 minutes.
Rinse it off with cold or lukewarm water.
Why This Works
Coconut milk is super hydrating for your hair. It is also nutrient-dense, which helps in repairing dry and damaged hair. It helps in detangling the hair so you have silky, soft tresses. Anecdotal evidence suggests that coconut milk can promote hair growth.
7. Egg And Mayonnaise Hair Conditioning Hair Mask
You Will Need
3 tablespoons mayonnaise
1 whole egg
Process
Whisk the egg and mayonnaise together.
Apply this mixture to your hair, focusing more on the hair ends.
Leave the mask on for 20 minutes.
Rinse it off with cold water.
Shampoo your hair thoroughly till you remove all traces of the mask.
Why This Works
This ultra-conditioning hair mask coats the hair with rich fatty acids from eggs and mayonnaise. They help in locking in moisture and sealing the cuticles. It leaves your hair super soft and glossy. Make sure you use cold water to rinse off the egg as the heat from warm water can cook it. You can use this mask once a week.
8. Aloe Vera And Honey Moisturizing Hair Mask
You Will Need
1 teaspoon aloe vera gel
1 teaspoon honey
1 teaspoon olive oil
Process
Combine all the ingredients to make a thick paste.
Apply this paste to your hair and scalp.
Rinse it off thoroughly with lukewarm water.
Why This Works
Aloe vera has moisturizing properties (5). This homemade hair mask for frizzy hair provides intense hydration to dry, rough hair. It also softens your hair and adds shine to it.
9. Flax Seed Hair Mask
You Will Need
1/4 cup of flax seeds
2 cups of filtered water
1 tablespoon of honey
Process
Boil the water and flax seeds till you get a gel-like consistency
Add honey
Strain this mixture after it cools down. Strain before it cools. Once the gel is cool, the flaxseeds will be so sticky that it will be almost impossible to strain these sharp seeds out.
Apply this to your hair and leave it on for 30 minutes.
Rinse as usual.
Why This Works
Flax seeds are rich in omega-3 fatty acids (6). This mask conditions your hair and helps fight dryness and frizz. It is widely believed that flax seeds can promote hair growth and thickness.
Now that you know what masks to try, it is also important to be aware of the duration you need to keep them on for the best results. Go through the next section for more details.
How Long To Keep A Hair Mask
Dr. May advises, "A hair mask is left on the hair for some time, usually 20-30 minutes. While there are many benefits to using a hair mask, make sure you do not leave it on for too long. If you leave it for more than the recommended time, it might strip your hair of its natural oils, making it dry and brittle. It can also cause your scalp to become irritated."
Cindy elaborates, "Depending on the ingredients, you can leave a hair mask on for long. If it is a protein-based hair mask, you don't want to leave it on longer than the instructions advise. Protein left on the hair too long can build up on the hair and cause breakage. Therefore, if you are using a protein mask be sure to follow the directions on the package. If the product you are using is not a protein mask, you can leave it on longer than the time allowed, and it will not be harmful for your hair."
However, consult a dermatologist if hair dryness persists even after using these hair masks. They may be able to recommend other treatments that may be more effective.
Infographic: 5 Homemade Hair Masks For Dry Hair
A homemade hair mask for dry and damaged hair is the best solution for damaged strands. It not only provides the hair with necessary nutrients to aid their recovery but can also be very easily done as the ingredients are usually available in one's pantry, saving you both time and money. Check out the infographic below to see 5 easy homemade hair masks.


In A Nutshell
Stress, excessive heat styling, chemical treatments, pollution, product residue, and overusing hair products make your hair dry and damage-prone. Once you have dry hair, it is only a matter of time before frizz and breakage set in. To prevent your hair from drying out, follow the homemade hair masks for dry hair listed above. These dry hair masks are made with natural ingredients that are good for your tresses. Using natural ingredients is a safer alternative as they don't pose as many risks as regular hair products filled with chemicals. And each of these ingredients contains additional hair care properties that make your tresses stronger.
Frequently Asked Questions
Why is my hair so dry?
Dry hair can be caused due to many factors like:
• Living in a hot and dry climate.
• Spending too much time in the sun or wind.
• Swimming in chlorinated or saline water regularly.
• Over-washing your hair.
• Using abrasive shampoos, conditioners, or styling products.
• Hair coloring or chemical treatments.
• Blow-drying, straightening, or curling your hair regularly.
Can I use a homemade hair mask every day?
No. Apply a homemade hair mask once a week to dry and frizzy hair and once every two weeks to oily hair.
Can adding protein to a hair mask benefit dry and damaged hair?
Yes. Protein is an essential component of the hair, and adding it to a hair mask benefits dry and damaged hair. Including it in hair masks may improve hair smoothness, hair strength, and the morphology of damaged hair (7).
Can hair masks be customized depending on hair type or specific hair concerns?
Yes, hair masks can be customized to meet specific hair concerns, depending on hair type. A hair mask can be made to specifically meet the needs of various hair types, including dry, greasy, curly, straight, and color-treated hair.
Key Takeaways
Egg, honey, and olive oil with other hydrating ingredients make a good budget-friendly mask for dry hair.
You can also bet big on aloe vera, coconut milk, and flaxseeds for effective results.
These ingredients are rich in nutrients and possess moisturizing and conditioning properties.

Learn how to make a natural DIY hair mask with just 4 ingredients by checking out the below video. This mask will help moisturize and repair dry and damaged hair. Get ready for beautiful, healthy hair!

Sources
Articles on StyleCraze are backed by verified information from peer-reviewed and academic research papers, reputed organizations, research institutions, and medical associations to ensure accuracy and relevance. Read our editorial policy to learn more.
The following two tabs change content below.