Need Help To Talk To A Girl? Follow These Tips Striking up a conversation with a girl can be tricky – especially when you are shy or trying to talk to her for the first time. If you are someone who keeps wondering how to talk to a girl and impress her with your conversation skills, this article is for you. Here, we have shared some expert tips on talking to girls and striking a conversation without sounding cheesy. Keep reading.
Ways To Start A Conversation With a Girl
Once you have overcome the initial hesitation, follow these simple tips to start a conversation with a girl:
1. Ask About Her Day And Listen To What She Says
When you are looking for things to talk about, the best way is to be curious about her. Ask what she did, how she spent her day, and how she felt.
Show your interest in her likes and dislikes. Talk about things that interest her and develop a genuine curiosity about her life.
However, ensure that you do not get too personal.
2. Talk About Hobbies And Interests
Hobbies are often a big part of who a person is. It shows how they like to spend their free time and what they love to do. A conversation about something a girl loves will automatically be interesting and upbeat.
While knowing about her hobbies, you might discover that you may have similar interests. If not, you can always learn or try something new.
3. Talk About Her Experiences
Talking to a girl about things she has done is a great way to get to know her closely, and it, in turn, helps her get to know you too.
Is she a solo traveler? Why not strike a conversation about the places she has visited? Is she an adventure sports freak? Why not talk about the craziest thing she has ever tried? Try this, and we bet you will never have a dull conversation with her!
4. Ask About Her Family And Friends
If you are looking for a great topic to start a conversation with the girl that can almost fill up an entire conversation, there is nothing better than the topic of family and friends. Everyone has a unique family history, which gives you a lot to talk about and learn a great deal about her. It will also give you an idea about her background and family values.
5. Ask About Her
Another great conversation starter is to encourage her to talk about herself. Showing interest in her as a person will make her feel comfortable and open up to you to share.
Take your cues from what she says and ask new questions and responses to keep the conversation going.
So, you have a fair idea of how to start a conversation with a girl. However, to keep it going, you will have to come up with topics. If you have the same dilemma, here are some of the simple yet fun topics to build a conversation with a girl.
Things To Talk About With Girls
1. Traveling
You can talk about anything travel-related to strike a great conversation. But, first, find out if she is interested in traveling. If yes, then you can talk about anything – her dream destination, places she has traveled to, her next travel goals, or crazy and fun anecdotes.
2. Books, Movies, Or Music
You can talk about her favorite books, authors, genres, movies, or music interests. This will help you figure out if you both have things in common.
3. School Or Place Of Work
Ask her about her schooling, place of work, profile, what she did during college, and so on.
4. Goals And Dreams
This is another interesting area to start building a conversation. You can ask her about what she dreams of doing in the future, what goals she has set for life, and more.
These are some of the topics that you can start talking about. You have to find hooks in the conversation to keep it going. If all goes well, you may end up exchanging numbers and even bag a second date! However, you may feel like texting her or strike a conversation via text. If you are wondering how often you should poke or text a girl without sounding too clingy, keep reading.
How Often Should You Keep In Contact With A Girl?
When you are trying to impress a girl over texts, you may wonder:
Are you contacting or texting her enough?
What do instant replies mean?
How much texting is enough?
The question comes down to how often you should contact a girl to keep her in contact with you. To help you navigate this dilemma, here are some tips to help you strike the right balance:
1. Stay In Touch
Texting a girl soon after you get her number is a great start point to build contacts. If you do not text her, she may think that you are not interested and may get over you before she is even into you.
So, whether you get a girl's number online or in person, make sure to text her within the first few hours on the pretext of sharing your number with her. When she responds, make it a point to take the conversation forward right there because if you let the opportunity go, it can then be very hard to break the ice later.
2. Avoid Texting Immediately After The Date
A good rule of thumb here is never to miss texting her soon after a date. However, do not do it immediately after you said bye, or you might seem desperate.
Instead, the better strategy is to wait for a few hours and then send a short and intimate text letting her know that you enjoyed her company today. Give her and yourself enough time to process the experience before making any further plans.
3. Do Not Text Her Every Day
Whether you can text a girl every day depends largely on what stage of the relationship you both are in. If you are still not dating officially, do not text a girl every day. Instead, it is better to go slow and time your texts. You have to decide the frequency depending on her responses. Otherwise, things may go downhill pretty soon.
In the next section, we have discussed some common mistakes to avoid while interacting with a girl.
Mistakes To Avoid While Interacting With Girls
1. Unnecessary Flaunting
If you fail to impress her at the moment, it is more or less the end of the story. Therefore, make sure not to flaunt unnecessarily in front of a girl. Whether it is about your wealth, the number of girls who were crazy for you, or any other thing for that matter, flaunting is a strict no-no while interacting with girls.
2. Making Her Feel Jealous
This is an age-old strategy that does not work anymore. Remember that if she is not attracted to you or not paying attention to you under normal circumstances, the chances are high she will not pay attention to you if you try to make her jealous.
Making a girl feel jealous is a poor way of trying to make her notice you. If she wants to be with you and is attracted to you, she will pay attention anyway.
3. Insisting Her To Do Something
Never insist on your date to do anything against her wish. Whether it is about visiting a place, doing an activity, or staying overnight – if she is not interested, do not force and insist. Such behavior may make her feel uncomfortable, and she may end up avoiding you altogether.
It is best to go with the flow to avoid such pitfalls. Approaching and starting a face-to-face conversation with a girl can be intimidating for many. Having a prior idea of what to say will help you relax. Here are some more tips to help you out.
Tips To Approach A Girl You Like For The First Time
Whenever you meet a new girl, introduce yourself to generate her interest. Start the conversation by telling her your name, interests, what you do, and so on. Sharing why you approached her specifically might intrigue her.
Every girl loves compliments! However, you must be careful about being sincere and courteous, as strong remarks about anything might backfire. The best way is to compliment her smile, style, or her eyes and tell her how beautiful she is. Ensure to be respectful and keep it short, simple, and genuine without going overboard.
The idea here is to make her feel good and make a good impression. Going overboard or giving too many compliments might make you come across to her as desperate and creepy.
Asking her for guidance or a suggestion can be a great way to break the ice and approach her to make a conversation. This guidance or suggestion can be about anything common that connects you both.
For instance, if you have similar professions, you can ask for her suggestion for a project you might be handling. Likewise, if you both have common food interests, you can ask her to suggest the best eateries and restaurants to try.
Talk About An Upcoming Event
One of the other simple ways to approach a girl and start a conversation with her is by talking about an upcoming event you are looking forward to.
For instance, if a show is coming up in the city, you could say, "Hey, I am so excited about this show coming up this weekend. What are your plans?" Or, if there is a party coming up at a mutual friend's place, you could ask, "Hey, are you coming for tonight's party?" or "Hope to see you tonight at the party!"
Say Things That Make Her Feel Relaxed 
When trying to talk to a girl, it is not enough to impress her. You should make her feel relaxed, safe, and comfortable in your company.
Among the things that you can say to her include, "I can totally relate to what you are saying" or "You can trust me, and all your secrets are safe with me." Make her feel at home with you by relating to her goals and dreams.
To Sum Up
Knowing how and what to talk to girls surely gives you an edge. The tips discussed in the article will help you start and hold an interesting conversation without sounding cheesy and desperate. They will help you navigate the situation better and make it easier for you when you have no idea how to talk to girls. Always ensure to let her know if you are enjoying the conversation.
Recommended Articles
The following two tabs change content below.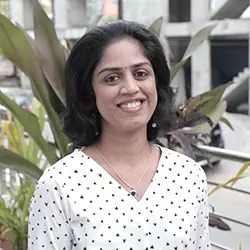 As Chief Editor, Harini sets the tone and editorial direction for StyleCraze to deliver engaging, interesting, and authentic content revolving around women's health, wellness, and beauty. She has over 14 years of experience in content writing and editing for online media. She specializes in the areas of Beauty, Lifestyle, and Health & Wellness and is proficient in Medical Sciences (Biology, Human Anatomy and Physiology, and Biochemistry). Her background in Biomedical Engineering helps her decode and interpret the finer nuances of scientific research for her team. Harini is a certified bibliophile and a closet poet. She also loves dancing and traveling to offbeat destinations.