Top 8 Mascaras For Eyelash Extensions In 2023
Elevate your eye makeup with highly-pigmented and long-lasting formulations.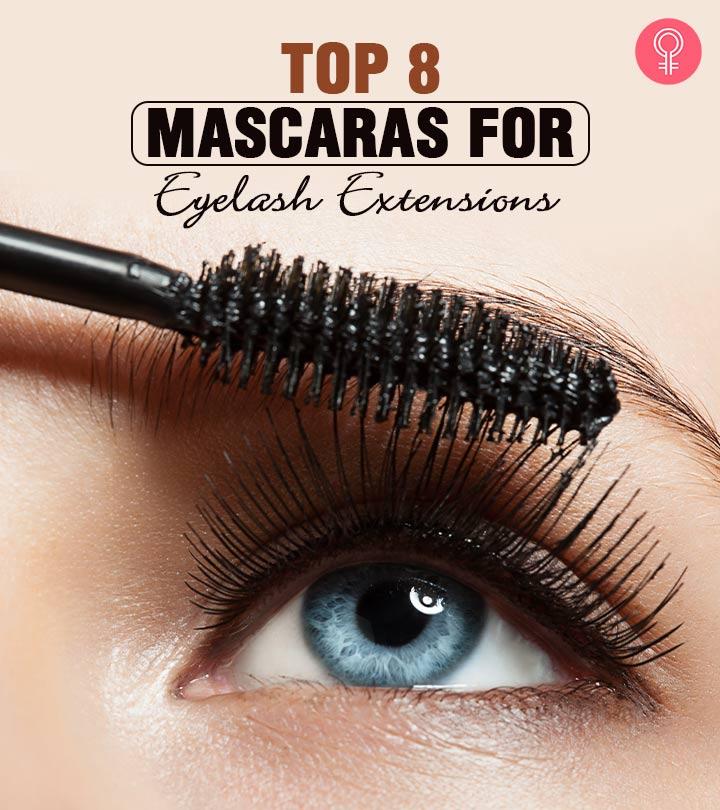 If you invest in eyelash extensions, you'd want them to look perfect. That is why you need to invest in the best mascaras for lash extensions. When it comes to eyelashes, the beauty industry has seen it all. From magnifying mascaras to growth serums and heated curlers, there are so many versatile products to enhance the beauty of your eyelashes. But did you know that you can wear mascara with eyelash extensions? Yes, to make your lash extensions look perfectly enhanced, you need mascara. A good mascara offers a crowning touch to your makeup routine.
This article has narrowed down and reviewed the 8 best mascaras for eyelash extensions. Let's take a peek at the list!
Why Wear Mascara With Eyelash Extensions?
Here's why you should apply mascara on your false lashes.
 Your lash extensions look thicker and you look bolder and brighter.
 A contrast-colored mascara can change the color of your lashes.•
 It can increase and enhance the length of your fake lash extensions.•
 If your lash extensions are sparse and you need a refill, one or two coats of mascara can help you boost the volume of your fake lashes.
 Certain mascaras are infused with natural ingredients like peptides, stem cell complexes, vitamin E, biotin, and keratin. They can help in growing your natural lashes besides keeping them healthy.
So now, which mascaras can you use on lash extensions? Let's take a look at the top 8 mascaras for lash extensions.
The 8 Best Mascaras For Eyelash Extensions That You Must Try In 2023
Pros
 Available in 3 shades
 Vegan
 Cruelty-free
 Paraben-free
 Phthalate-free
 Sulfate-free
 No synthetic fragrances
Cons
None

Price at the time of publication: $31.99
Pros
Hypoallergenic
Easy to apply
Dries quickly
No smudge
No flaking
Cruelty-free
Vegan
Cons
Not suitable for those with sensitive eyes or allergies
Can be clumpy
Price at the time of publication: $16.31
Pros
 Long-lasting
 Smudge-proof
 No flakes
 Safe for sensitive eyes and contact lens wearers
Cons
None

Price at the time of publication: $28
Pros
Easy to apply
Dries quickly
Water-resistant
Includes brush applicator
Long-lasting formula
Cons
May cause extensions to become stiff or brittle over time
Price at the time of publication: $9.99
Pros
Non-flaking
No heavy metals
Gluten-free
Paraben-free
Non-GMO
Vegan
Easy to apply
Suitable for sensitive eyes and contact lens wearers
Cons
May clump lashes
Mascara dries out quickly
Price at the time of publication: $8.1
The Noir Mascara helps to elongate and add maximum volume to your lashes. It is the perfect mascara that you can use on lash extensions. It also helps to strengthen your natural lashes. It has a water-based formula enriched with keratin and botanical extracts to strengthen and restore natural lashes while preventing breakage and damage. The mascara is easy to apply and a breeze to remove without leaving clumps or residue along the lash line, making it perfect for everyday use.
Pros
 Long-lasting
 Smudge-proof
 Can be used on natural lashes
Cons
None
Price at the time of publication: $13
This HD mascara by Lash Affair has an ultra-creamy formula best suited for your eyelash extensions. This lash extension safe mascara gives your bottom lashes the perfect added length and drama. In addition, the applicator of this mascara is specially designed to help you with precise application so that each lash is coated separately.
Pros
 Highly pigmented
 Ultra-creamy formula
 Long-lasting
 Won't flake off
 Precise applicator
 Cruelty-free
Cons
None
Price at the time of publication: $22.99
Pros
Hypoallergenic
Vegan
Cruelty-free
Paraben-free
Phthalate-free
Sulfate-free
Synthetic-fragrance-free
Dermatologist-test
Opthamologist-approved
Suitable for sensitive eyes
Cons
None
Price at the time of publication: $16.31
Eyelash extensions help add Hollywood glamor to your look, and a good oil-free mascara can elevate your lashes and add that extra oomph factor that makes you stand out. In the following section, let's look at the types of mascaras that you can use on lash extensions.
Types Of Mascaras You Can Use On Lash Extensions
A plant-based mascara or an organic one might not be the best option to use on lash extensions. You need to remember that not all premium products are safe for eyelash extensions. Instead, look for a water-based mascara made exclusively for those with false lashes.
While most mascaras for natural lashes are infused with oils, additives, and artificial waxes. But to maintain the longevity of your fake lashes and to preserve the health of your natural ones, you need a pH-balanced formula. These mascaras are also safe for sensitive skin around the eyes. They dry quickly and can be removed very easily with warm water.
Not all mascaras are good for lash extensions, regardless of whether yours are made from synthetic or natural fibers. Here are the types of mascara you need to avoid on lash extensions.
What Type Of Mascara To Avoid On Lash Extensions
Waterproof mascara is not good for false lashes. The key components of a waterproof mascara are Teflon (the non-stick coating on your cookware) and Dimethicone copolyol (a type of silicone). This is why waterproof mascaras often end up damaging the bond created by the lash adhesive and subsequently leading to the early falling-off of lash extensions. Due to its water-repellant nature, it often makes your natural lashes brittle and dries them out too. For daily wear purposes, waterproof mascara is not the right one. Waterproof mascara is very difficult to remove. There are just a handful of ways to remove it without intense rubbing, pulling, or snagging. That's also why it can cause lash extensions to fall out early.
If you are using mascara for lash extensions, it is very important to avoid oil-based products. Oil can damage the eyelash glue and break the bond between eyelash extensions and natural lashes. Therefore, try and avoid mascaras with ingredients like lanolin, castor oil, beeswax, carnauba wax, paraffin, mineral oil, turpentine oil, linseed oil, eucalyptus oil, and sesame oil.
Fiber mascaras are enriched with dry fibers like silk, rayon, or nylon to make your lashes look thicker and denser. However, unlike tube mascara, it is very hard to remove, and that's why it's not recommended for lash extensions.
Tube mascara is a product that coats lashes by forming tubes around each lash. While this mascara is easy to remove from natural lashes, it sticks like tar on eyelash extensions. Hence, prolonged use of tube mascara ends up damaging lash extensions.
Applying mascara to false lashes is not the same as doing it to your natural ones. Here are a few tips on applying mascara to lash extensions correctly.
How To Apply Mascara To Lash Extensions
 Wash, dry, and comb your lashes before applying.
 Gently apply a coat of your favorite mascara on your natural lashes and then extensions.
 Always start applying from the middle and go towards the tips.
 Do not apply mascara to the roots.
 Avoid adding more than a coat or two of mascara to false eyelash extensions.
If your lash extensions are not too thick or heavy, wearing mascara will safely enhance your look. Let's look at a few things you need to consider when using mascara on lash extensions.
Things To Consider When Using Mascara On Lash Extensions
When wearing mascara on eyelash extensions, it is important not to follow the same method for your natural lashes. Instead, pick a wand that doesn't grip tightly on the lash extensions to make the application process easy. A convenient way to apply mascara on the lash extensions is by starting at the middle of the eyelash and moving forward to tips. Apply on the tips without touching the base because it can damage the bond created by lash adhesives, making them fall out early.
While removing mascara that's applied on lash extensions, you need to be extremely careful to avoid them from falling out ahead of time. Firstly, avoid using makeup removers with oils. Once you have picked the right cleanser, clean the mascara gently. Don't be too harsh, and remove the mascara without any rubbing or pulling. Use cotton pads or towels to minimize snagging too.
Lastly, never wear your mascara to bed. Letting mascara stay overnight is unsafe and might lead to eye pain, bacterial infections, and corneal erosions. Always wash and comb your lash extensions after removing the mascara.
If you are trying to remove eyelash extensions and they start falling off piece by piece, you can't go to the salon for a touch. We have mentioned a few tips on removing eyelash extensions at home in the next section.
How To Remove Lash Extensions – A Step By Step Guide
 Buy a professional-grade eyelash extension glue remover. This is because the glue used to apply eyelash extensions is very strong. Regular eyelash glue remover may not work on your lashes.
 Remove your eye makeup at first with the help of a cotton swab or pad to see where the extensions start.
 Place under-eye pads to protect the skin underneath your eyes.
 Use disposable brush applicators or spoolies and apply the eyelash glue remover so you can easily apply the glue remover to your lashes.
 Remember to close your eyes while working on it, so you don't get the glue remover in it.
 Pull the applicator or spoolie through your lashes just like you're applying mascara.
 Let the glue remover sit for 2-3 minutes to break down the glue.
 Pull the second applicator or spoolie through your lashes and gently remove the extensions.
 Soak a cotton swab or pad with a gentle eye makeup remover and remove the excess glue remover.

 Thoroughly remove your eye makeup so you can tell where your natural lashes end.
 Take a bowl and fill it with steaming hot water.
 Put a towel over your head, and then lean over the steam for 15 minutes.
 Take a cotton swab and soak it in olive or coconut oil.
 Start from the inner corner of your eye and pull the cotton swab gently across your lashes so that all the extensions come off.
 Use a gentle cleanser to wash away the excess oil as a final step.

Now you can easily get thick, gorgeous eyelashes that have everyone around wondering if you've just stepped out of a TV commercial. These high-performance mascaras will help you move out of the stumpy lash territory. These mascaras will help lengthen, volumize, and separate your false lash extensions. We recommend applying your mascara in a zig-zag motion from as close to the roots as possible. The ones reviewed in the curated list come with precise applicators, and they are long-lasting and smudge-proof.

Infographic: Tips To Remove Mascara From Lash Extensions

Using mascara on lash extensions is a great technique to add length and volume. It makes your eyes and eye makeup look bold and dramatic. While using it is very easy, the problem arises when you have to remove it carefully to avoid hurting the eyes. Check out the infographic below for tips to remove mascara from lash extensions.


Why Trust StyleCraze?

The author of this article, Baishali Bhattacharya, is certified in makeup artistry and image consultation. She loves to use mascara to volumize and enhance the look of her eyelash extensions. She has gone through multiple products and hundreds of online reviews to pick the best products for this list so that her readers experience only the best.

Frequently Asked Questions

How do you take care of eyelash extensions?

Try not to get your eyelash extensions wet for 48 hours, and do not touch them. Always clean your eyelash with an eyelash foam cleanser and brush your eyelash tips in the morning. Also, avoid sleeping on your face and apply any oily product to your eyelash extensions.

Can you use clear mascara on eyelash extensions?

Yes, you can use clear mascara on your eyelash extensions, as long as they are oil-free.
Does mascara make eyelash extensions fall out?
Yes. Mascaras that contain oil can weaken the adhesive in your eyelash extension and make them fall out.

How long should you wait to put mascara on after lash extensions?

You should wait 24 hours before applying mascara on your lash extensions.

How long will lash extension mascara last?

Lash extension mascara, just like your regular mascara, should not be used for more than 3-6 months.




The following two tabs change content below.