Maybelline New York White Superfresh Compact Review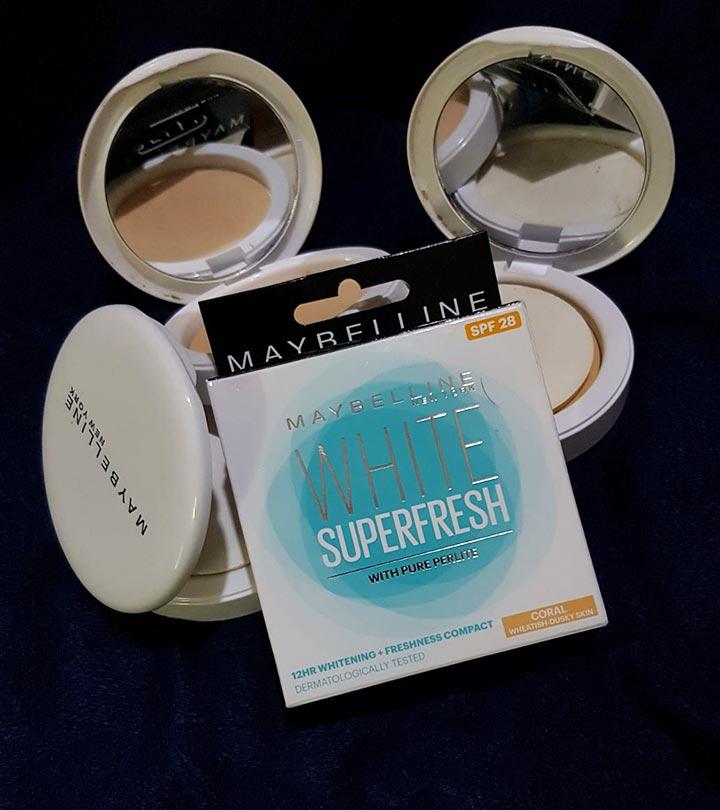 A compact powder is one of the most essential components of your makeup kit, making you look flawless with every touch-up. Maybelline is one of the top brands that make perfect compact the ensure your skin does not ooze excess sebum and prevents the melting of your makeup. Their Superfresh compact is currently being praised, and to help you decide whether or not to opt for it, we have a thorough Maybelline New York White Superfresh Compact review for you. With it, you can make a call on whether this product is worth your time.
Maybelline White Superfresh Compact Review
Product Description
Maybelline New York's White Superfresh Compact claims to keep your skin protected from the harsh rays of the sun, preventing skin darkening and damage. With an SPF of 28 and its PA+++ formula this compact offers expert sun protection while its perlite content absorbs oil and sweat, giving your skin a matte finish while visibly lightening it. However, the product states to use adequate sun protection for intense sun exposure. The product also promises 12 hours of freshness and protection even in hot and humid weather conditions. The compact is dermatologically tested and is perfect for everyday use. It comes in 4 shades- Shell, Pearl, Coral, and Marble. In this article, I'll be reviewing the Shell, Coral, and Marble shades.

The Maybelline New York White Superfresh Compact is packaged as a simple white compact with a full mirror on the inside of the lid. It comes with a white puff which works well for touch ups. The white puff is separated from the compact powder with a see-through plastic film. The outer packaging is a square cardboard box with a white and teal color scheme which reinforces the "fresh" feel that the product is selling.
Features
Visibly lightens complexion.
Keeps your skin feeling fresh.
Absorbs sweat and oil.
12 hours of oil controls.
Prevents skin darkening and damage.
Offers sun protection.
Comes in 4 shades.
Ingredients
The product does not have a list of ingredients on its packaging. However, it does state that the compact contains the mineral perlite which helps absorb sweat and oil while lightening your complexion.
Shades
The product comes in 4 shades- Pearl, Shell, Coral, And Marble. Here's a breakdown of the shades
Pearl – Fair, cool-toned skin.
Shell- Fair, warm-toned skin.
Coral- Olive skin.
Marble- Dusky/Wheatish skin.
I managed to get my hands on 3 of these shades- Shell, Coral, and Marble.
I have fair skin, although my hand is quite tan in the photo above, making it look dusky. As you can see, there isn't a big difference in the shades making this compact unsuitable for women with dusky and darker skin tones.
After blending, the darkest shade (marble) seems to be the best match for my skin tone but since my face is lighter than my hand I can see myself switching in between Coral and Marble.
My Experience And Review
I do not have oily skin but I do tend to sweat a lot which ends up making my face look super dull. Compact powders help me cover this up and also help keep my makeup in place when it's humid. While I'm strongly against products that endorse fairness, I decided to try out the Maybelline White Superfresh Compact to see if it was as good at controlling oil and sweat as it claimed.
Here's how it fared –
Oil Control: Like I said, my skin isn't too oily but it does get extremely sweaty and this compact helped keep my face looking fresh and matte for about 6 hours. On the days when I'm wearing heavy makeup, the compact keeps my makeup from getting cakey or settling into fine lines.
Coverage: The coverage is sheer but it instantly brightens up my face. The compact evens out my skin tone and covers up minor blemishes, but I need to use concealer for the more evident acne scars.
Texture: The compact feels very smooth with an extremely fine texture. It isn't too powdery and is perfect for absorbing oil and sweat.
The product also has a pleasant fruity fragrance which is very similar to that of Maybelline's Clear Glow BB Cream. It feels smooth on the skin and does not get cakey. I also like the simple and travel-friendly packaging. The only two problems I have with this product are the unavailability of shades for dark skin and the skin whitening claim.
Pros
Offers sun protection.
Has a smooth texture.
Controls oil for over 5 hours.
Instantly brightens your skin.
Provides sheer coverage.
Travel-friendly packaging.
Budget-friendly.
Cons
Coverage could be better.
Endorses fairness.
Does not come through on the 12-hour oil-control claim.
Unavailability of shades for dark skin.
How To Use Maybelline New York's White Superfresh Compact?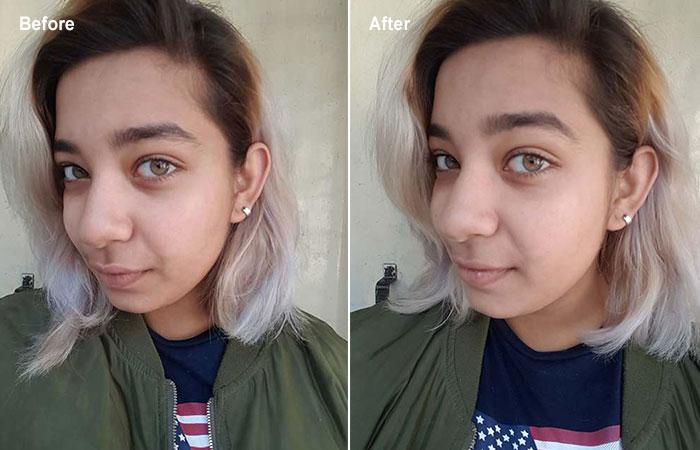 Cleanse your face and moisturize.
 Optionally, apply concealer to cover pigmentation, dark circles, and blemishes.
Load your compact powder onto a powder brush. Dust off excess powder.
Apply the compact starting from the centre of your face and working outwards.
Blend well for a smooth finish.
Shelf Life: 24 months.
Do I Recommend This Product?
Yes! The product is completely worth the money and is perfect for anyone who sweats or has oily/combination skin.
Where To Buy This Product?

On the whole, if I completely ignore the "skin whitening" claims, I think this is a great product for controlling oiliness. Have you used Maybelline New York's White Superfresh Compact? Do you love it or hate it? Tell us in the comments section below.

The following two tabs change content below.